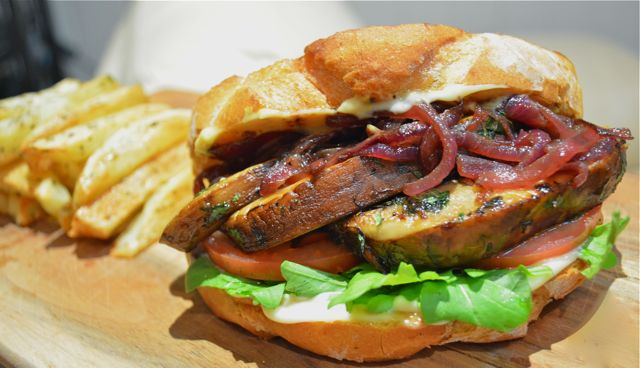 You're looking at possibly the best vegetarian sandwich known to man! My Portobello Mushroom Sandwich is the best steak sandwich that no one told you was vegetarian.
I had a good-looking spelt sourdough at home which I wanted to use and the idea of soaking up soup with it wasn't tickling-my-fancy. I hadn't visited my local butcher lately so a steak sandwich was unfortunately out! Then a stunning image entered my mind – a big juicy Portobello Mushroom Sandwich. I'd seen one in a food magazine some time ago and I always thought it would be nice to try at home.
There were a couple of lonely, but huge Portobello mushrooms in my fridges crisper and when sliced as thick as a succulent rump steak, I knew I was on the right track.
Marinading the mushrooms with fresh parsley, rosemary and olive oil really take these babies to the next-flavoursome-level. If you've had the joy of cooking whole mushrooms, stuffed mushrooms, sautéed mushrooms, you know how succulently-lush they transform once cooked.
The mushrooms magic grows even more-so once they join the rest of the Portobello Mushroom Sandwich family – sweet onion jam, mayonnaise, hot English mustard, fresh rocket and tomato.
So you can fit your salivating-mouth around your Portobello Mushroom Sandwich, you might have to chop it in half; this will unveil this to-die-for sandwich's true beauty! My Oven roasted chips go wickedly-good with this too.
Enjoy my foodie friends.
 Garlic Rosemary Portobello Mushroom Sandwich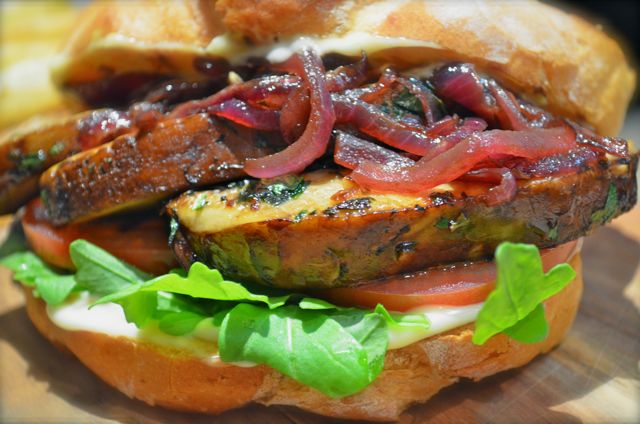 Ingredients
2 large Portobello mushrooms, stem removed, 2cm thick slices
2 garlic cloves, peeled and finely chopped
Handful flat-leaf parsley, finely chopped
1 stick of fresh rosemary, leaves removed from stem, finely chopped
Olive oil
4 thick slices spelt sourdough bread
Handful rocket leaves
3 tblsp whole egg mayonnaise (free range egg brand if you can)
1 ripe tomato, sliced
Onion Jam
2 tblsp unsalted butter
Olive oil
1 brown or red onion
1 tblsp dark brown sugar
1 tblsp balsamic vinegar
Salt and pepper to taste
Method
Put a small pot over a low heat, add butter and a drizzle of olive oil. Add onions and cook for approximately 20 minutes, stirring occasionally until nice and soft. Don't be tempted to turn up the heat; you want them to soften and caramelise, not burn.
Add brown sugar and balsamic vinegar, pinch of salt and pepper and cook for a further 5 minutes or until onions are nicely caramelized. Remove from heat and leave to cool.
Onto the mushrooms – marinate Portobello mushroom slices in a shallow dish with garlic, parsley, rosemary and olive oil for 15 minutes.
Preheat a cast-iron grill or BBQ over medium-high heat. Drizzle sourdough slices with a little olive oil and grill for a couple of minutes on each side, remove and keep warm in al-foil  Grill the mushroom pieces, turning occasionally, for about 5-7 minutes or until juicy and tender.
Assembling your Portobello Mushroom Sandwich – Spread half the mayonnaise over 2 slices of sourdough bread. Lay down fresh rocket and top with tomato slices then cooked mushrooms, finally topping with onion jam, season well with salt and pepper. Spread remaining mayonnaise and hot English mustard on the two remaining slices of sourdough bread and then place the bread, mayonnaise-side down, on top of the other slices.
Serve immediately.