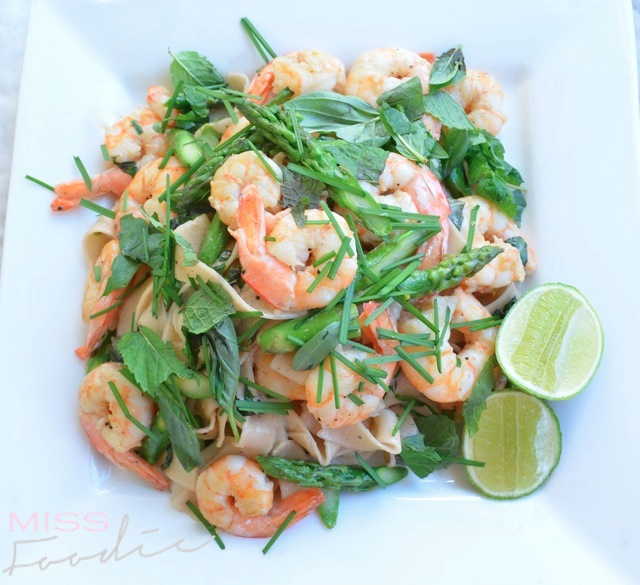 I've learnt to like gluten free pasta simply because I am one of many who are gluten intolerant.  Thankfully however, I have discovered CT Fine Foods pasta range – finally gluten free pasta that tastes like the real thing!
This week I tried CT Fine Foods Coriander and Kaffir Lime Tagliatelle and their Marrakesh Carrot Fettuccine is patiently biding its time in my pantry for me to experiment with next.
CT Fine foods are a family owned business based on the Sunshine Coast. Where possible, they always try selecting local ingredients and you can rest assured that no artificial flavourings are added to any of their products.
During my first purchase at Regional Flavours 2013, Jason Sierra of CT Fine Foods suggested a prawn and asparagus combination to match with the gluten free Coriander and Kaffir Lime Tagliatelle. So with this in mind, I threw together a basic Nuac Cham dressing to accompany my fresh local prawns, asparagus and loads of fresh herbs then simply tossed it through the Coriander and Kaffir Lime Tagliatelle. The result – fragrant, flavour-packed goodness.
If you can't get your hands on this variety of pasta, a flat rice noodle or regular tagliatelle should work well also.  However, I do urge you to try the CT Fine Foods range and if you are in the Brisbane, Gold Coast or Sunshine Coast regions, you won't have to travel far to get it (stockists here).
Prawn & Asparagus GF Pasta w Nuac Cham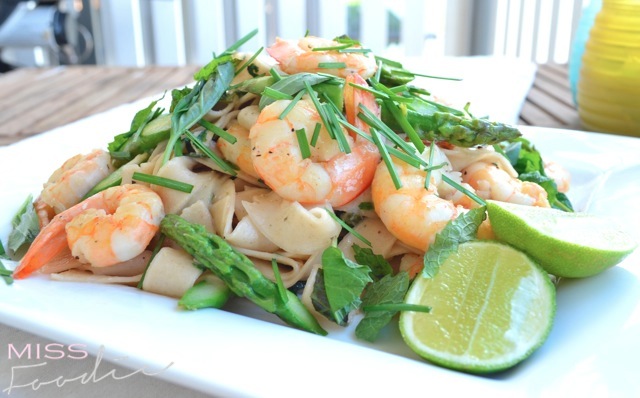 Ingredients
Serves 3-4
Nuac Cham Dressing (makes 1/4 cup)
3 tbsp lime juice
2 tbsp sugar
¼  cup water
2 tbsp fish sauce
1 small garlic clove, minced
1 chilli or 1 tsp chili sauce
Pasta
16 Local Green Prawns (approx.)
Peanut oil, for frying
1 bunch fresh asparagus
1 garlic clove, sliced
¼ cup fresh mint
¼ cup fresh basil or Thai basil
Method
Bring a large saucepan of salted water to the boil. Blanch asparagus for 1 minute, remove and set aside.
Using the same saucepan of water, cook the pasta according to packet instructions or until al dente. Drain. Promptly return pasta to saucepan trying to reserve a tablespoon or so of water to prevent sticking; a drizzle of olive oil will help also. Set aside with saucepan lid on.
Meanwhile, in a large frying pan, heat peanut oil until hot, add green prawns and cook for 1 minute. Add sliced garlic and asparagus. Sauté until prawns are caramelised and cooked through, approx. 2 minutes. Remove from heat.
Add prawns and asparagus to pasta. Add half the fresh herbs and enough Nuac Cham dressing to coat well, toss gently. Season with salt and pepper.
Serve on a platter topped with remaining fresh herbs plus a few lime wedges on the side.