I love lemons and I especially love preserved lemons. They're great to use in salads, tagines, soups and stews.  Jars of preserved lemons can range anywhere from $8 – $20, so expensive for what they are! So for Christmas this year I thought I would make some preserved lemons all by myself! Perfect to put into pretty jars with Miss Foodie labels, and give them to all the lovely women in my family. Preserved Lemons the perfect gift.
Preserved Lemons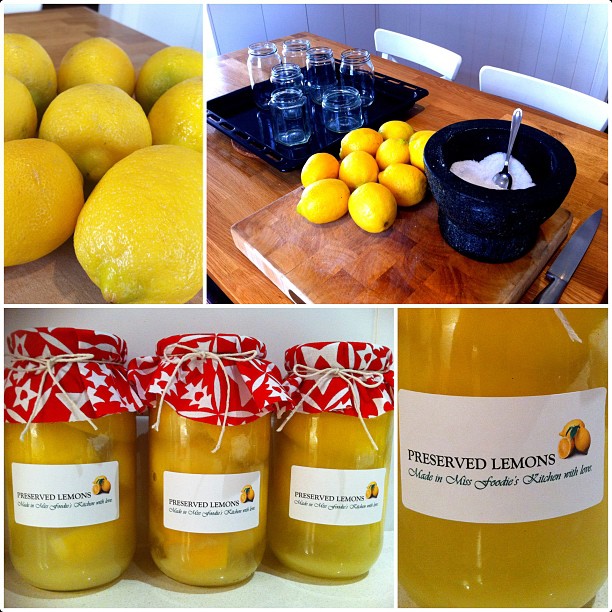 Ingredients
8-10 lemons, scrubbed very clean
1/2 cup sea salt, more if needed
Extra fresh squeezed lemon juice, if needed
Sterilized jars
Method
To sterilize the jars, place your empty jars on an oven tray and place in a cold oven. Turn the heat to 170ºC. Once the oven has reached its temperature, they're done.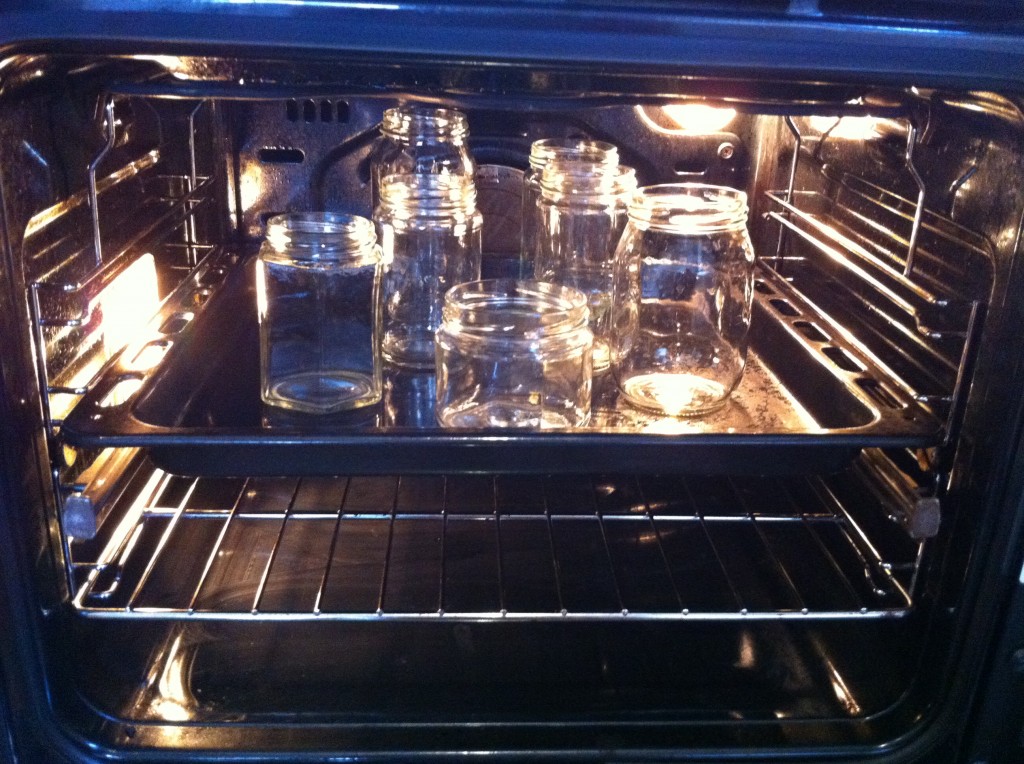 Preparing your lemons
Cut off any stems from the lemons, and cut 1/4 inch off the tip of each lemon. Cut the lemons as if you were going to cut them in half lengthwise, starting from the tip, but do not cut all the way through. Keep the lemon attached at the base. Make another cut in a similar manner, so now the lemon is quartered, but again, attached at the base. If your jars have a small opening (like I had) you may have to cut your lemons in halves or even quarters.
Place 2 tbsp of salt in the bottom of your sterilized jar. Pry the lemons open and generously sprinkle salt all over the insides and outsides of the lemons.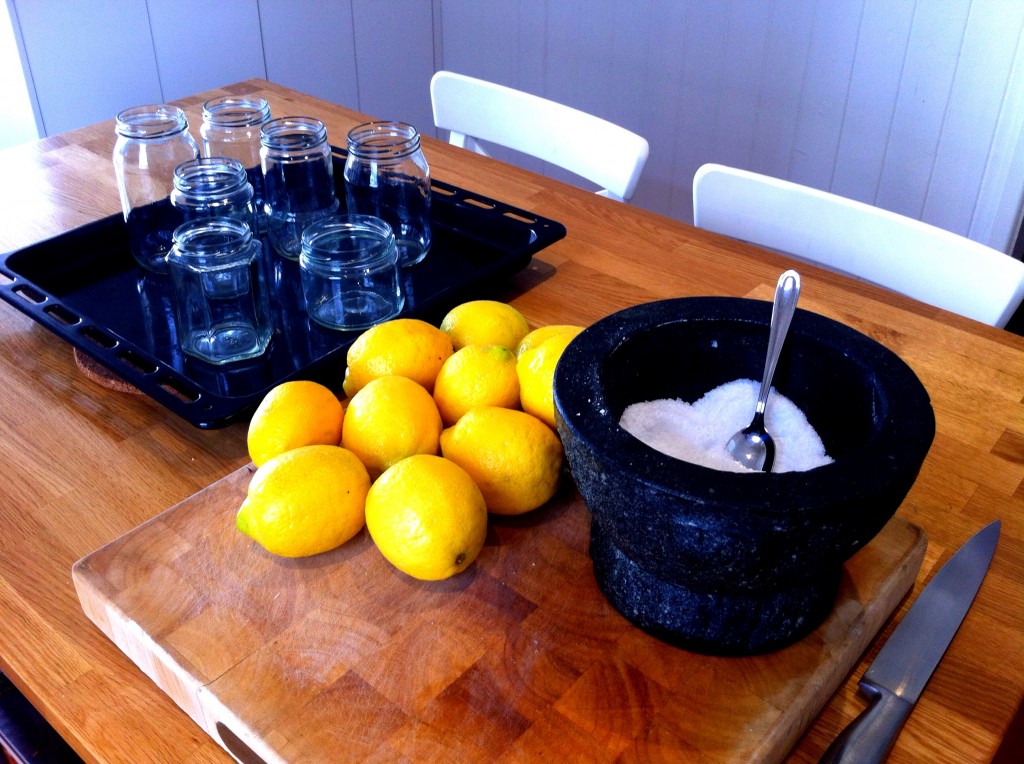 Keep packing lemons in the jar until full, being careful not to overstuff. Pour the lemon juice over the lemons so that they are all in liquid.
Seal the jar and let sit at room temperature for a couple days. Turn the jar upside down occasionally. Put in refrigerator and let sit, again turning upside down occasionally, for at least 3 weeks, until lemon rinds soften.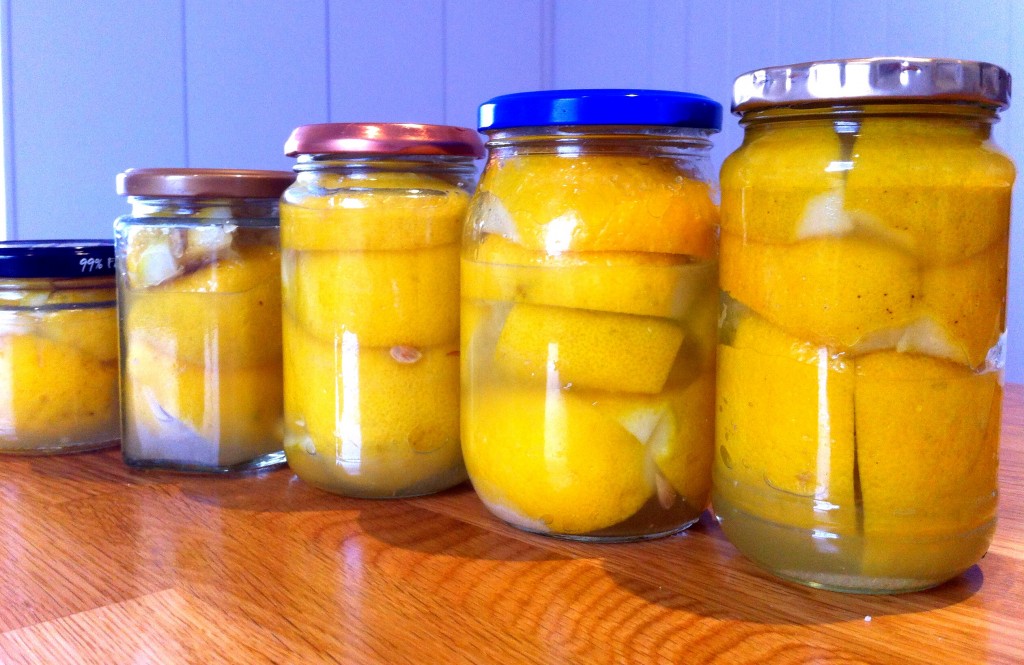 To use, remove a lemon from the jar and rinse thoroughly in water to remove salt. Discard seeds before using. Discard the pulp before using, if desired.
You can store these in the fridge for up to 6 months.
A very simple recipe includes crumbled feta cheese, parsley, olive oil, a dash of pepper and a few preserved lemons diced in… easypeasy! What's your favourite preserved lemon recipe?