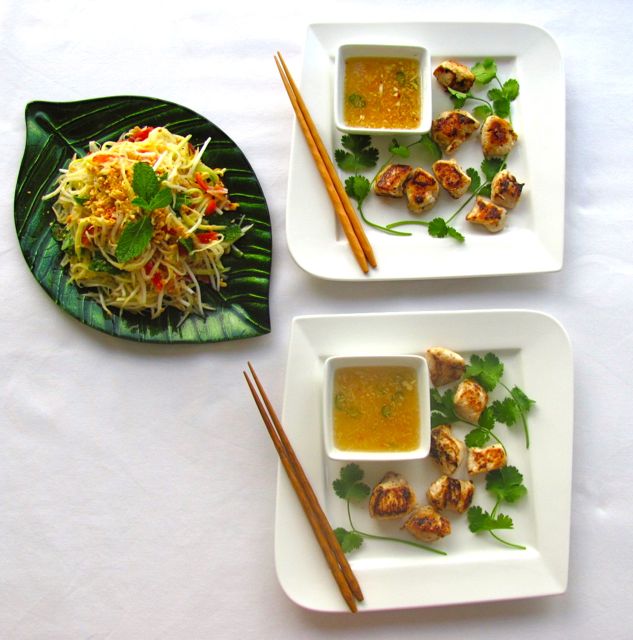 Wanting to buy some local fresh fruit and veg, my girlfriend and I decided to get up bright and early and mission to the Boggo Road Markets.
I had a delightful time chatting with the stall owners about the origin of their goods. Some (not all) of the stall owners were really passionate about their produce and didn't hesitate in giving me detailed accounts of their origin.
I purchased most of my produce from a stall owner who grows all his own organic fruit and veg, however needing a few extra vegetables I made my way to another stall which had a combination of Rocklea Market purchases and produce from their own garden. The stall owners being from Asian descent meant that the produce from their garden comprised of Asian herbs, vegetables and the winning ingredient – already shredded Green Papaya!
Green papaya as you would presume is an unripe papaya. With its firm white flesh and green skin this fruit may seem somewhat unappetizing at first; that is until it's drenched with sour lime, hot chilli, salty fish sauce and sweet palm sugar making it one of my favourite side dishes.
Green papaya or Som Tam as it's known (Som meaning sour and Tam meaning to pound) I understand originates from Laos, Thailand and Cambodia. In saying that though every Vietnamese restaurant I've dined in has Green Papaya Salad on their menu. I devoured many many plates of Green Papaya Salad in Thailand earlier this year. The Thai women if I remember correctly in fact eat Green Papaya Salad for its weight loss benefits – bring it on I hear you say, well me too!
With my Green Papaya purchase I of course had to make a Green Papaya Salad. With a pantry never without Asian sauces it was a total breeze to make at home. In my gorgeous Alastair Hendy Food & Travels Cookbook there was a traditional Laos recipe for Green Papaya and Peanut Salad. While perusing the cookbook for this particular recipe, I stumbled across an unusually named dish titled 'Railway Station Chicken'. Hendy explains the name behind the recipe in a short blurb:
"Eaten in, and therefore christened after, Yangon railway station. Old Rangoon's terminus to the Empire…" Alastair Hendy.
It didn't make sense to me at first but after Googleing it I saw that Yangon Railway Station is situated in Yangon, Myanmar (Burma) which boarders Laos and Thailand.
Eating my Green Papaya and Peanut Salad and Railway Station Chicken, I envisioned sitting at the Yangon Railway Station platform waiting to board the train to the next Asian town – dreaming of holidays a-gain.
Railway Station Chicken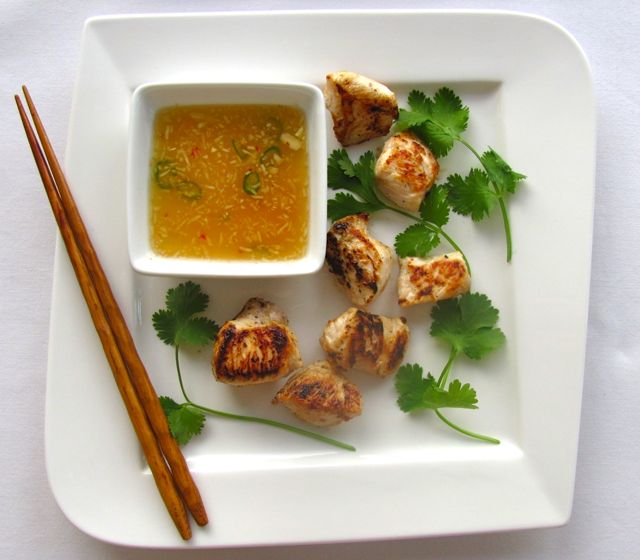 Ingredients
2 cloves garlic, crushed
3 cm fresh ginger, peeled and finely shredded
2 red chillies, finely sliced
2 tblsp sugar
5 tblsp lime juice
3 tblsp fish sauce
2 skinless chicken breasts
Salt and pepper
Sesame or vegetable oil, for frying
Fresh coriander, to garnish
Method
For the dipping sauce, mix together the first six ingredients and stir until the sugar has dissolved.
Cut the chicken breasts into large chunks, season with salt and pepper and add 1 ½ tablespoon of the dipping sauce. Leave to marinate for 30 minutes.
Heat a shallow pool of oil in a wok, then fry the chicken pieces in two batches for 3-4 minutes, draining on paper towel.
Serve around the bowl of dipping sauce, lavished with coriander and a side of Green Papaya Salad.
Green Papaya and Peanut Salad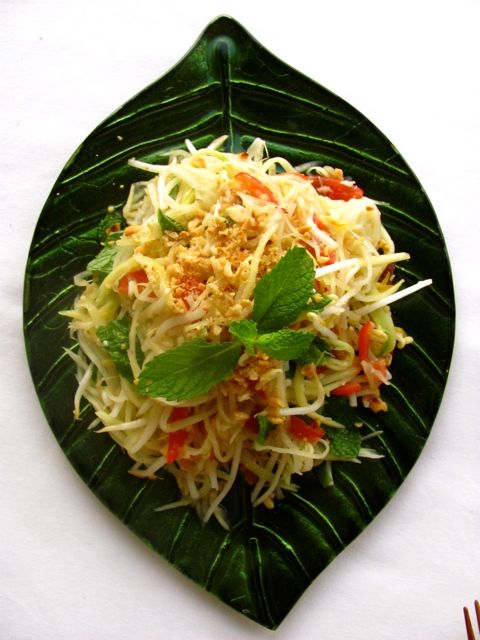 Ingredients
5 cloves garlic
2-4 birdseye chillies, roughly chopped
2 large mild red chillies, deseeded and roughly chopped
Pinch of salt
1 tblsp dried shrimp
1 large green papaya, approx. 300g, peeled, deseeded and shredded
2 tblsp fish sauce
Juice of 2 limes
1 tblsp palm sugar or caster sugar
4 small tomatoes, halved, deseeded and cut lengthways into eighths
Large handful of beansprouts
15 mint leaves
4 tblsp toasted crushed peanuts
Method
Pound together the garlic and chillies with a pinch of salt in a pestle and mortar until crushed and pasty. Roughly pound in the dried shrimp and a small handful of the shredded green papaya, so that it's crushed but still chunky. Stir in the fish sauce, lime juice and sugar until dissolved. Tip into a bowl, then add the remaining papaya, the tomatoes, beansprouts, mint leaves and about 3 tblsp of the toasted peanuts and toss through until all is well coated. Serve sprinkled with the remaining crushed peanuts.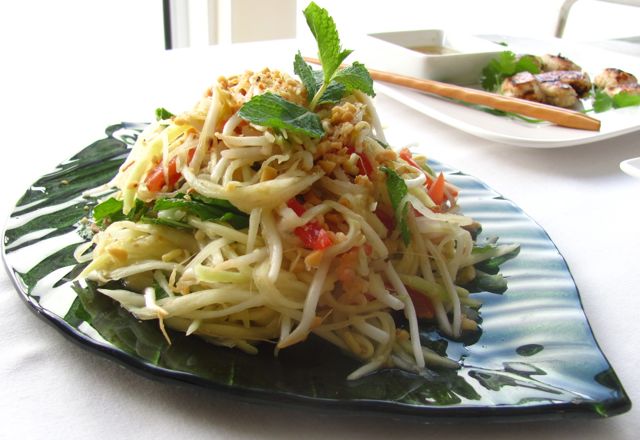 Check out Well-Being Secrets site for an informative article on