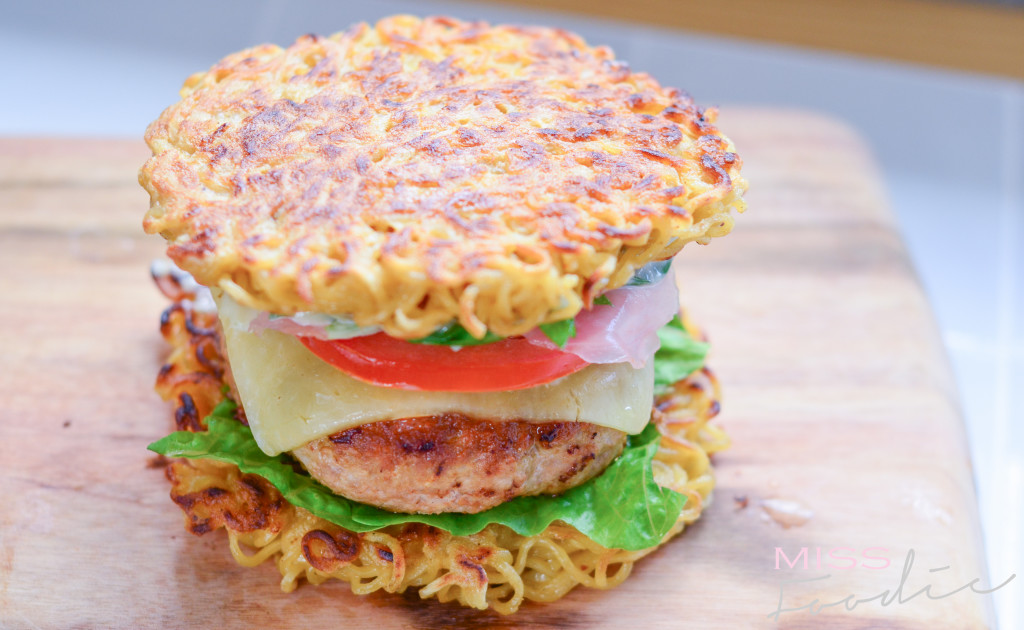 Seduced by Ramen Burger images for far too long; it was only a matter of time before I caved and devoured one for myself. With my long weekend consumed by wedding planning and bridesmaid dress shopping, the kitchen proved an ideal escape for Ramen Burger fun.
Originally created by Ramen obsessed blogger, Keizo Shimamoto, the official Ramen Burger is quite simply a ground beef patty sandwiched between two specialty formed buns made from cooked ramen noodles, accompanied by Keizo Shimamoto's special shoyu glaze and fresh vegetables.

Rooky Ramen Burger creator over here, opted for a pork patty; this may or may not have been the best move. My Ramen Burger lacked a little something-something, but given the robust flavours of a traditional beef patty, would be easily fixed. Homemade Kewpi wasabi mayonnaise, BBQ sauce and fresh trimmings of tomato, cheese, lettuce and fresh shallots, finished my weekend treat off perfectly.
Voted one of "The 17 Most Influential Burgers of All Time" by Time Magazine, the Ramen Burger is a must do for any burger enthusiast.

[yumprint-recipe id='10']