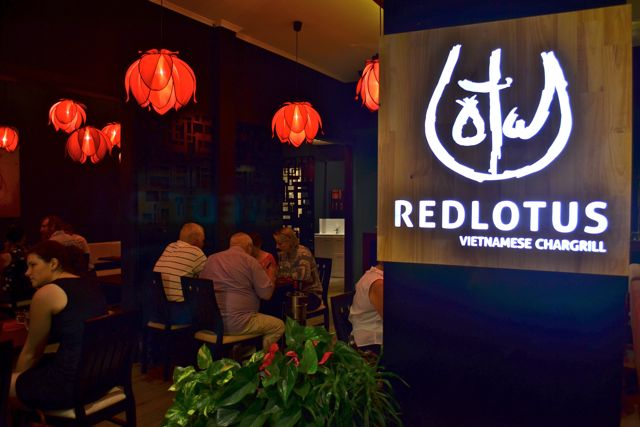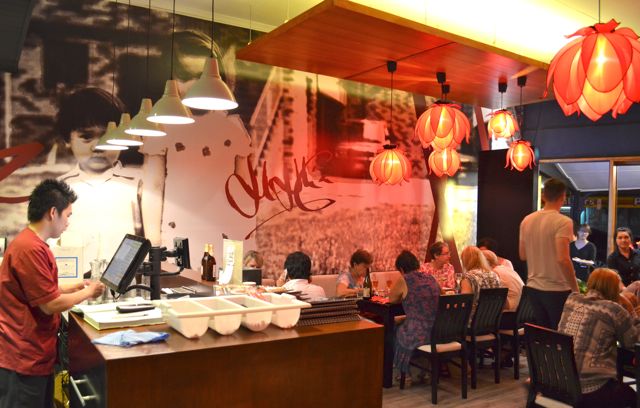 I can't tell you how happy I am that a mini Vietnamese food scene has developed at the end of my Annerley Street. First Café O'Mai and now Red Lotus, Queensland's only chargrill Vietnamese restaurant.
Red Lotus is the sister restaurant to Red Lotus in Fortitude Valley and together with neighbouring Cafe O-Mai, are family owned and operated by Leighton Rossi, sister Margaret Nguyen and Mummy Kin.
The new Red Lotus, Annerley operates a little differently than its Fortitude Valley counterpart in that it's more of a casual dining restaurant and its very reasonable prices reflect that.
The red and black colour themed interior is sharp and I love the contrasting Lotus lampshades which hang whimsically from the ceiling. Their modern décor looks somewhat out of place on Cracknell Road; some may misinterpret the appearance and as a result feel disillusioned by their basic take on food presentation and service. You instead have to enjoy it for what it is – this is Vietnamese street style eating. Pack them in and feed them – humble yet appetizingly effective.
We started as we normally do with Steamed Dim-Sims ($8) that were hot, juicy and pleasantly flavoured with no nasty gristles to be had. Dim Sims and I have a strong love affair and there isn't an occasion that I wouldn't order them. In fact, I'd love to make a documentary one day about finding "Australia's Best Dim Sim" – what do you think?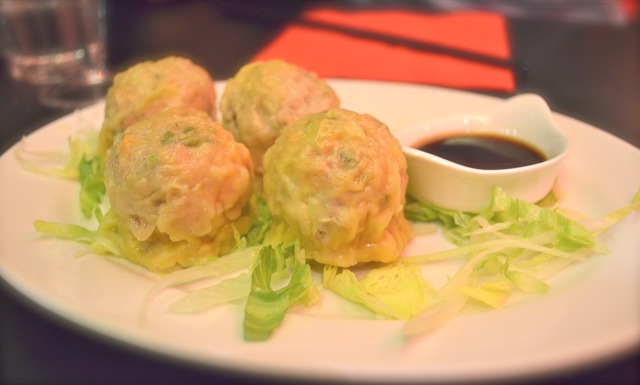 For mains, I opted for The Big Salad ($12-$16) which comprised of cold vermicelli noodles mixed with lettuce, fresh Vietnamese basil, mint, cucumber, shredded pickled carrot and dressed with a tangy fish sauce. Basic to look at yes but all together fresh and balanced. A number of warm topping selections are on offer including Chargrilled Chicken Breast, Crackling Pork and Deep Fried Tofu but it was the Chargrilled Berkshire Pork Strips that sold me on this occasion (I will try them all eventually I assure you of that).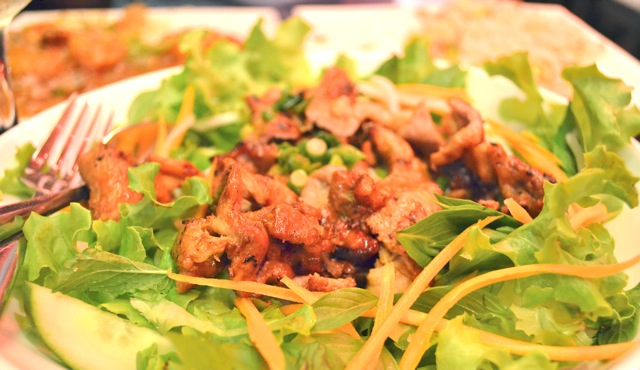 B chose the Vietnamese Tamarind Chilli Prawns ($20). Though he wanted hot we opted for mild so I could enjoy them too. The Red Lotus menu says this dish is like the Rolls Royce of Vietnamese cuisine and its sweet somewhat naughty goodness shows you why. It is the dish of choice for weekend gatherings in Vietnam and is one of Red Lotus's best sellers.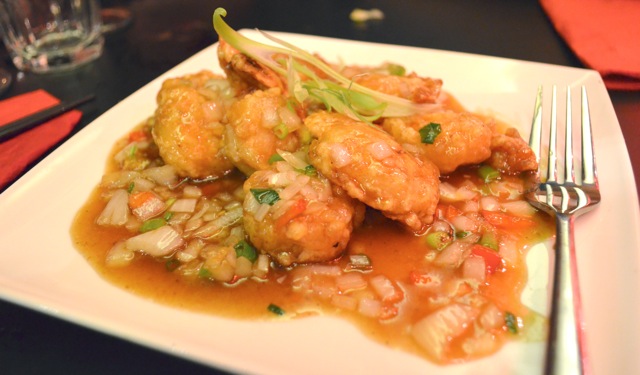 Their Special Fried Rice ($10) on first savour was a little bland but in the end was a great balance to accompany the rest of our meals. I really wanted to order Green Papaya Salad ($10-$14) but had ordered enough already! I did see it come out though and it looked as fresh as can be – I'll have that with the charcoal cooked Sovereign Lamb Cutlets ($25) next time.
Red Lotus I'm happy to say is MSG free. They strive to "offer an honest representation of traditional Vietnamese food which entails doing everything properly with no short cuts or enhancers".
Owner Leighton Rossi makes a lot of effort researching and experimenting with locally available products "…at the end of the day when people come to restaurants they expect something a little bit more special and we actually try to offer people this whilst still keeping it traditional".
If you're looking for a cheaper, laid back dining option in the Annerley area, Red Lotus Vietnamese Chargrill is the go.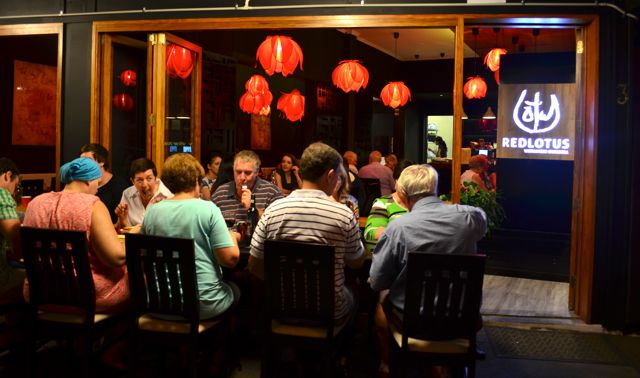 Red Lotus
3 Cracknell Road, Annerley Phone 3162 4384 BYO
Red Lotus Annerley Website coming soon