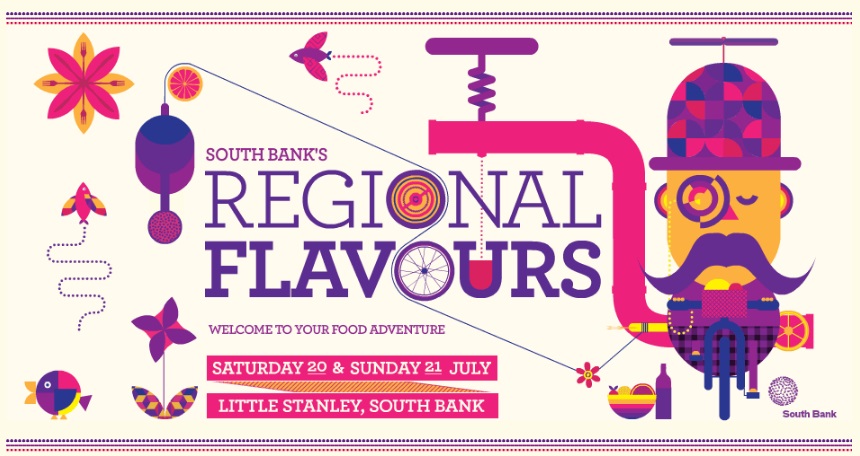 Regional Flavours, Brisbane's signature food and lifestyle event will run from 20–21 July 2013  in the beautiful parklands of Brisbane's South Bank.
One of Brisbane's best 'eat streets', this year's Regional Flavours will celebrate the Queensland food adventure in all its guises.
Featuring more than 100 of the State's best producers; a main stage program; an onsite bar; a children's food adventure area and a dedicated riverfront gourmet food and jazz event at River Quay, the fifth Regional Flavours has something for everyone.

Both Saturday and Sunday will feature Adam Liaw (MasterChef series two winner) and Hayden Quinn (MasterChef series four) as well as demonstrations from some of Queensland's most talented chefs; David Pugh, Nick Street-Brown, Damon Amos, Spencer Patrick and Annette Fear, to name a few.
The Courier-Mail Piazza will be transformed into a fantastical, child-friendly 'food world' to inspire creative food adventures, known as The Food Imaginarium. Join Alice Zaslavsky, the bubbly and passionate cook from MasterChef series four, as she creates 'Fairytale Food' and take part in a range of hands-on activities that draw inspiration from the intersection between food, creativity and science.
Head to The Hunting Club, run by The South Bank Surf Club, for beer and cider in all its glory. Sample Queensland's best frothy tipples with specially selected paddles of both beverages, which will be matched to a delicious menu designed to keep any huntsmen and women sated (think camel sliders and sustainable seafood).
Not forgetting the traditional drop, there will also be a selection of wines available. Chat with roving industry experts as they impart their knowledge on brewing, drinking and selecting beer and cider.
If you're still feeling peckish, grab a small taste from one of the 12 funky food 'trucks', operated by South Bank retailers, which will be 'pulling up' along Little Stanley lawns to sell their delicious wares.
Or for something more substantial, drop into one of the 64 restaurants, cafes or bars along Little Stanley Street and The Parklands to immerse yourself in your choice of cuisines from around the world.
Regional Flavours 2013 – I'll see you there!!!
Visit Regional Flavours for updates and more information on confirmed stallholders, presenters and chefs – regionalflavours.com.au