I'm on a roll with Gourmet Garden Blog Off/Cook Off! Another recipe accomplished tonight. This dish is perfect for my coeliac and gluten deficient friends, but don't be turned off if you're not, simply replace the gluten free pasta with your favourite variety. My only regret with this recipe was my choice of ricotta, I definitely should have used a more traditional fresh variety, it still went down nicely all the same. I couldn't say no to opening a bottle of red wine tonight, it's the hidden Italian in me! I cook pasta and bam my body clock goes red wine.
Miss Foodie friends are always asking for simple dishes tocreate at home, you will find this one a breeze, especially using Gourmet Garden Herbs.
Ricotta, Thyme & Spicy tomato w/ Gluten Free Pasta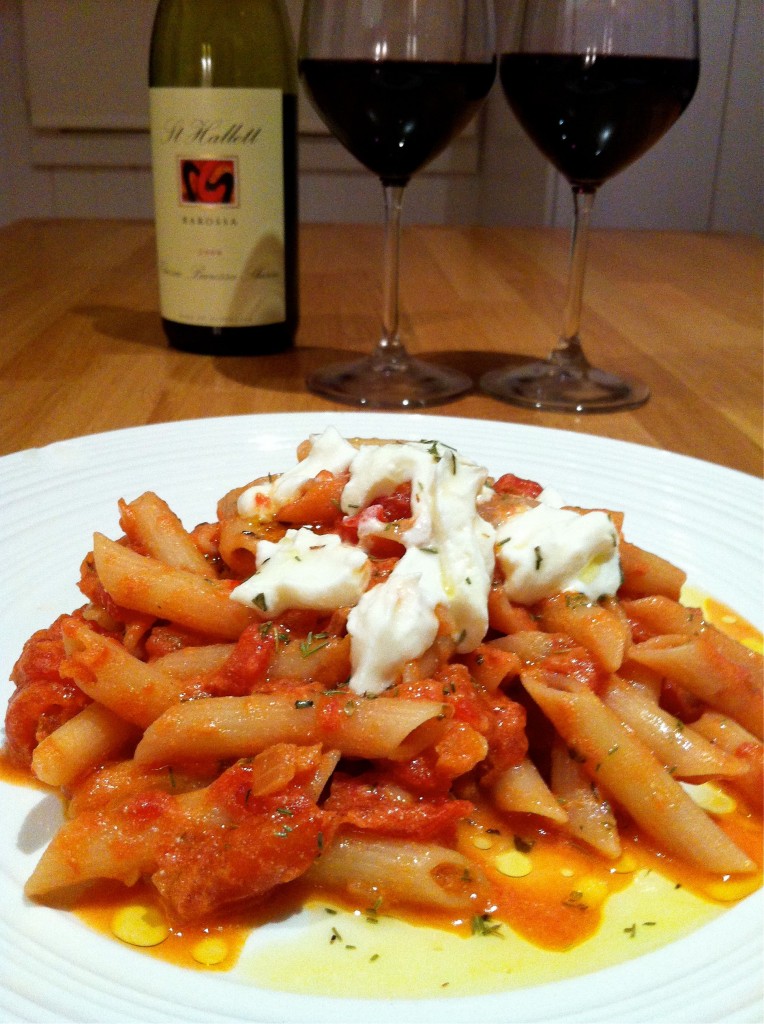 Ingredients
1 tbsp olive oil
1 brown onion, finely chopped
3 tbsp Gourmet Garden Chunky Garlic (yes I love garlic, use less if you like)
2 tbsp tomato paste
2 x 400g cans whole tomatoes – carefully cut them up in the can (I think the whole canned tomatoes have more flavour than the diced ones)
2 tbsp Gourmet Garden Basil
2 tsp Gourmet Garden Chilli
2 tbsp Gourmet Garden Thyme
Freshly ground salt and pepper
Pinch of sugar
250g ricotta cheese
Cooked Gluten Free pasta or normal pasta and olive oil, to serve
Method
Heat your olive oil in a saucepan over medium heat. Add onion and Gourmet Garden Chunky Garlic and cook, stirring occasionally for 3 minutes or until onion has softened, being careful not to burn.
Add tomato paste and stir for 1 minute. Then add your tomato. Bring to the boil then reduce heat to low and simmer for 10 minutes or until sauce has thickened slightly. Add Gourmet Garden Basil, Gourmet Garden Chilli and 1 tbsp Gourmet Garden Thyme, salt and pepper and a pinch of sugar and stir to combine. Cook for a further 5 minutes.
Mix olive oil and 1 tbsp of Gourmet Garden Thyme in a small jar and set aside.
Add half the ricotta to sauce just before serving. Stir to combine. Serve with pasta. Top with ricotta and drizzle with your thyme oil.