Craving a fresh piece of fish for dinner, I headed to my local fish monger for help. In search of a firm, white flesh variety, my fish monger advised that the Rock Cod from the Northern Territory and Trevally where going to be my ideal choices. Not having tried Rock Cod before, I opted for this.
Sadly I don't buy fresh fish as much as I would like, and to be honest, it's simply because of cost. However, watching a recent episode of Gourmet Farmer really got me thinking. Host Matthew Evans ventured out for a deep sea fishing adventure, and let's just say the weather was far from perfect and the fish weren't biting. Evans spoke compassionately to the camera "I'll never complain about the price of fish again". It too made me appreciate what fishermen have to do in order for us to enjoy seafood. Having friends that are professional fishermen who go out for weeks at a time, I understand the hardship that goes with the job. So let's make a deal to be more grateful for the fresh seafood we have at our beck and call.
So what meal did I create with my fresh piece of Rock Cod you ask? Well I whipped up a very easy Monday meal of Baked Rock Cod with warm Asian-slaw. I love how this recipe has a fusion of different cuisines including Asian (soy, kecap manis), European (bacon, cabbage) and Mediterranean (Cumin seeds, Fennel).
Seeing my partner thoroughly enjoying his meal, I asked him what it is he liked so much. Not exactly the answer I was fishing for, but funny all the same, he replied: "It's the bacon." Apart from the obvious bacon appeal, the combination of fennel, cabbage and cumin made for a taste sensation that was tied together with the soy dressing in a perfect marriage of flavours.
This meal is perfect for winter because it's a lot more hardy than just having fish and salad. To keep it's hardiness ensure you choose a firm white flesh fish, if you chose a more delicate fish like snapper I think the flavour could get lost in the strength of the Asian-slaw. The freshly sliced spring onions are a must and give it the added freshness it needs.
 Rock Cod w warm Asian-slaw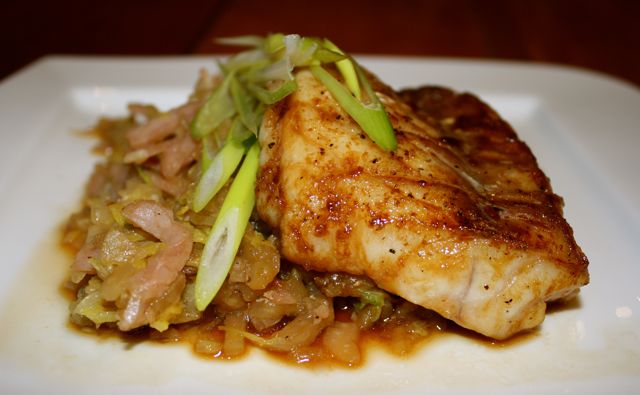 Ingredients
2 x 200g NT River Cod or Trevally
2 tblsp olive oil
2 tblsp kecap manis
2 tblsp soy sauce
3 rindless bacon rashers, cut into thin matchsticks
1 baby fennel bulb, thinly sliced
1/4 Chinese cabbage, finely shredded
1/2 tsp cumin seeds (optional)
2 tsp honey
Sesame oil to taste
Spring onion, sliced on an angle, to serve
Method
Preheat oven to 180°C.
In a small bowl, mix kecap manis and soy sauce.
Heat 1 tblsp of olive oil in a pan over medium-high heat. Cook bacon and fennel until bacon starts to crisp, about 3-4 minutes. Add cabbage and cumin (if using) and cook for a further 2-3 minutes or until cabbage begins to wilt. Now add honey, a drizzle of sesame oil and 2 tblsp of soy mixture, stir to combine.
Meanwhile, heat 1 tblsp of olive oil in a non-stick frying pan over medium-high heat. Season fish then cook skin side down for approximately 3-4 minutes until crisp. Transfer your fish to a lightly oiled baking tray placing fish skin side up. Trickle remaining soy mixture over fish and bake for approximately 5 minutes or until just cooked.
Divide cabbage mixture on plates, top with fish and drizzle with pan juices. Garnish with spring onion and serve immediately.