Rockpool – Neil Perry, three magical words in the Australian food industry, and certainly three of my favourite.
My love affair with Neil Perry began in 2003. I gratefully received Neil Perry's Food Source DVD as a birthday gift some years ago. The six part series brought with it an informative look into Australia's flourishing regions, restaurants, chefs and award winning producers; it truly was an eye opener for me. The passion that Perry brought to the screen was infectious.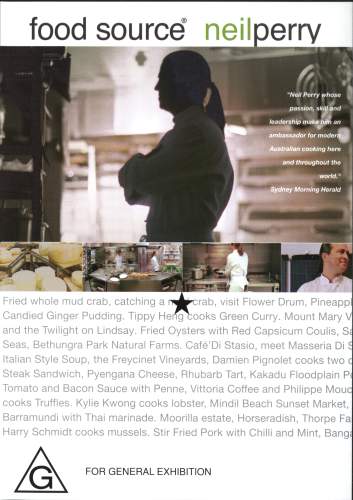 In each episode we see Neil Perry cooking up a storm in his Sydney restaurant Rockpool, this usually correlated with a visit to one of his Australian suppliers farm, grove or vineyard.
The admiration I have for Neil Perry and his Food Source DVD certainly helped carve me into the foodie I am today. I know it seems a bit far fetched but it's true. Understanding food, where it comes from, how it's grown and how to transform it to a memorable eating experience takes skill, and a skill I want to master, just like Neil Perry.
This post is about my dining experience at Rockpool and as usual I'm drifting off the story, so lets get back on track shall we. For my partners birthday and our anniversary I organised a planned trip to Sydney. First off the itinerary was dinner at Rockpool. My first impressions of Rockpool were friendly and professional. The Reservations Manager was my first contact. I had emailed Rockpool advising my wish to make a reservation; I also took the opportunity to express my excitement and love for Neil Perry's culinary expertise.  The Reservation Manager was very prompt with her reply and was helpful and friendly, she confirmed our reservation and also went into degustation options. Now all that was left to do was wait, and try and keep my lips sealed. The Sydney trip was a surprise for my partner you see, so it was all very hush hush.
When the night finally arrived, it was time for the dining experience of my lifetime. Upon opening the Rockpool door we were greeted with smiles and hello's from all the staff; we instantly felt welcome. The ambience felt charming and romantic, the lights were dimmed and the tables were set perfectly. Rockpool isn't massive but quaint, perfect for our special romantic evening. We were guided to our table which was towards the back of the room. I requested the best seat in the house, now that I've dined here I know all seats are 'the best'.
Below image care of Rockpool ©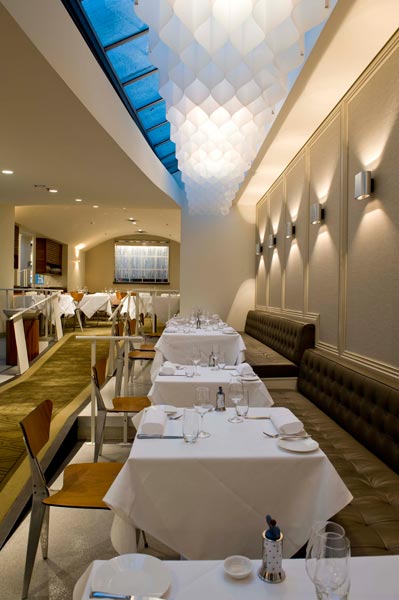 Our waiter suggested a NV Billecart Salmon Brut Reserve to start with, the team at Rockpool knew that my partner and I were celebrating and what better way to do that than with bubbles. Next we were introduced to Emma Plumridge, Rockpools Head Sommelier, we advised her that we wished to enjoy matching wines with our degustation; the rest you could say was in her hands.
Our degustation menu comprised of 4 Coursers plus a Canape. Our Canape was Queensland spanner crab, broccoli and Jerusalem artichoke. Being the first taste in my mouth, I nearly fell over backwards, the flavour was so delicate, fresh and simply mouth watering, I sighed on every bite. I looked at my partner and we both sighed and giggled, it was one of the nicest dishes we'd eaten, and we'd only just begun!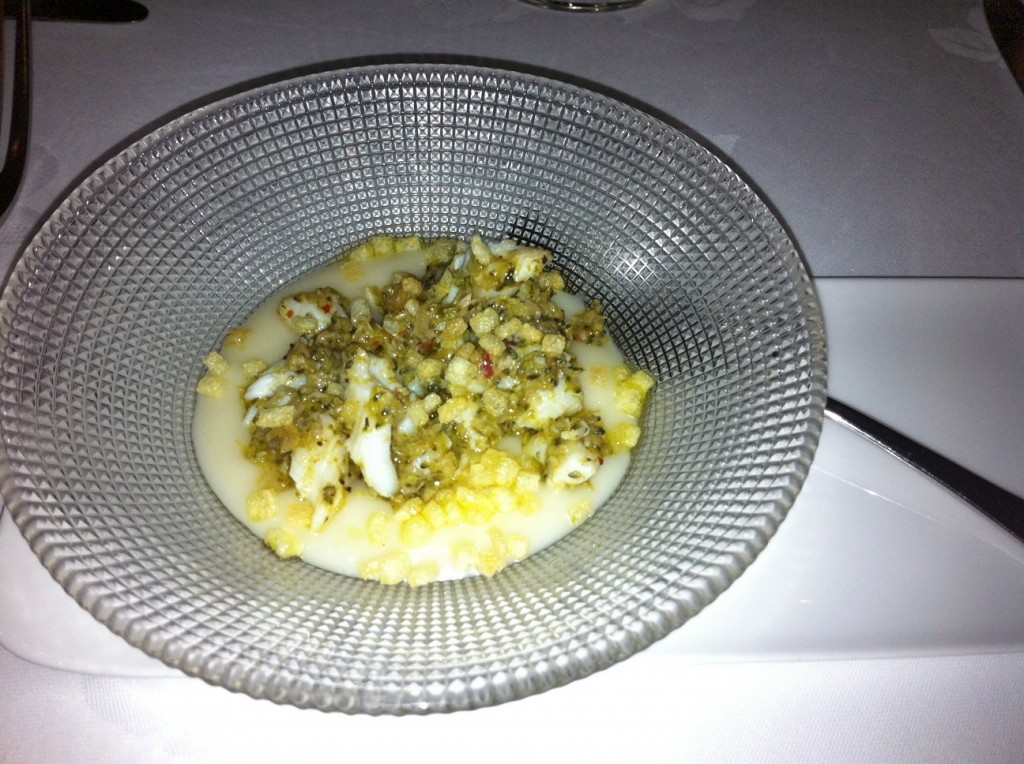 Course 1 was next. I chose Glazed pig's head, hot and sour gluten, broad beans and hazelnuts. I was hesitant on choosing this due to the obvious pig's head, but I knew it wasn't literally going to be a pig head on a stick. Instead I was served a beautifully presented terrine of goodness. The broad beans and hazelnuts were the perfect accompaniment, so to the jus'ness goodness. All the flavours were perfectly balanced, every taste bud jumped with joy!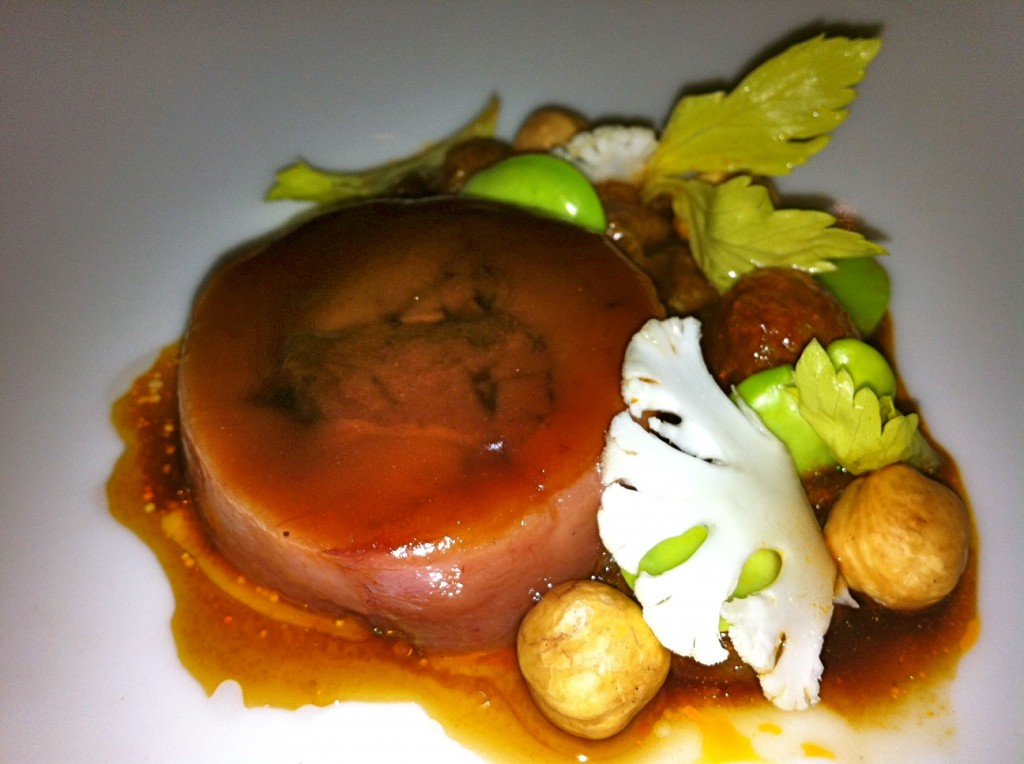 My partner chose the Blue Swimmer crab and corn congee, almond tofu, star anise scented peanuts, fried bread and chilli oil. Tasting two types of crab so close to one other (Queensland spanner crab and Blue Swimmer crab) enabled me to really note their differences. The Queensland Spanner crab was honestly mouth watering, it felt as though it melted on my tongue. The Swimmer crab's flesh on the other hand was meatier, not so delicate, but none the less tasty.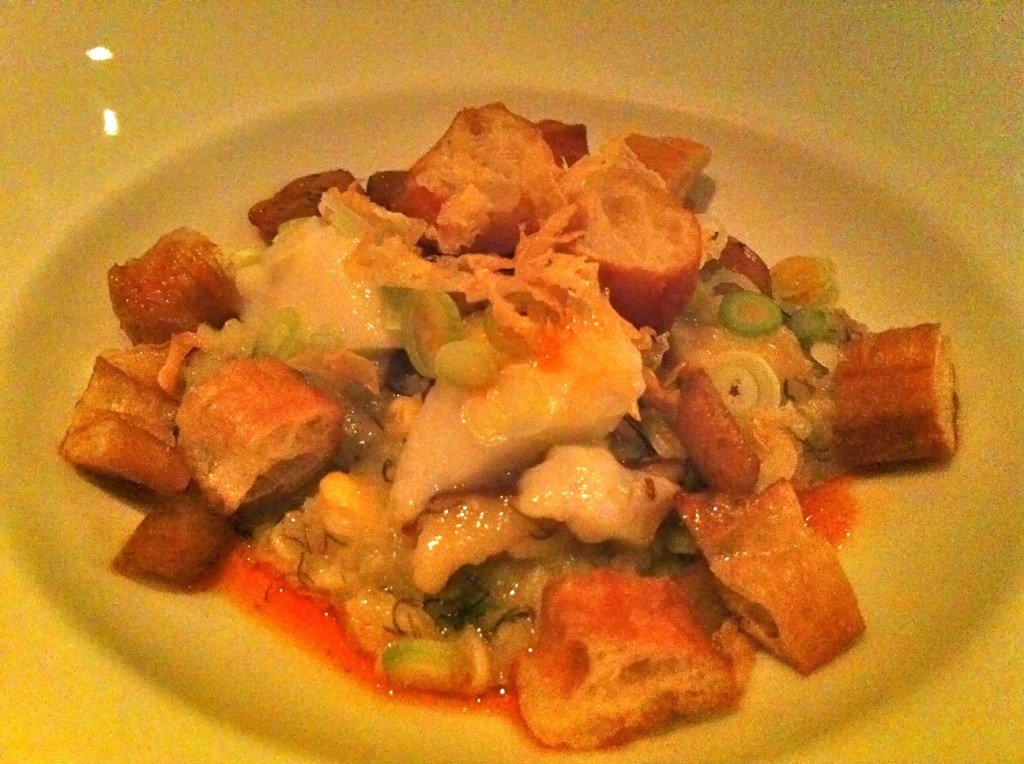 I decided on the Goats cheese cannelloni, leeks, Beechworth honey, parsley, orange and liquorice relish for Course 2. Me oh my, jaw-dropingly tasty! The Jannei goats cheese melted in your mouth, the asparagus was cooked to perfection, the sweetness from the Beehworth honey and orange was subtle but evident.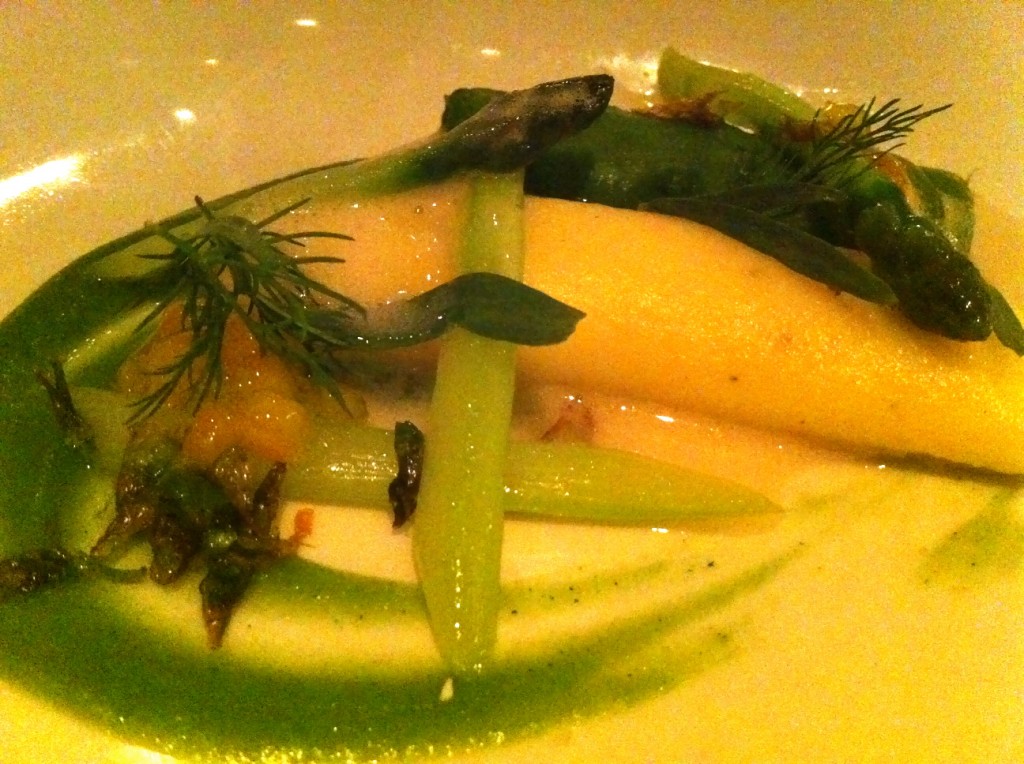 Course 2 – My partner ordered the Veal sweetbreads, ham, peanut, braised tripe and buckwheat noodles. This dish was packed with flavour, to be honest maybe a little rich. Our belly's were getting pretty full by this stage so braised tripe and veal was a lot to absorb at the time. Still a tasty dish but not our favourite in the degustation.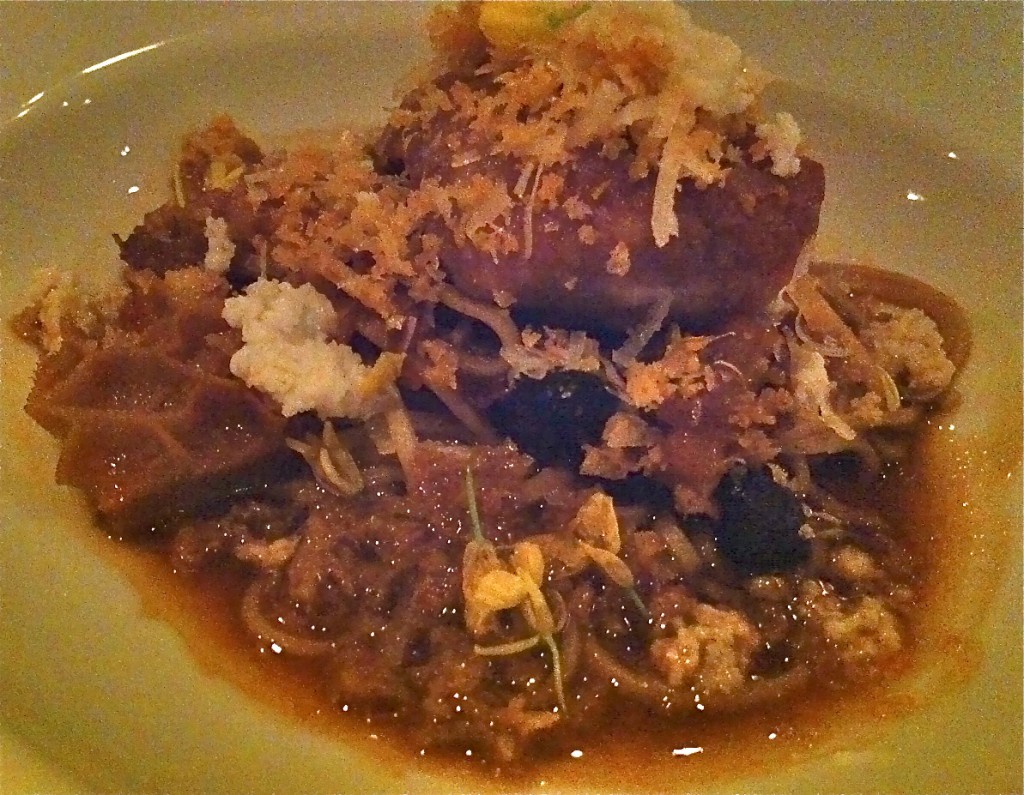 Partner and I were chatting away, anticipating about Course 3, when a waiter brought us a complimentary dish…. White cut chicken, smoked oyster, jamon iberico and five spice. Jamon iberico is labeled as one of the finest hams in the world, and I agree whole-heartedly. The ham glistened beautifully on our plates. They must have cooked some of the cured ham too, as you can see we enjoyed some crunchy pieces too. The white cut chicken accompanied the jamon iberico wonderfully.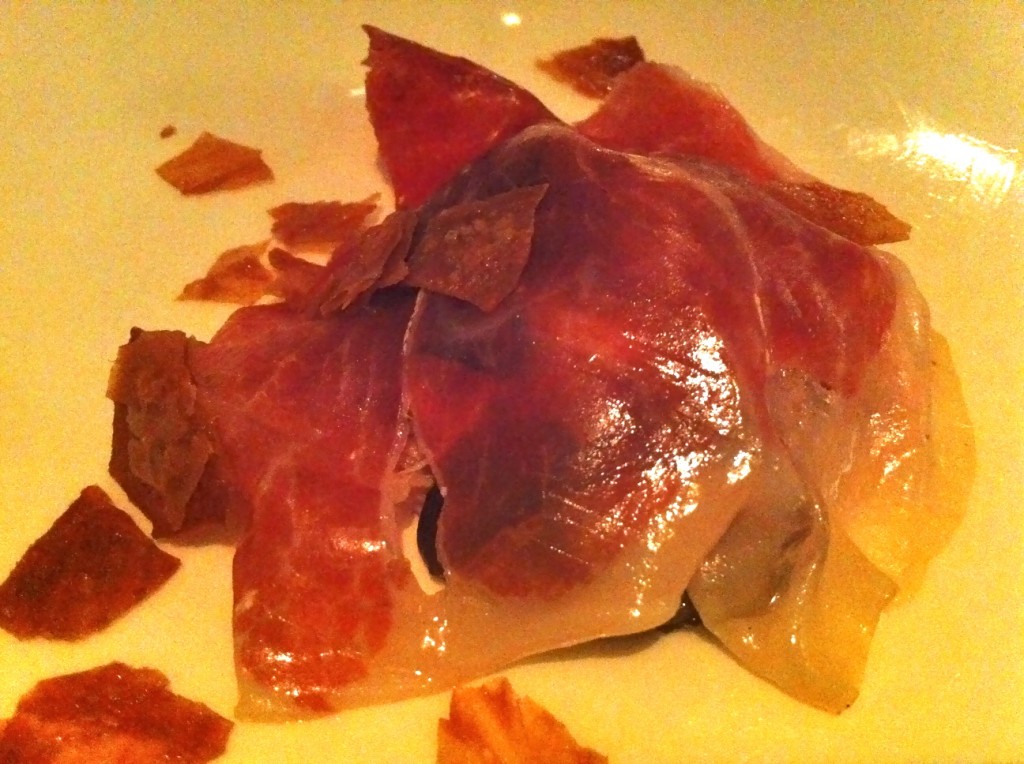 Now it was Course 3's turn. I chose Chinese roast pigeon, smoked eggplant, black mushroom and cucumber pickle with blackbean sauce. When ordering I was asked how I wanted my duck cooked. I replied "however the chef wants me to have it" I sadly regretted that. Normally I would have said medium rare you see, my pigeon was very pink even red. It still had the perfect crunchy skin that I love, it was just a little too raw in some parts and sadly I could not eat it.  The smoked eggplant was luscious and the black mushroom and cucumber pickle brought with it a pungent and slightly sour flavour to the mix. The dish was on a black plate which I loved; sadly it wasn't very good for taking photos though.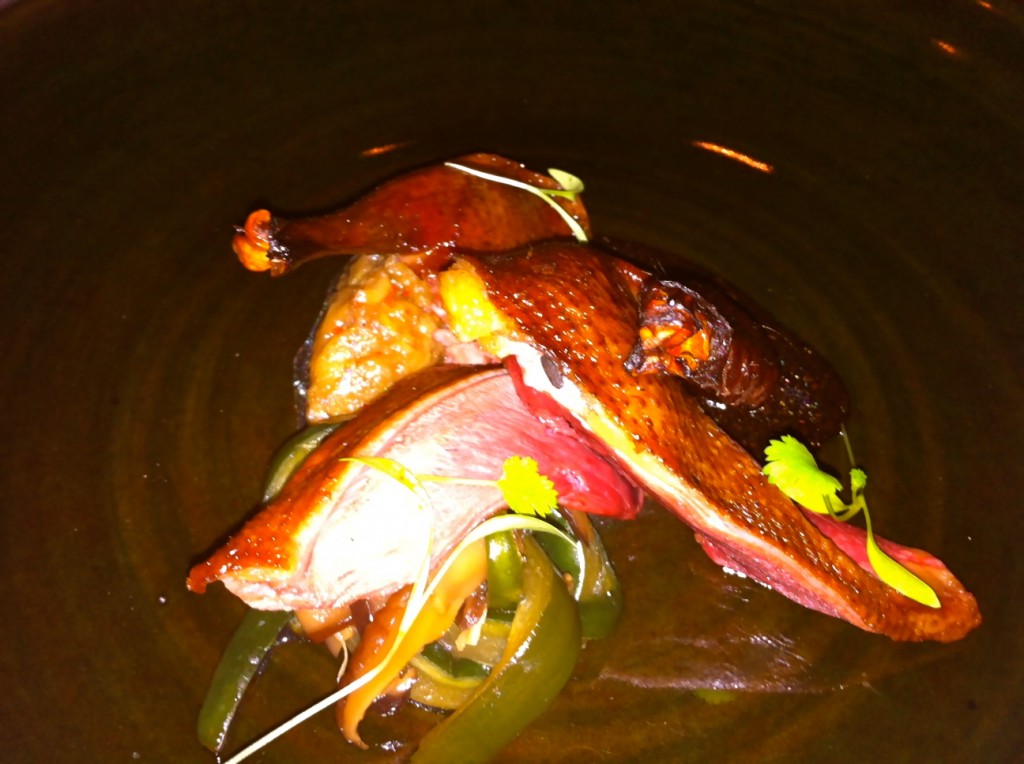 Valley beef short rib; braised and barbecued, red cabbage, carrots, enoke and mushroom tea is what my dearest feasted on and what a lucky man was he. Tasting the red cabbage took me back to my days in Prague where red and white cabbage was served with every meal. As delicate as the enoke mushroom can be, the flavour was still so distinct, I love the Asian influences Perry incorporates in his dishes. The main act, Valley beef short rib was a standout of course. The beautiful caramalised skin and the intensity of slow cooked flavorsome beef was enriching. What was oh so cute about this dish (can you even say a dish is cute?) was the introduction of the dish. The mushroom tea was poured from a cute little tea pot upon serving.  A yummy, full flavoured dish!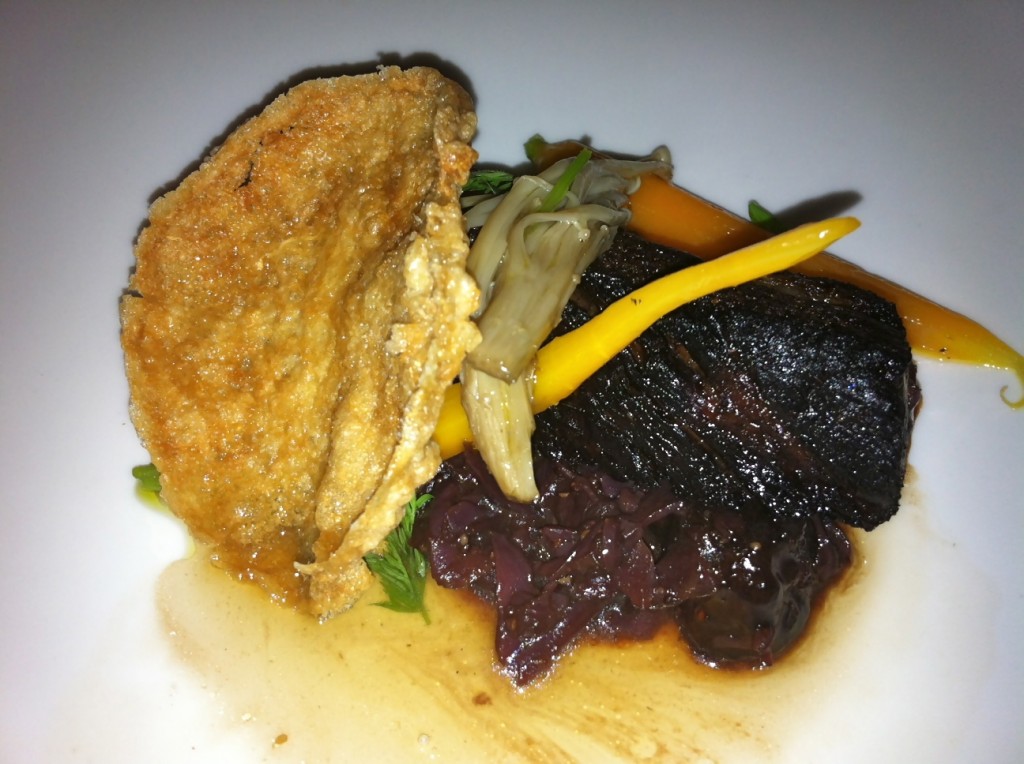 Yes there's more, it was time for dessert. Course 4 Date Tart. Neil Perry's original recipe since 1984 (I'm 3 years it's senior). Oh how sweet I remember the crust was, the custard skin had formed a perfect blanket for the custard creamy centre which cradled the sweet dates. Mmmm it was delicious all the way!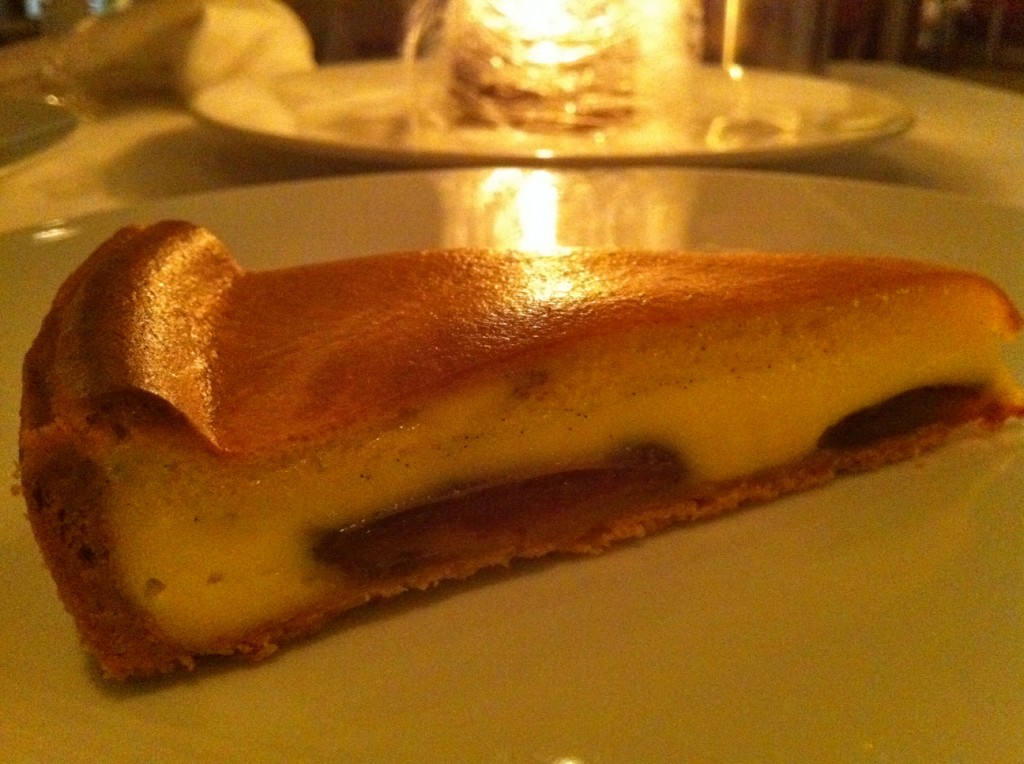 Vacherin of pandan custard, coconut parfait, jasmine sorbet and lime granite. The custard was so creamy, the jasmine sorbet was extremely refreshing and the lime granite gave your taste buds a wakeup call. The 4 ingredients together was a party you didn't want to miss. The presentation as you can see was amazing too. How they made that coconut parfait on top so perfect I don't know. What's that glowing in the back ground you ask…..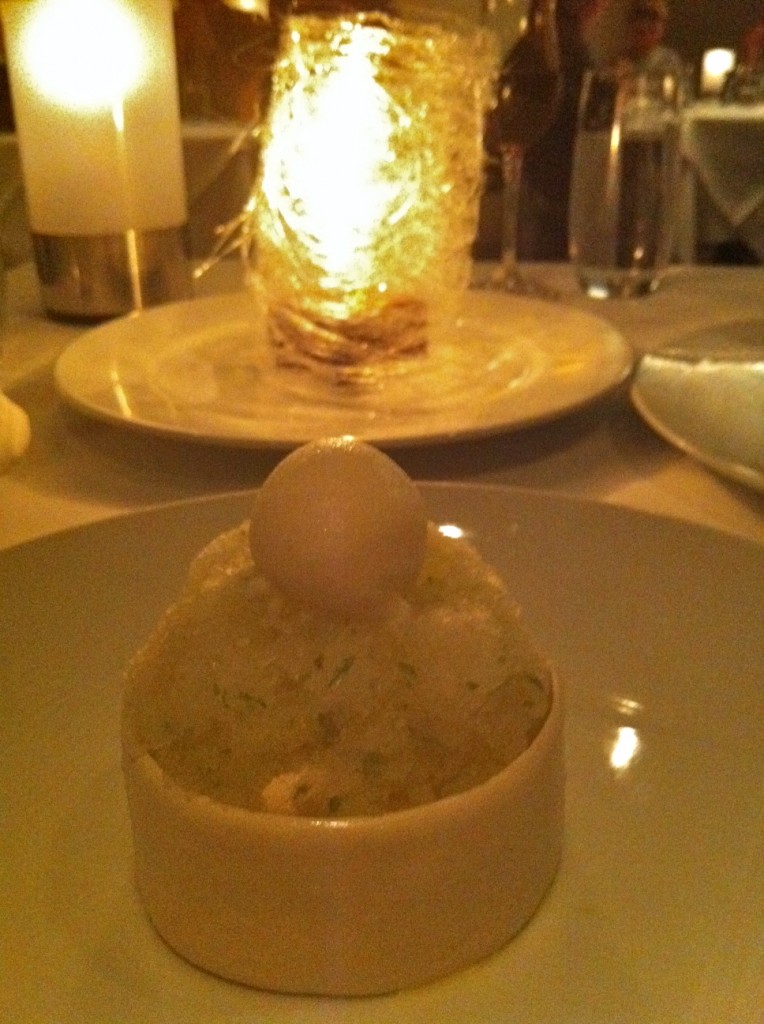 It was my darlings complimentary birthday cake – Chocolate mud cake with gold leaf and spun sugar. A very nice touch and a perfect way to end the evening.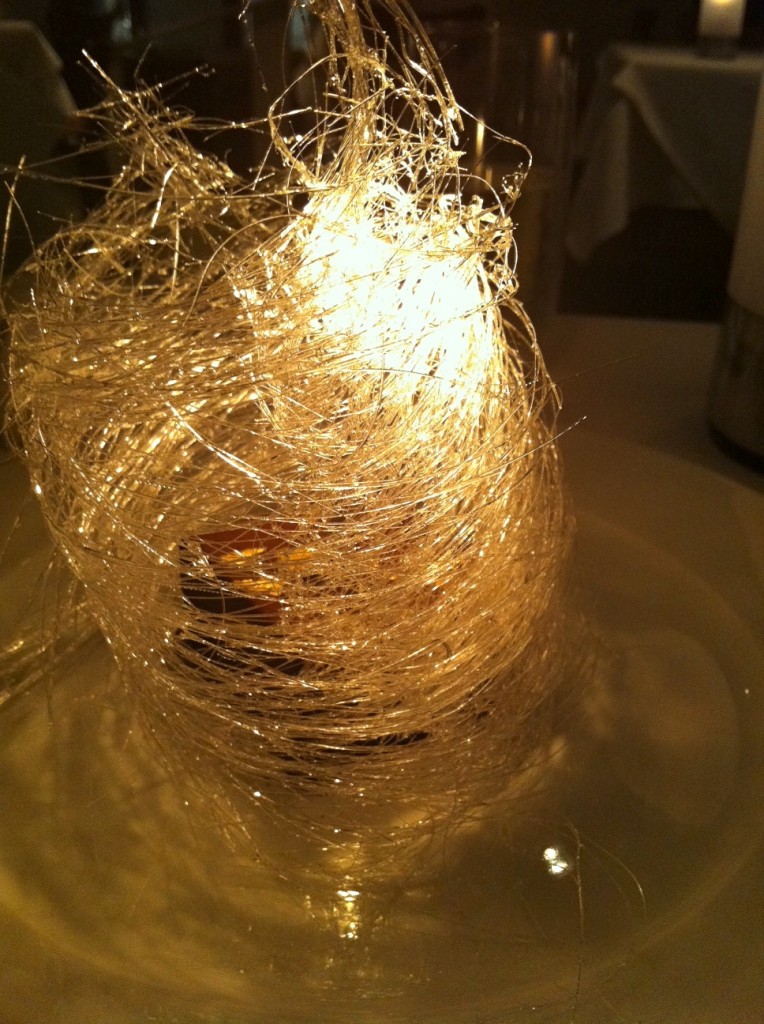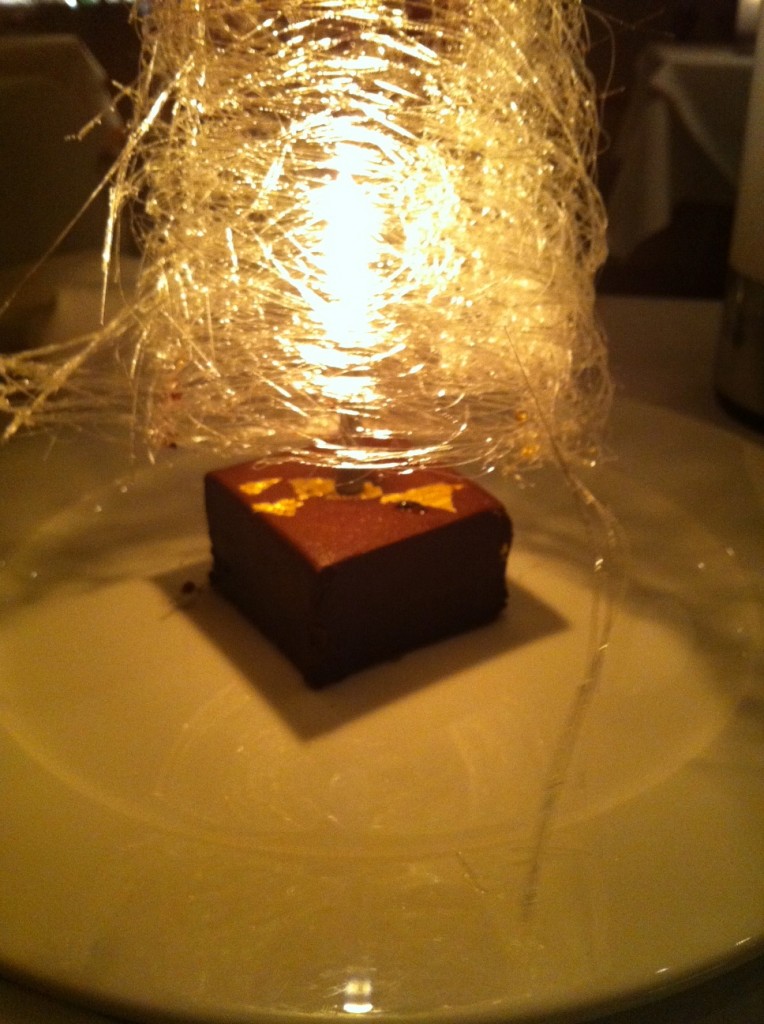 Rockpool lived up to all my expectations and then exceeded them. I had a truly wonderful time and will remember my night forever. Thank you Neil Perry and thank you to all the magnificant team at Rockpool, you are all superstars and are amazing at what you do! No wonder you have a shrine of awards, you deserve each and every one. I can't wait to try Neil Perry's other restaurants, 1 down 7 to go….
SYDNEY
Rockpool
Rockpool Bar Grill
Spice Temple
MELBOURNE
Rockpool Bar Grill
Spice Temple
The Waiting Room
PERTH
Rockpool Bar Grill