I'm usually pretty good when it comes to bringing lunch to work; but with the Emporium right next door, I can't help but treat myself from time to time.
With my big day just eight weeks away, my treats have been strictly healthy ones – my wedding dress fits and it needs to stay that way! I'm lucky Avalanche Nature's Superfoods have an amazing choice of salads; my favourite being their pesto spelt pasta salad with chicken, apple and walnuts.
Eager to whip up this salad myself, when Brisbane based company, Rozas Gourmet Sauces approached me to do a sponsored post, I thought yes! Their Pesto will be perfect!
Rozas Gourmet Sauces Traditional Pesto tastes just like a garden-fresh homemade batch – no nasty preservatives here! The jar is loaded with freshly picked basil leaves (that you can clearly see), walnuts, garlic and parmesan cheese.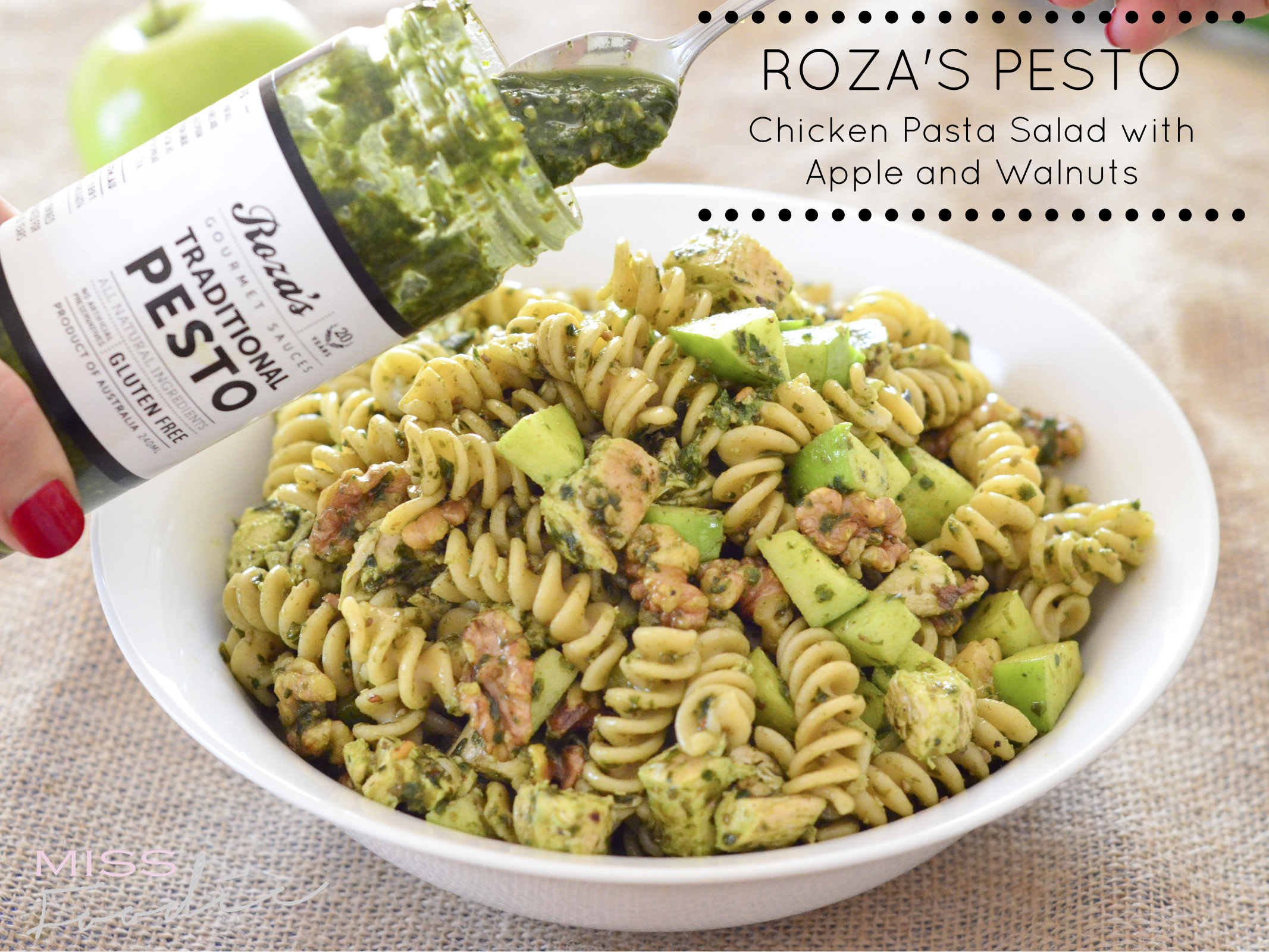 As well as this delicious pesto, I added a juicy green apple, pan seared chicken breast and toasted walnuts to my already cooked and cooled spelt pasta. And that was it friends, this hero of a salad was complete. To make it extra healthy for my lunches for the week, I served it on a bed of baby spinach.
Gluten Free with all natural ingredients, I've been a fan of Rozas Gourmet Sauces for long time. I've relied on them when in a hurry for unplanned occasions or when I'm just feeling a little lazy. A spoon of Roza's here or there will transform any plain-Jane dish into a gourmet delight. I also love that their fresh ingredients including: fruit, herbs and base ingredients such as eggs and bush honey are sourced from local farms in South-East Queensland.

With a delicious range consisting of 40 products including varieties of mayonnaises, mustards, pestos, chutneys, chilli sauces and dips – all of which are gluten-free, Rozas Gourmet Sauces have certainly come a long way from their humble family kitchen beginnings back in 1991.
I was commissioned by Rozas Gourmet Sauces to create this sponsored post.
[yumprint-recipe id='12']