It's Friday evening and as any woman would have it I was struggling to find an outfit to wear. It was quite a special evening for me and I had butterflies of excitement. Not only were my darling sister and partner flying into Brisbane, but they along with myself and partner, were venturing off to Brisbane's premier Japanese restaurant, Sake Restaurant and Bar.
Walking along Eagle St Pier with my sweetheart was a lovely way to begin the evening. There's a certain romance in walking along the rivers edge, under the shining city lights and stars. Yeah I'm a romantic, what girl isn't?
Arriving at Sake a little earlier than my sister and partner, we ventured through the alluring Sake doors where we were very warmly greeted by Sake Manager Ashleigh McMillan. Having organised a special Flights and Bites experience with Ashleigh, we were escorted to Sake's outdoor bar area and seated beneath their beautifully lit sakura tree. It is here that I've enjoyed a number of tasty cocktails both by day and night – both wonderful.
Being only one day away from the first of Spring, Manager Ashleigh informed us that we were to be treated to a Sakura Matched evening to celebrate the coming of the new season. Sakura is the traditional Japanese Cherry Blossom flower. The Cherry Blossom blooms with the approach of Japan's warmer weather and the Japanese turn out in large numbers to parks and temples with family and friends to take in all the spiritual beauty that they bring.
Whilst waiting for the rest of our guests to arrive, we sipped on a couple of new season cocktails to kick off the night. For the ladies the very attractive Shira Yuki Hime cocktail is recommended. Beautifully set in a martini glass, this delicate mixture of sakura sake, Cointreau, shochu and sakura liqueur, has just the amount of sweetness and finesse that any girl could want. I felt like Carrie Bradshaw sitting under the city lights, sipping on my pretty little cocktail.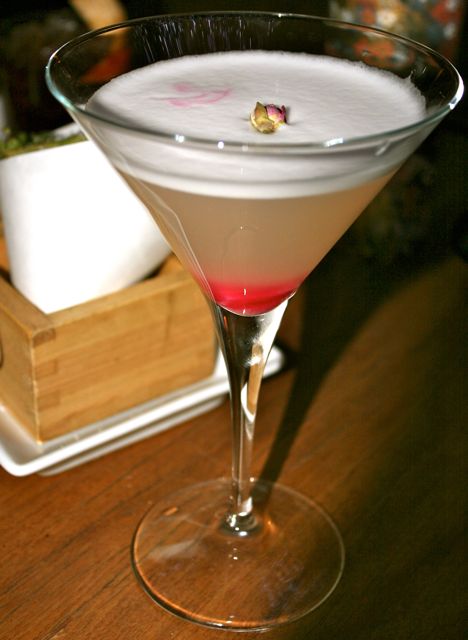 For the gentlemen they recommended Yoidore – A blend of Yamazaki 12 year old Japanese whiskey with cherry and chocolate liqueur. Not the biggest whiskey fan I thought this cocktail was actually very nice indeed – my partner loved it!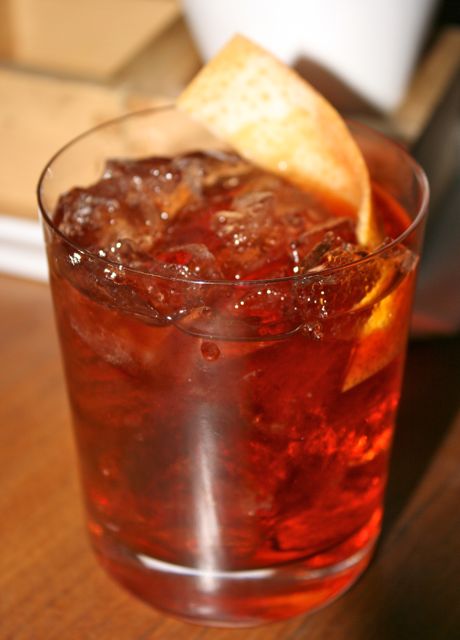 Some Edamame to nibble on…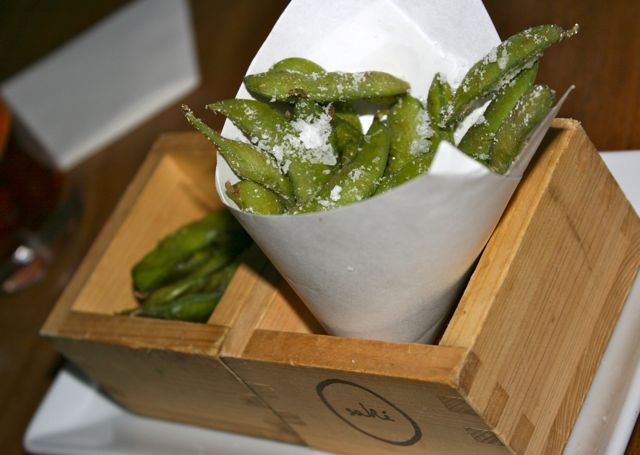 Though the nights have warmed up beautifully, this night however the breeze had picked up and there was quite a chill in the air so we were kindly brought into a beautifully set table inside. It's this attention to detail that I feel makes a night memorable.
My sister and her beau had arrived and our tasty morsels followed soon after. Course one: Fresh Scallops with ponzu and ikura (ocean trout roe) and line caught Kingfish dressed with white soy, yuzu juice, sesame seeds and chives. I know impressive huh? What's more impressive is the Kingfish was actually line caught that very morning by head chef Shinichi Maeda on the Gold Coast and then sashimi'ed that afternoon for the evening's guests – now you can't get much fresher than that can you people!
To complement these fresh ocean flavours our sashimi was matched with Kozaemon Junmai Daiginjo sake. Very elegant in flavour, this sake had a charmingly crisp taste with beautiful floral tones that I very much enjoyed. Brewed by Junmai, Kozaemon is a pure fermented rice variety. Daiginjo is a very special brew with the highest polishing of rice, and the rice used is a closely guarded secret which only the Kozaemon family is privilege to.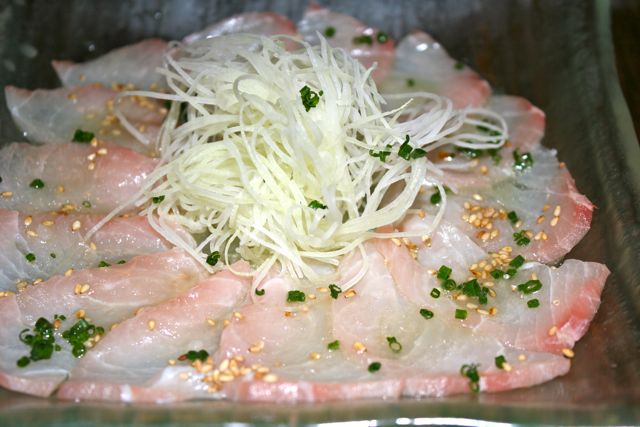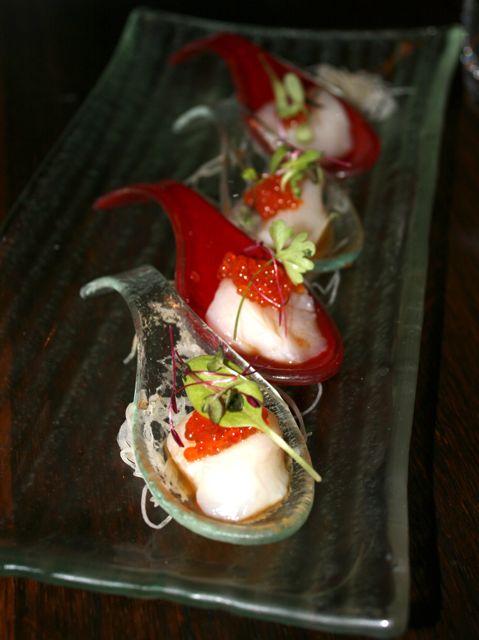 Our next course was steamed Prawn Shumai with a Spicy Ponzu and tempura (Coffin Bay Pristine) oyster with a Japanese tartare. As most will know, oysters are my favourite food on earth! I'm not a fan of them cooked as I like them just the way nature intended them to be, shucked and fresh as can be. Sake's tempura take on the oyster was done so with perfect finesse and like everything from Sake was stunningly tasty. The oyster was only lightly cooked until just warmed through which kept the Coffin Bay oyster plump and gorgeous. The Prawn Shumai was a hit at the table and we had to hold ourselves back from eating too quickly as we wanted to savour all the flavours.
Kozaemon "Sakura" Junmai Ginjo was our next Sake tasting and again the flavour was wonderfully aromatic and complemented our dishes perfectly. Junmai is a pure fermented Ginjo rice. This is a very special variety as the rice is milled to an extremely high level which results in the brewing process becoming extremely precise and labour intensive. Sakura meaning Cherry blossom has been made especially for Sake Restaurant for the month of Hanami (Cherry Blossom festival). Being a Ginjo it is slightly fruity with a soft sweetness at the front of the palate.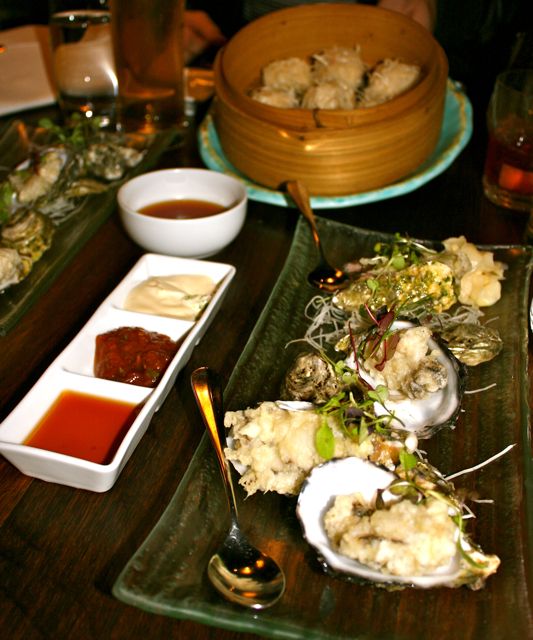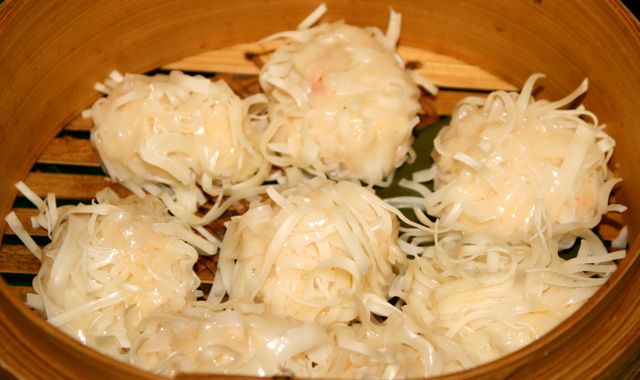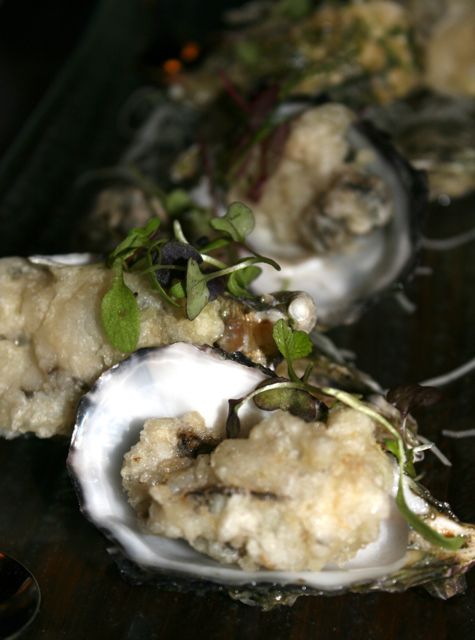 Moving onto our final course we were served pan seared ocean trout nestled on a sweet pea puree and topped with Asian mushrooms tossed in butter soy. Let's just say we died and went to heaven. The ocean trout was cooked with such perfection and its gorgeous pink colour gleamed magically against the rich green pea puree. I loved the Asian mushrooms; their flavour was pungent but soft enough to allow the freshness of the fish to shine.
Kozaemon Junmai Ginjo shinano miamanishiki is an organic Sake which was matched to the ocean trout because of its versatile and complex flavours and the hints of shiitake mushrooms and bamboo leaves brought out these beautiful flavours in our dish.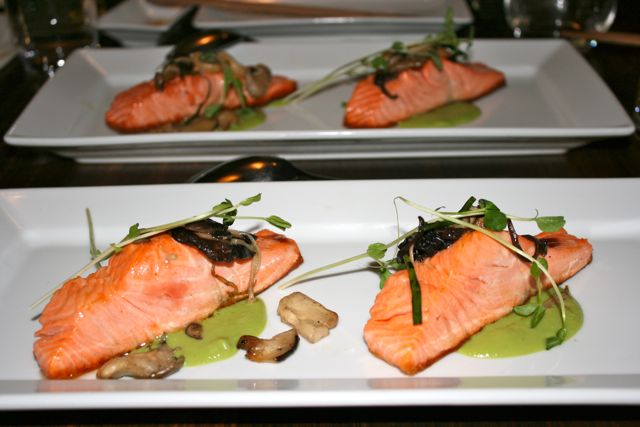 Enjoying a sake matched dinner was such a wonderful experience and such a refreshing change to wine. I never want to have wine at a Japanese restaurant again, why would I!
Our tasting didn't end there as next we were treated to Choya Shiso Ume-shu. Ume-shu is a plum wine made from the Japanese plum ume. This particular umeshu actually has the plums inside the bottle. Shiso is a leave commonly used on sashimi and in the old days it was used for its antiseptic qualities, now simply used for flavour. Slightly herbaceous with a hint of mint this sweet tasting plum wine was a perfect way to finish of our meal. Call me what you will but my sister and I both agreed that the taste was reminiscent of sucking on the seed of a salty plum.
We were originally offered the dessert menu and declined due to our already full bellies. Not ten minutes later, we did an about face and made a unanimous decision to indulge in one of Sake's beautiful desserts. Not sure which dessert to share our waiter ever so kindly offered to give us a mix of all four and what a great idea it was. My apologies here, for I can't recall exactly what the desserts were but I do know that the cheesecake was delicious and my favourite was the creamy coconut ice cream. The chocolate self-saucing pudding was a table favourite, the chocolate oozing out was actually euphoric; perhaps it was the cocktails and sake that made it so, either way it was bloody great!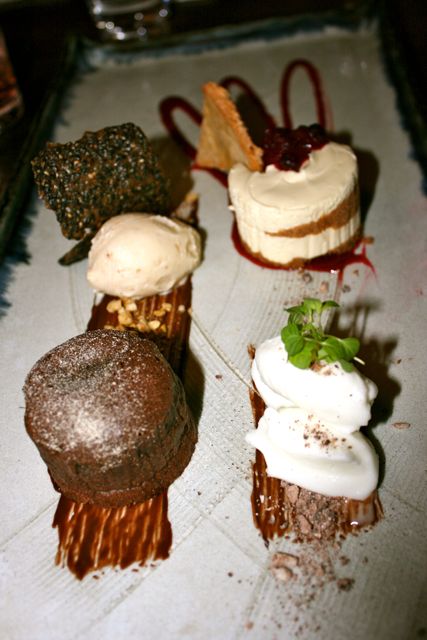 There's nothing better than walking out of a restaurant with a truly memorable experience and our night at Sake was just that. We all had such a fantastic time. The food was spectacular. The service was attentive and professional and not at all conceited as one might expect from an establishment such as this. Sake's lighting and décor displays a certain elegance yet funky quality that lures you back for more. The extremely talented chefs do an absolutely awe inspiring job and I am so grateful to be able to eat such magnificent food, so to you especially – I thank you.
Sake's Cherry Blossom Festival runs through until the end of September and I strongly urge you to make a reservation so you too can indulge in the flavours of this beautiful season.
Dining at Sake Restaurant earlier this year I enjoyed their 'Signature Dishes' banquet menu. Costing $88 per head it comprises of the below. Personally, I love ordering off the menu but the banquet can be an easier and preferred option for some people.