As much as I LOVE bangers and mash, tonight I thought I'd shake things up. I made a simple sausage stew, similar to my Poppa's classic sausages in onion gravy, but this time I introduced lentils. I'm loving lentils at the moment, they're so handy to have in the cupboard as they can be used in so many ways, they're perfect for bulking up family meals too. I always seem to forget the packets of Polenta I have in my cupboard, not today though! I served my sausage stew on top of fresh creamy Parmesan Polenta. This recipe does make a fair bit of polenta, but that's OK, because I have a to-die-for recipe using your left over polenta.
Sausage & Lentil Stew w/ Parmesan Polenta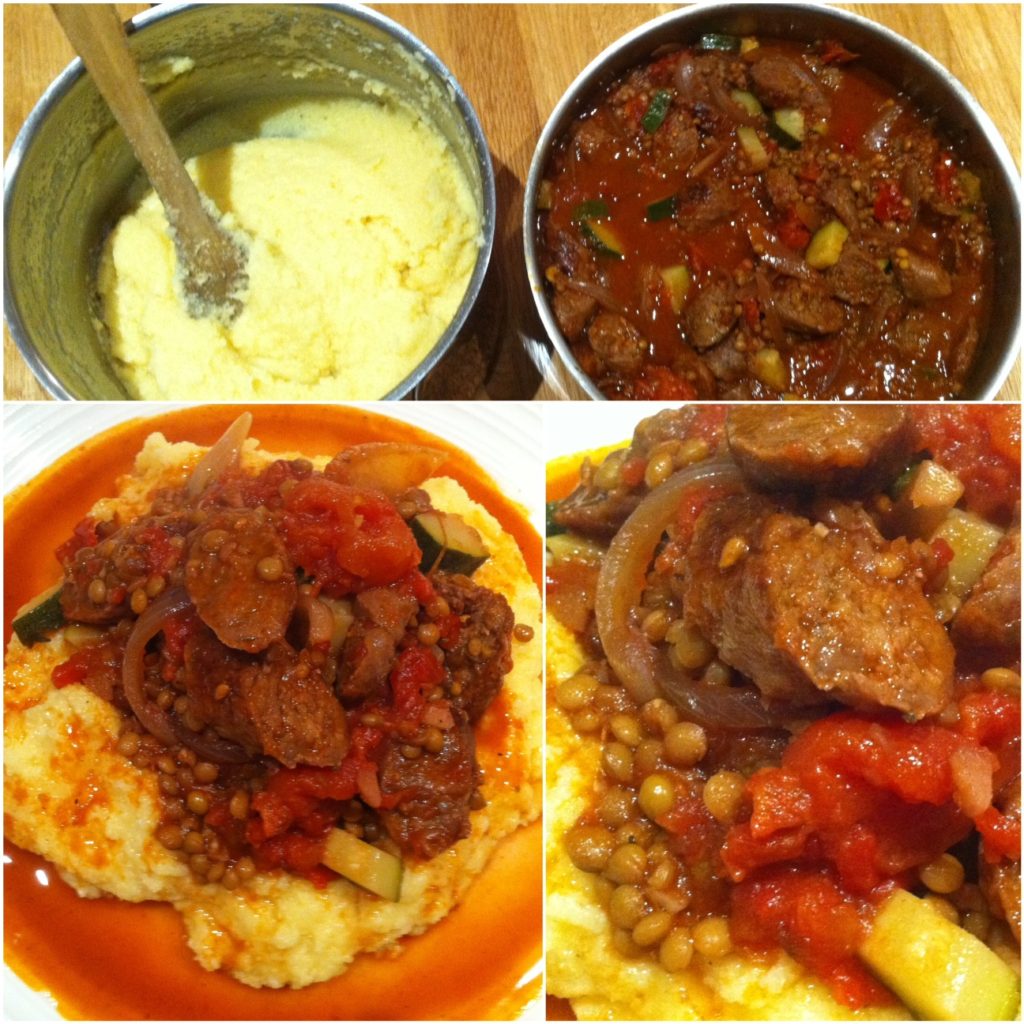 Ingredients
Serves 4
1 tbs olive oil
500g good quality beef sausages cut into cubes
1 can of lentils
1 onion, halved, finely chopped
3 garlic cloves, crushed
2 tbsp  sun-dried tomatoes, thinly sliced
400g can diced tomatoes
1/2 cup red wine
1/2 cup water
Fresh parsley  to serve
Parmesan Polenta
4 cups water
3 cups chicken stock
2 cups polenta
1/2 cup shredded parmesan
Method
Heat the oil in a large frying pan over medium-high heat. Add the sausages and cook, turning, for 5 minutes or until brown. Transfer to a plate.
Add onion and garlic to the pan and cook, stirring, for 5 minutes or until soft. Add sun-dried tomato, diced tomato, wine and water and bring to the boil. Add the sausages and lentils and reduce heat to low. Simmer, covered, for 20 minutes. Uncover and cook, stirring, for 10 minutes or until sauce thickens.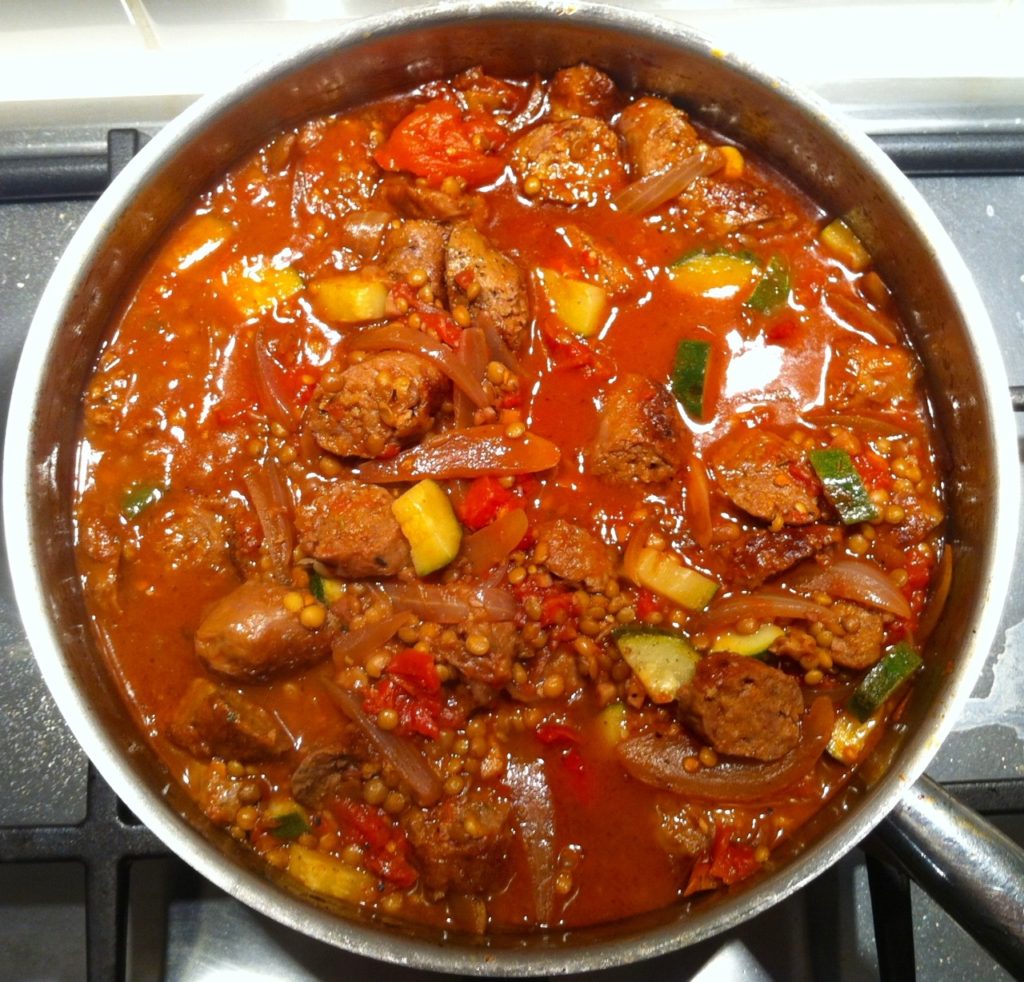 Meanwhile, to make the polenta, bring the water and stock to the boil in a saucepan over high heat. Gradually add the polenta in a thin steady stream, stirring constantly until incorporated. Reduce heat to low and cook, stirring, for 10 minutes or until mixture thickens. Add the parmesan and stir to combine.
Divide polenta among serving bowls. Top with the stew and parsley to serve.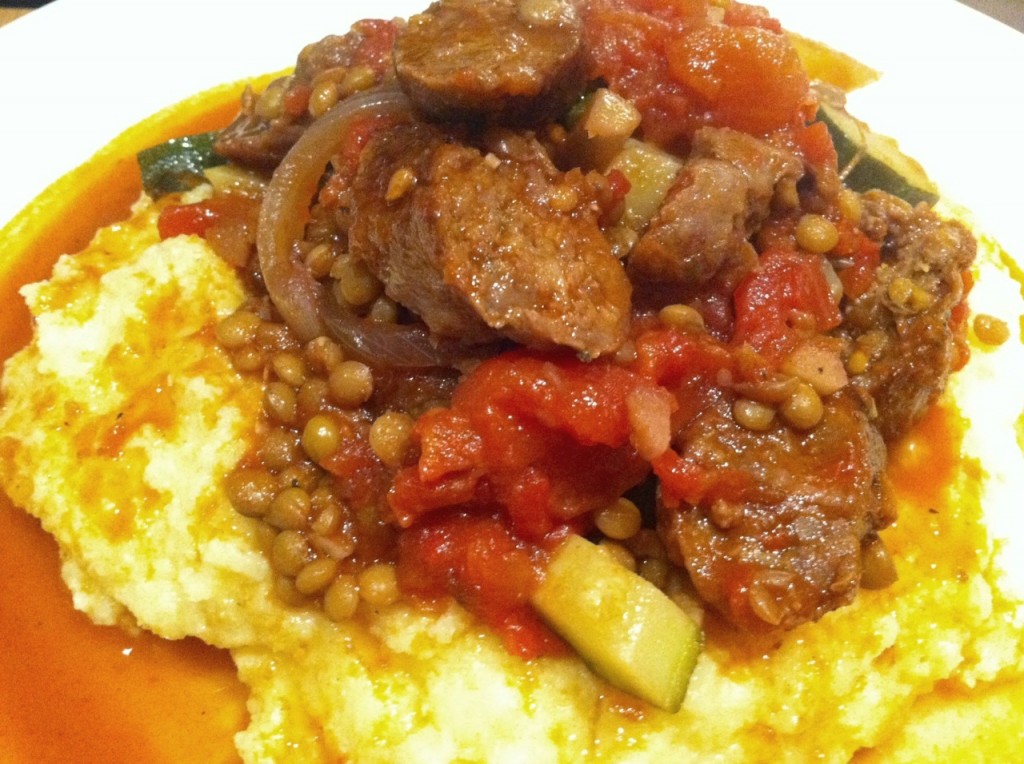 As promised my to die for recipe that uses your left over polenta is…… Sticky Pork Ribs with Polenta Chips.