You would think breakfast with friends on a perfect winter Sunday couldn't get any better, but throw in the delights of Shady Palms Cafe and Bar and it does.
I in fact came across Shady Palms Cafe by sheer chance while driving down Old Cleveland Road in Woolloongabba. I wanted to do a U-turn but instead had to drive down Logan Road through the Stones Corner fashion and food precinct, and there it was. No longer was it a low-end sushi bar but a very cool looking cafe, packed full of people. They'd lured me in; my foodie-mind was intrigued.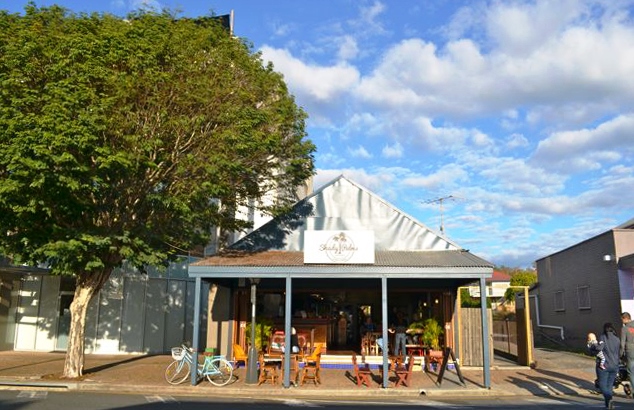 It wasn't long after this that my dining experience at Shady Palms Cafe came to be. Part of the Mushroom Mania bloggers troop, I've been on mushroom duty throughout July searching for a dish where mushrooms were the champion of the plate. With so many variations of mushrooms on toast, I took the initiative and contacted a couple of cafes and restaurants to not only educate them about the benefits of mushrooms but to ask if they'd be interested in creating a speciality dish for #MushroomMania. I had a couple of venues get back to me but it was Mal from Shady Palms Cafe and Bar that had the most enthusiasm to jump on board, creating a knock-out mushroom dish which I'll treat you to a little later.
Shady Palms Cafes menu is based around Pan American Cuisine; they say "Our food is inspired by the food trucks of California, the street Moles of Mexico and the fresh flavours of South America." Pan American cuisine is so in-vogue right now and the trend to a certain degree reminds me of the time Japanese Sushi bars begun taking over our streets. Japanese restaurants and sushi bars certainly haven't gone out of fashion and I'm predicting the buzz of Pan American cuisine won't either.
Like many Brisbane cafes, Shady Palms holds its charm due to its Australian colonial skeleton. The combination of refurbished weatherboard walls painted in a rich olive green, ceilings of warm white, trims of teal and beautiful timber floors, offer a warm and fresh appeal. Highlighting the décor is a furniture collection embracing restored second hand furniture delivering a room of functionality layered with fun.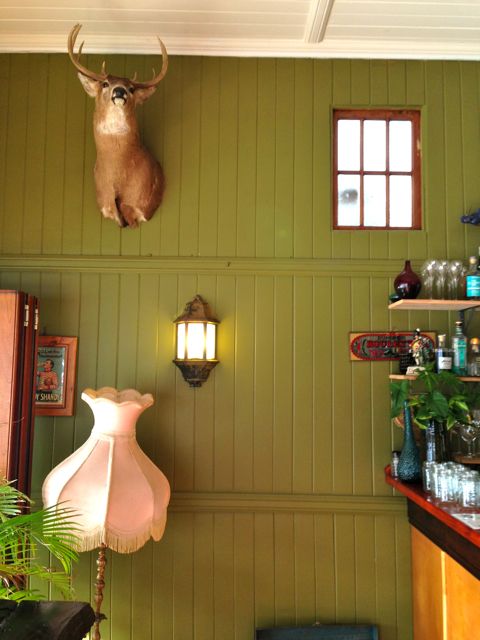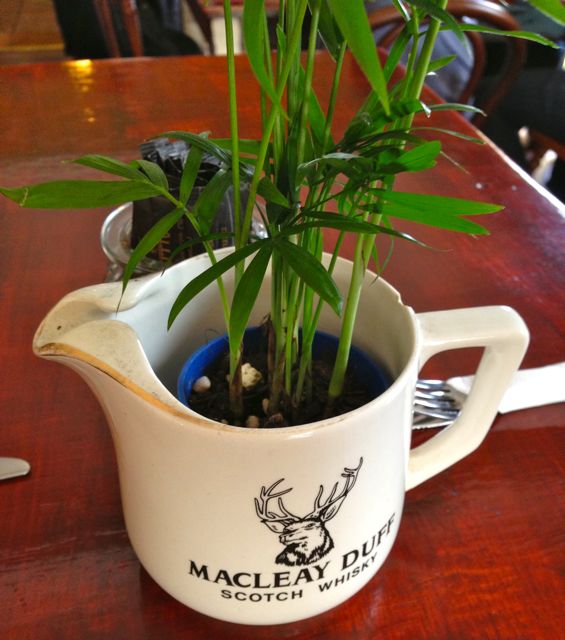 More fun awaits outside in Shady Palms Cafe and Bar's outdoor area. Wanting to create the feeling of sitting in your best friend's backyard, their outdoor space combines a down-to-earth feel with loads of bench seat tables, fresh palms and open-air splendour. Together with their speciality events like cult movie nights, Shady Palms Cafe also proudly support local artists and live bands.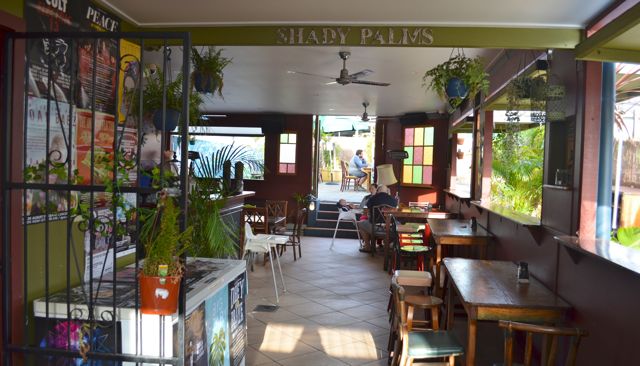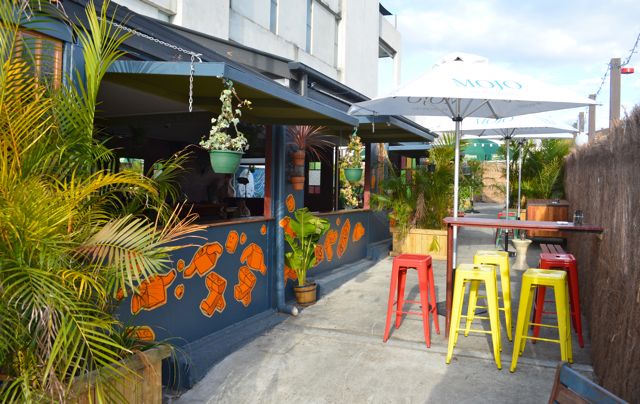 After exploring the venue as I do, it was time for me to sit down, relax and enjoy my cup of coffee and good company. My friends struggled to choose from the menu because everything sounded so darn good. For once it wasn't difficult for me to choose for the specials board displayed Mal's #MushroomMania dish, designed especially for yours truly.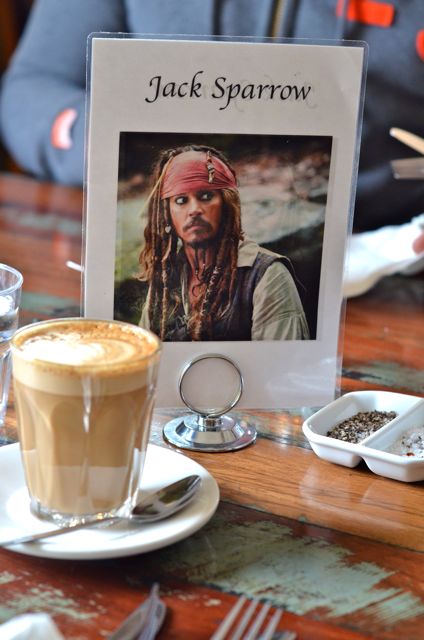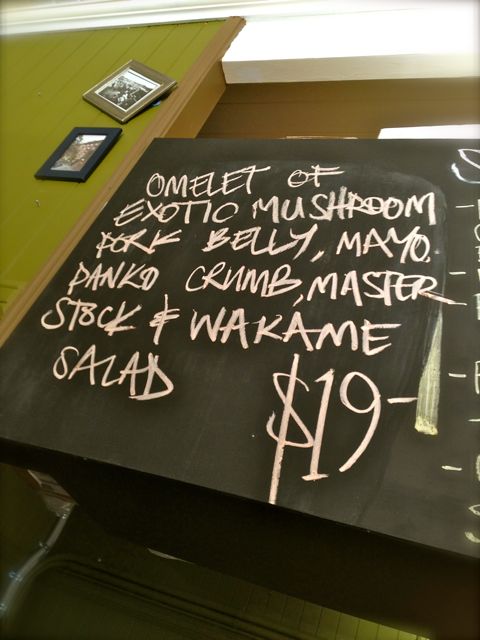 Now I can unveil the wonder that is: Omelette of exotic mushrooms, pork belly, kewpie mayo, panko crumb in a master stock broth with wakame salad – it just oozes eating goodness doesn't it?! Nestled in the flavour-balanced broth, my omelette displayed beautifully upon my plate. The slices of pork belly, striking green wakame salad and the perfectly squeezed Kewpie mayo made it nearly sad to delve in; but delve in I did and what a joy it was. Upon breaking the omelette, out fell a juicy and delicate combination of Oyster, Enoki, Shiitake and Shimeji mushrooms. While it's not traditional Pan American cuisine, on this occasion Mal didn't mind; it was for a good cause after all – Go #MushroomMania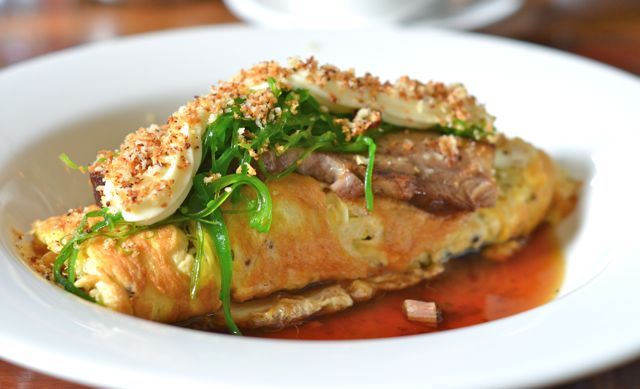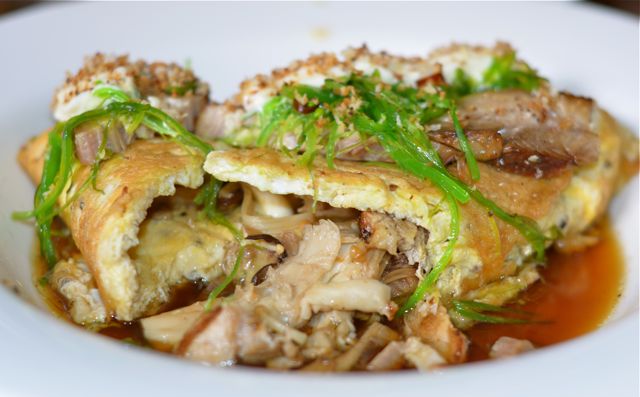 The rest of my table feasted on the House made cornbread, maple bacon with fried egg, tomato, paprika sour cream and roasted mushrooms (gf).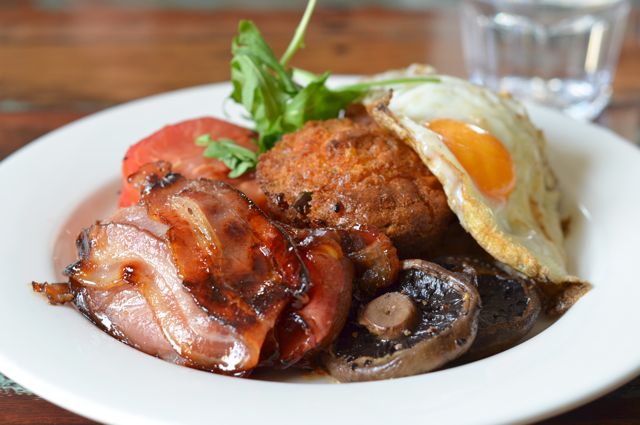 House made cornbread with fried haloumi, salsa, avocado, roasted mushrooms and a side of cheese kransky – How cute is the kransky presentation!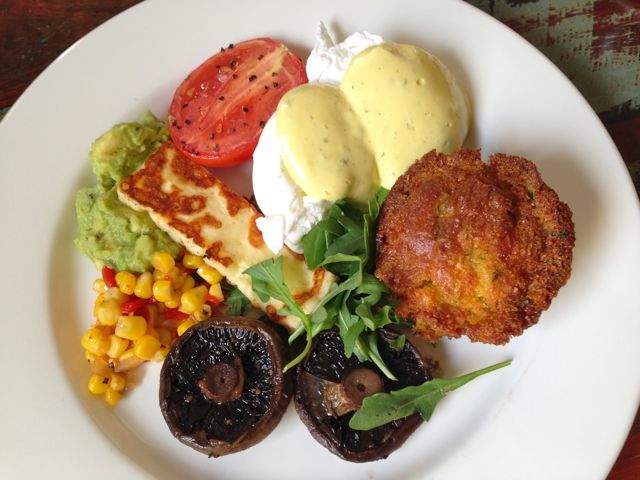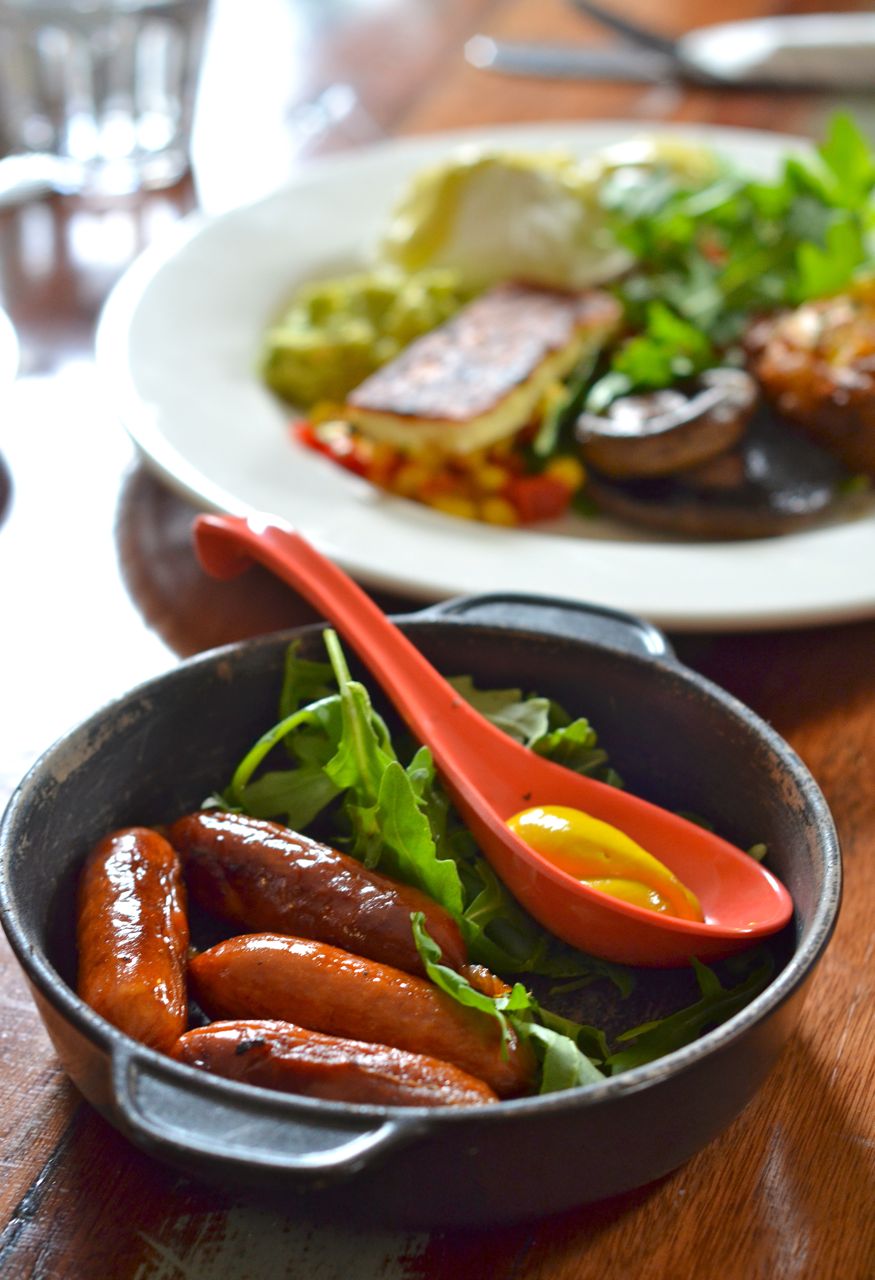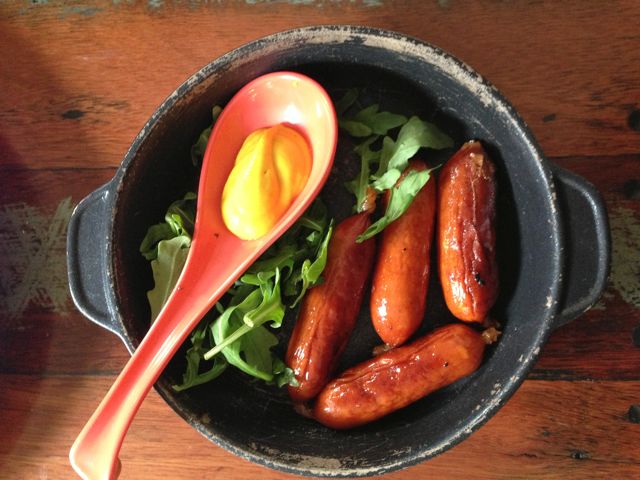 The meals where unfaultable, the eggs cooked perfectly, the ingredients fresh and the flavours balanced. B went as far to say "…this is the best breakfast I've had-out for sure!".
Having genuinely friendly, approachable staff, Shady Palms Cafe and Bar will only grow in popularity. If you're after a relaxed meal with trusted food and welcoming atmosphere, Shady Palms delivers in spades.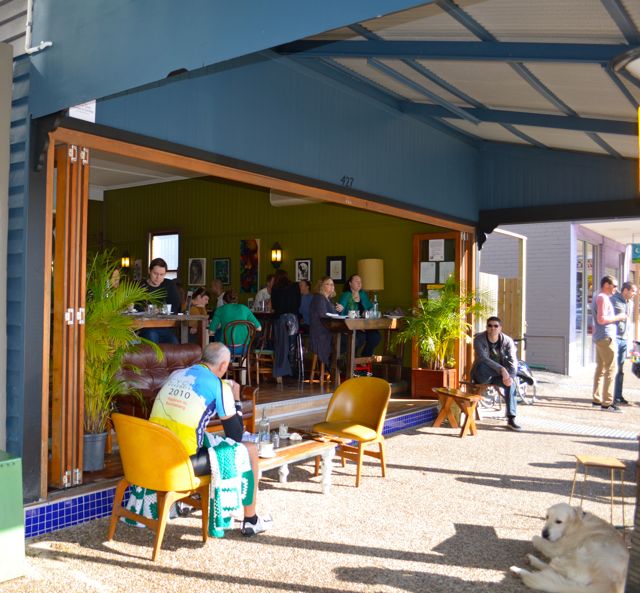 Don't forget to share your love of mushrooms during Mushroom Mania and WIN! Simply share the mushroom dishes you discover throughout July for your chance to win one of 40 $100 restaurant vouchers. It could be a beautiful breakfast, a luscious lunch or a delicious dinner – as long as it has mushrooms we want to hear about it. See more at Power of Mushrooms.
Miss Foodie was invited to participate in the Mushroom Mania campaign, a paid promotion by Australian Mushroom Growers.