A couple of years ago a good friend of mine was diagnosed with Coeliac disease. Him and his wife had to have a complete lifestyle change to accommodate the disease.  Having listened to what foods they needed to replace and what to look out for ingredients wise, it got me thinking about my own health issues, was I perhaps gluten intolerant? To find out I decided to make a real effort to minimise my gluten intake, and you know what I've certainly noticed the difference. No bloating, 10kg weight loss and my general overall well-being has been enriched. I haven't been medically diagnosed with gluten intolerance but surely my improved health as a result from this diet change says a lot.
If you want to try it yourself don't feel you have to go full gluten free, I discovered spelt! Spelt bread for example is so much tastier than the gluten free bread loaves I've tried. Not only can you get spelt bread in health shops they also stock delicious spelt pastas in your local supermarkets, my partner even likes it too!
I purchased some spelt flour recently and made Spelt & honey banana bread with dates & walnuts, It's absolutely delicious and super easy to make! The recipe below makes 2 loaves so your efforts go along way.  Give spelt a go yourself today!
Spelt & Honey Banana Bread w/ Dates & Walnuts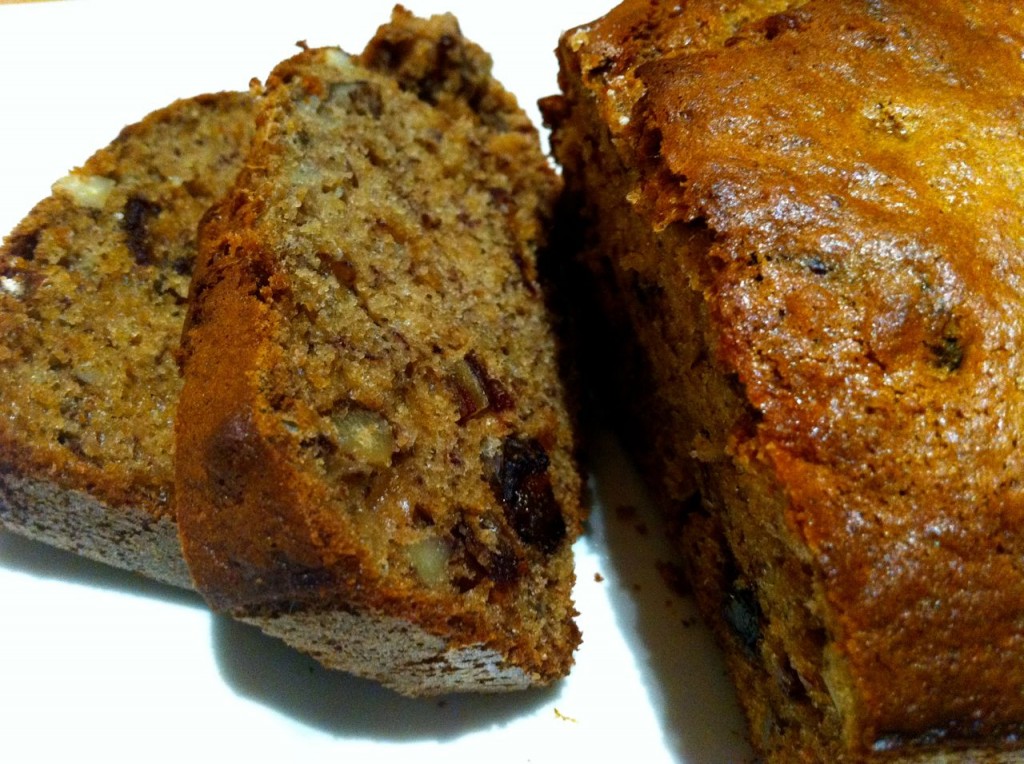 Ingredients
1 1/2 cups (225g) whole spelt flour
1 1/2 cups (225g) white spelt flour
3/4 cup (155g) brown sugar
3 tsp baking powder
1 tsp bicarbonate of soda
2 tsp ground cinnamon
1 cup (100g) walnuts, coarsely chopped
1 cup (150g) dried pitted dates, coarsely chopped
2 cups mashed banana
3/4 cup (185ml) vegetable oil
3 eggs, lightly whisked
1/3 cup (80ml) honey
Method
Preheat oven to 180°C. Grease and line the base and sides of two 8 x 20cm loaf pans.
Combine the spelt flours, sugar, baking powder, bicarbonate of soda and cinnamon in a large bowl. Add the walnuts and dates and stir to combine.
Combine the banana, oil, eggs and honey in a small bowl. Add to the flour mixture and stir with a wooden spoon until just combined. Pour into the prepared pans and smooth the surface. Bake in preheated oven for 35-40 minutes or until a skewer inserted in the centre comes out clean. Remove from oven.
Transfer the loaves to a wire rack and set aside to cool. Use a large serrated knife to cut into slices. Serve the banana bread warm, at room temperature or toasted with butter, if desired.
Notebook: – September 2010,  Recipe by Sarah Hobbs