A friend asked me for a recipe that would be easy enough for her to cook and one that would also impress her dinner guests. I suggested 'stuffed lamb loin with lemon potatoes and tzatziki'. I discovered this flavoursome recipe on Gourmet Traveller's website some time ago and have thoroughly enjoyed cooking it for friends numerous times since.
I'm not sure if it's the pleasing filling of currants, feta, spinach and pinenuts that does it or if it's the intense garlic and lemon flavours of the tzatziki and potatoes. The lemon potato recipe is so mouthwatering and you could enjoy them as an accompaniment to a variety of dishes. The lamb of course goes wonderfully well with these flavours and the dish in its entirety delivers a different flavour punch with each and every bite.
Speaking of lamb you may have seen a few stories floating around about the price cuts of Lamb in Australia. Woolworths announced a 30% cut to supermarket lamb prices recently which I thought was an exciting turn of events. However after looking into this further it might not be so great, well for our farmers anyway.
You see the Woolworths announcement has upset farmers for they fear there may be another price war similar to the supermarket milk wars we've seen recently. This means many of the local farmers and butchers will be forced to reduce their prices to compete; some sadly may have to go as far as closing shop because they simply can't lower their prices anymore.
My heart really goes out to our farmers; I think they've been the most affected during the GFC, basically because it's become a race to the bottom to find the cheapest supplier and most often that is offshore.
If we don't start making more of an effort to support our local butchers and grocers they won't be many around for too much longer – I don't want to see a Walmart here people so start going to your local butcher and grocer when you can. I promise I will also be making a massive effort!
Stuffed Lamb Loin with Lemon Potatoes and Tzatziki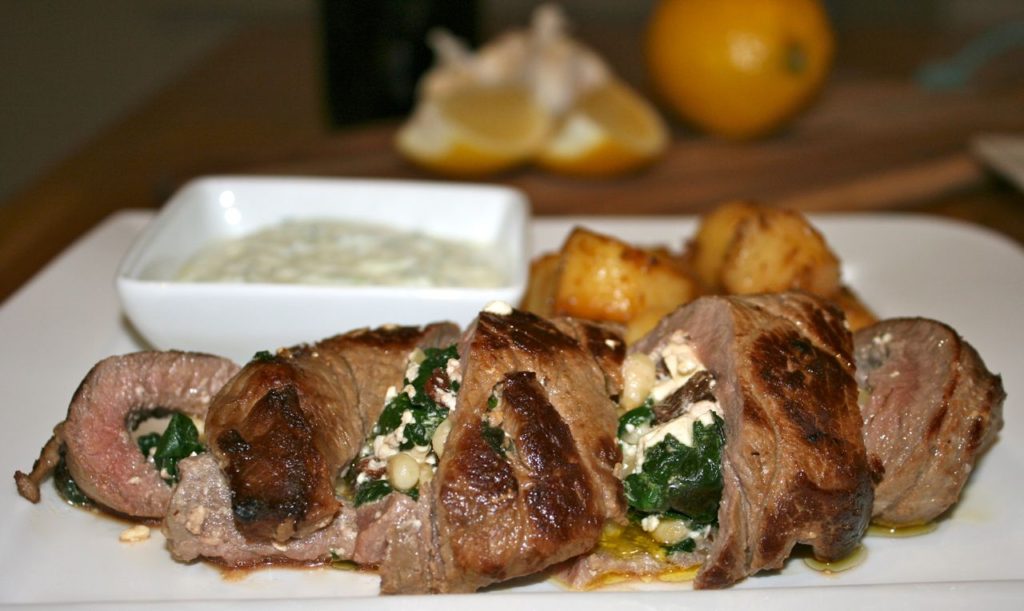 Ingredients
200g feta – crumbled
300g baby spinach – washed, trimmed and cooked
30g currants – softened in cold water
40g pinenuts
2 tbsp extra-virgin olive oil
400g (2 pieces) lamb loin or backstrap – trimmed and butterflied
Lemon potatoes
600g kipfler potatoes – peeled and 3cm sliced
4 garlic cloves – thinly sliced
1 tbsp dried oregano
3 tbsp extra-virgin olive oil
2 lemons, juice only
Tzatziki
2 garlic cloves
1 tblsp olive oil
1 small cucumber
1 tsp salt
250g tub Greek yoghurt
Freshly ground black pepper
To make tzatziki – Using the flat of your knife, crush the garlic with a pinch of salt into a paste. Put into a small bowl with the oil, and leave to marinate while you prepare the rest.
Trim the cucumber and peel it. Grate the cucumber into a sieve.
Scatter with the salt and leave it for 30 minutes or so to drain, turning it over a couple of times and even pressing it down with your hands to get rid of excess moisture.
Put the yoghurt into a bowl for serving. Add the garlic and oil, the mint and a couple of grinds of black pepper.
Fold the cucumber through and taste for salt. Keep refrigerated until ready to use.
To make lemon potatoes, place potatoes and garlic in a roasting dish, season with oregano, sea salt and freshly ground black pepper. Mix lemon juice with olive oil and about 1½ cups cold water and pour over potatoes; bake in a preheated oven at 200C for 1½ hours, checking that they don't dry up and adding a little more water if necessary.
To make lamb, mix feta, spinach, currants, pinenuts, freshly ground black pepper and olive oil in a bowl. Lay opened lamb pieces on a flat surface, place the stuffing down the middle and roll the lamb into a log shape. Tie the lamb at regular intervals with kitchen string. Cook lamb pieces over medium heat on a barbecue for about 10-15 minutes, turning once and basting with a little olive oil.
Serve lamb loin sliced onto plates with lemon potatoes and tzatziki.
Adapted from Gourmet Traveller website recipe