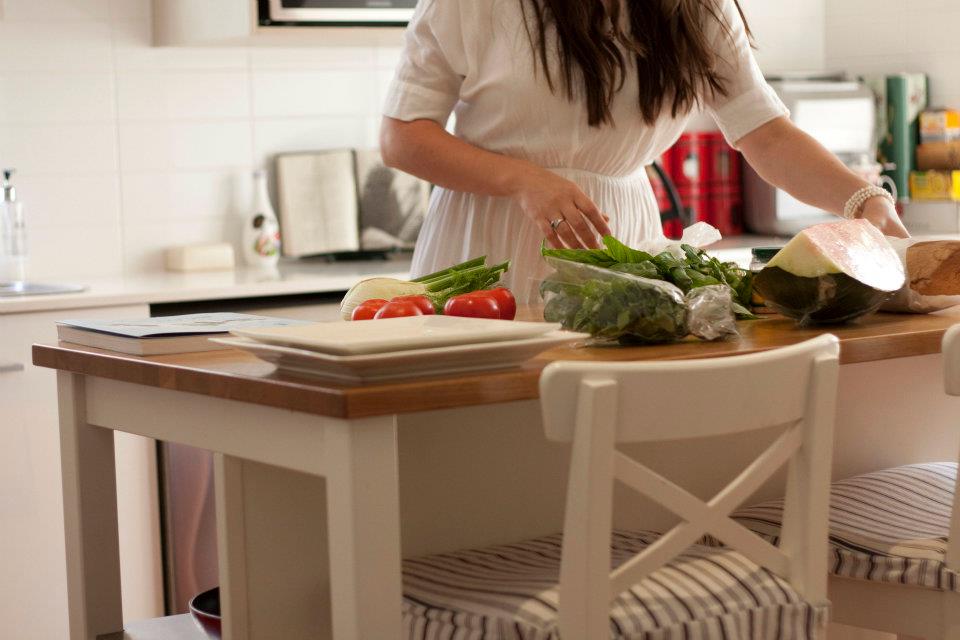 Summer Salads
Summer has without a doubt reminded us of what she's capable of! 35-39 degree temps in the first few days of summer – wowza! There's not much else I feel like eating at the moment other than refreshing summer salads.
I've been creating a few summer salads in the kitchen lately and I thought I would put a few personal favourites of mine together for you to try.
So what do you love in a summer salad? For me it has to be seasonal, colourful, fresh and light. Summer salads most definitely have to be quick and easy and their dressings either full of zesty zing or sweetness bang.
My favourite summer salad of all time would have to be the good 'ol fashioned Caprese Salad. The colours are truly stunning, with its ruby red slices of tomato, fresh green sweet basil and white mozzarella slices, this summer salad is perfect Christmas.
Caprese Salad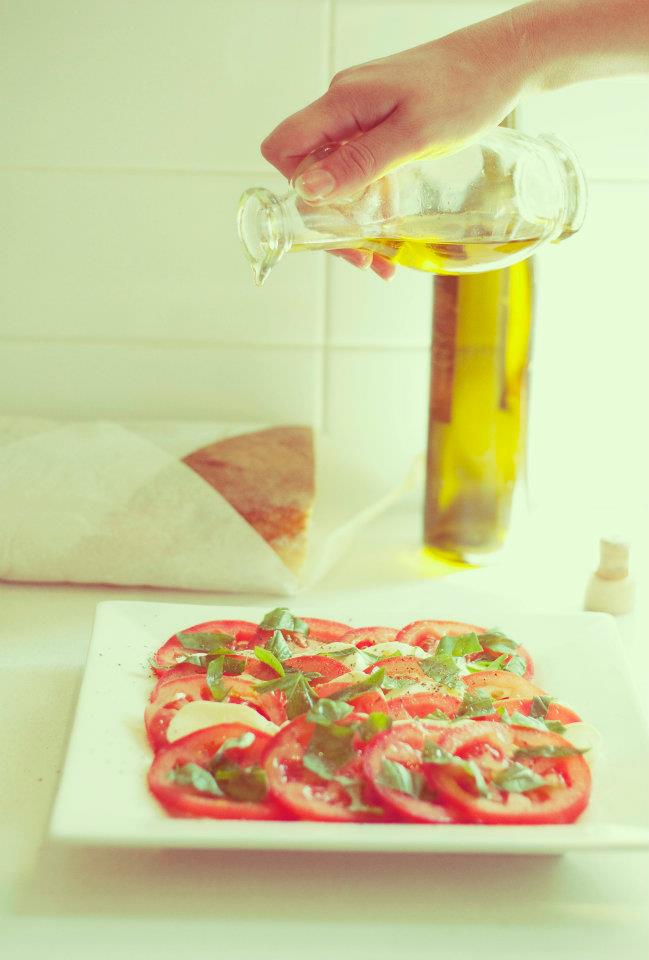 Watermelon and Feta Salad is another winner and couldn't be more Summer salad'ish if it tried. The combination of sweet juicy watermelon, creamy feta and fresh sprigs of mint make it wonderfully uplifting. The fact there's no salad dressing to make either earns this summer salad extra brownie points.
Watermelon, Feta and Mint Salad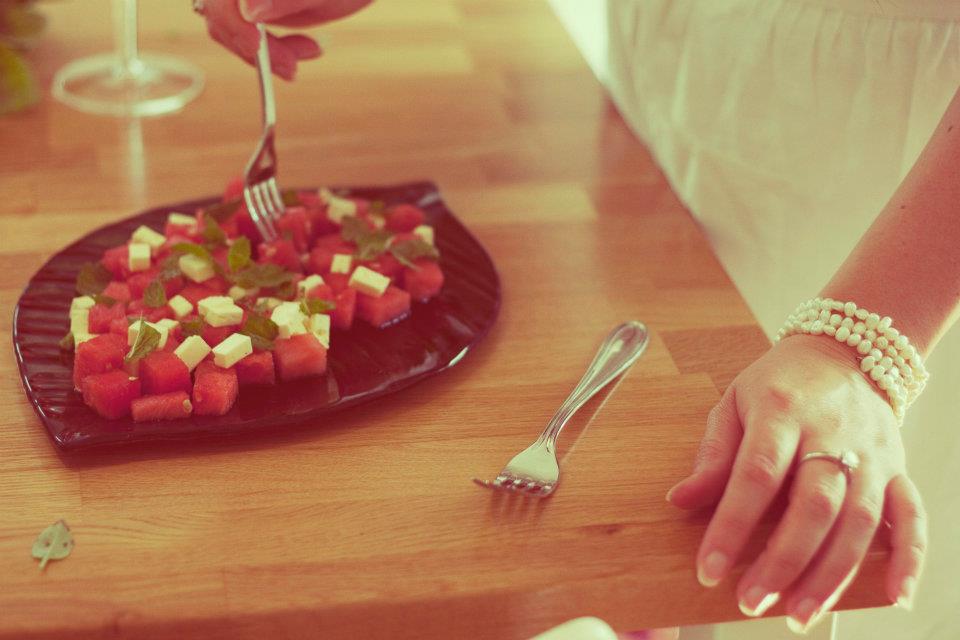 Green and gold – you can't get much more Aussie summer salad than that can you! Let me introduce you to Zucchini Squash Salad – hey now before you say "ewww I don't like zucchini and or squash" hear me out. The zucchini and squash are fresh and not cooked and their slices are as thin as ribbons, which make it somewhat of a delicacy or a vegetarian Carpaccio you could say. It's dressed refreshingly with extra virgin olive oil, zingy lemon and cool mint. Toasted pinenuts also accompany this summer salad making any zucchini/squash hater fall in love .
Zucchini Squash Summer Salad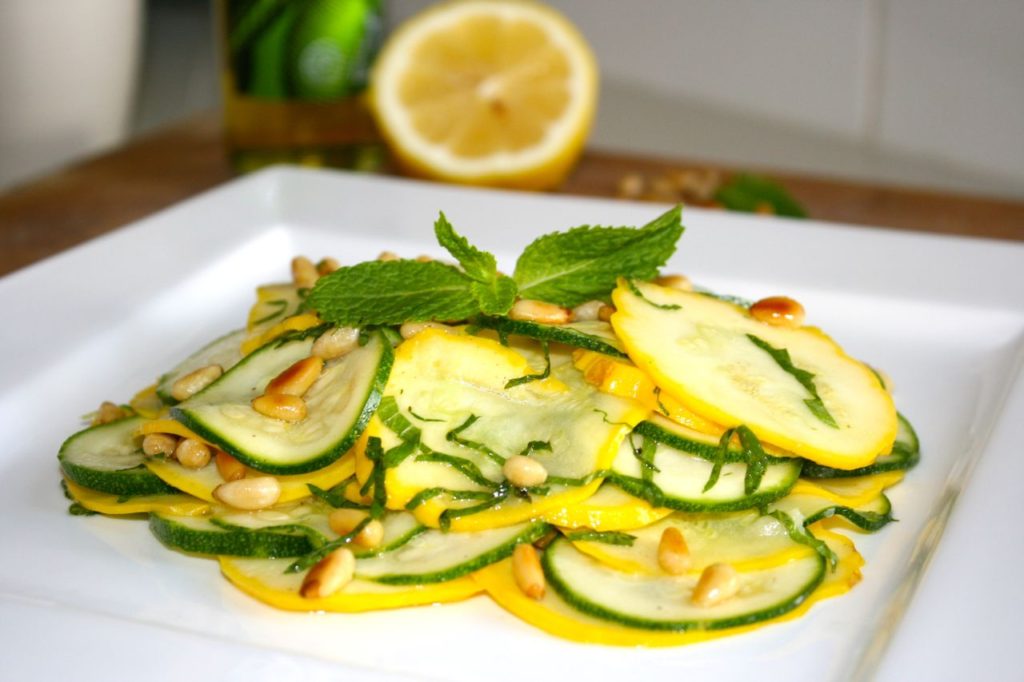 Recently having grilled apple in a side salad and loving it I gave a go of making one myself – Grilled Apple Salad with creamy apple cider dressing. Grilling the apple brings out the sweetness in the fruit and the accompanying roasted pecans, fresh green salad leaves, aged vintage cheddar and the most kick-arse salad dressing I've made in a long time, makes this summer salad a wee bit fancy!
Another favourite of mine is Cucumber, Pomegranate and Feta Salad. I made this as part of a Persian Feast I made earlier this year – you can find the recipe here.
Cucumber, Pomegranate and Feta Salad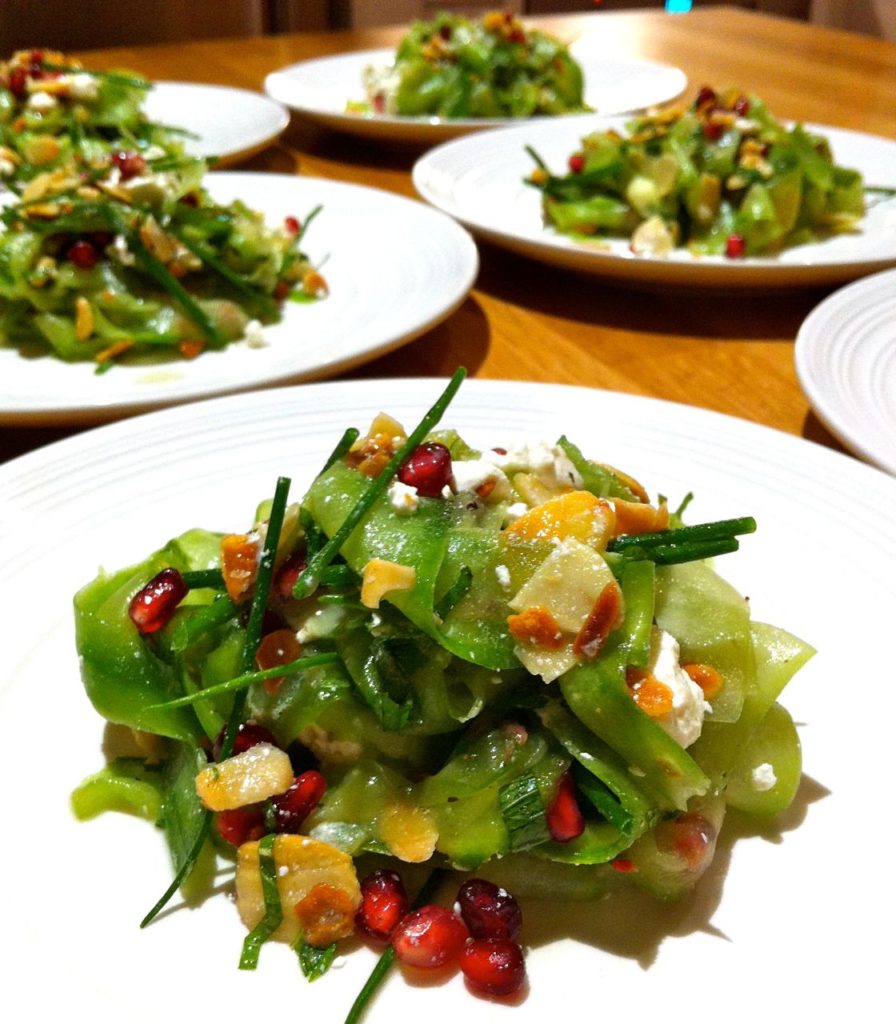 Well there you have it my foodie friends – 5 sexy looking summer salads packed with fresh, delicious summer flavours. Give them a go yourself and be sure to tell me which you like best. What's your favourite summer salad?
Grilled Apple Salad with Creamy Apple Cider Dressing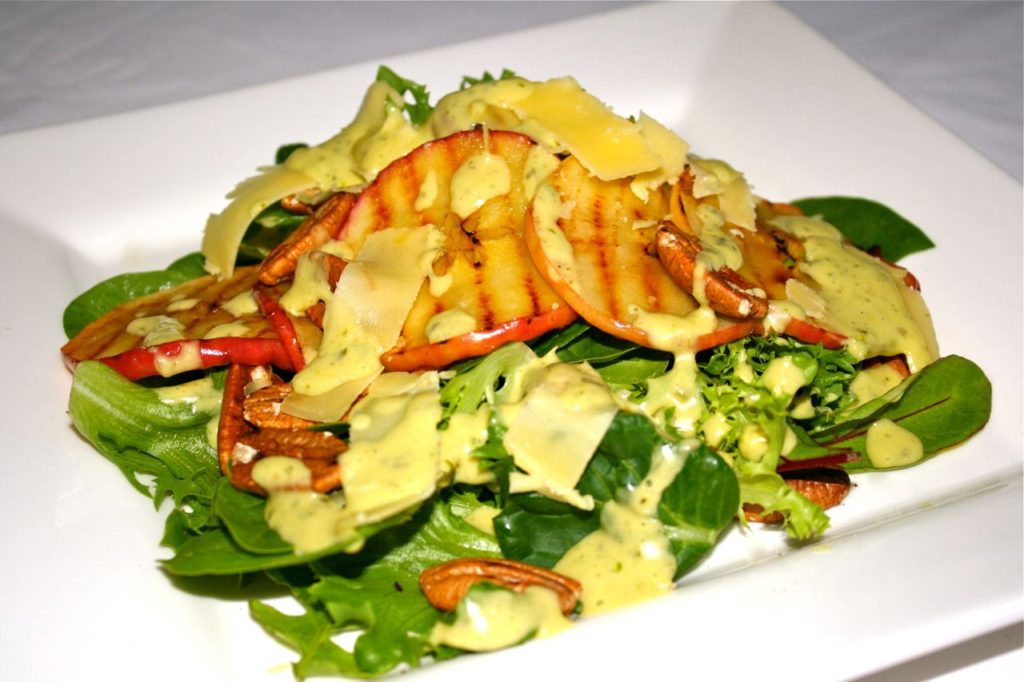 Ingredients
Salad
2 whole Royal Gala apples, sliced thinly from the bottom to the top. You want to keep the beautiful star of the apple core so don't cut in half
1 bag mixed salad greens of your choice
⅓ cups Extra Sharp White Cheddar Cheese, Shaved
½ cups Pecans, halved and toasted
Salad Dressing
1/3 cup Extra Virgin Olive Oil
1/3 cup Apple Cider Vinegar
1 tblsp dark brown sugar
2 green onions
3 tblsp basil, chopped
1 tblsp Dijon Mustard
Salt and Pepper to taste
Method
Drizzle apple slices with extra virgin olive oil and grill over medium heat for approximately 3 minutes per side.
To make the salad dressing, place all the ingredients together in a jug and whisk with a hand blender.
To serve – lay your salad greens out on a plate, top with grilled apple slices, shaved cheddar cheese and toasted pecans. Drizzle your kick-arse salad dressing over everything just before serving.