Ever thought of heading to Sunnybank Plaza for your next foodie adventure?
With its strong Asian influences, Sunnybank is a food precinct full of character and variety. Sunnybank Plaza Food Discovery Tours guide and experienced chef  Tony Ching will take you on a three hour, information-filled journey of discovery, showing you the best places to eat and shop for fresh Asian food.
Along the way, you will get loads of hints and tips about choosing the best produce, advice about the key ingredients needed in your favourite dishes and some insight into Asian culture. Each Sunnybank Plaza Food Discovery Tour will conclude with an authentic Asian meal. Those booking for their lunch time tour will enjoy Yum Cha at the famous Landmark restaurant, while the afternoon tour will conclude with a progressive dinner visiting several vibrant restaurants.
Offering something for food lovers of all ages, Sunnybank Plaza Food Discovery Tours will introduce you to a world of delicious new flavours. Their small group tours are limited to 10 people ensuring a personable, fun-filled experience for all involved.
Sunnybank Plaza has so much amazing food on offer; you just need to know where to find it!
Sunnybank Plaza Food Discovery Tours cost $68 per person
Tours now booking:
Saturday 19th October (morning & afternoon tours)
Saturday 16th November (morning & afternoon tours)
Saturday 18th January 2014 (morning & afternoon tours)
Saturday 15th February 2014 (morning & afternoon tours)
Times:
Morning Tour & Lunch: 10.00am until 1.30pm
Afternoon Tour & Dinner: 3.30pm until 7.00pm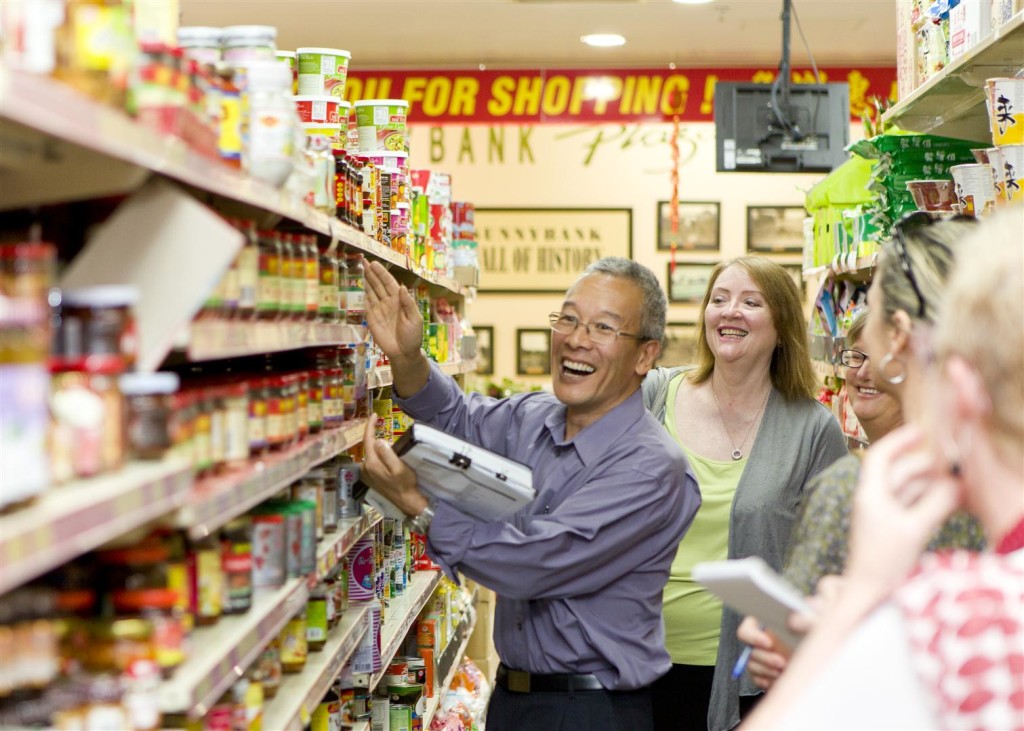 Sunnybank Plaza Food Discovery Tours in QLD Marketing Awards!
On Friday 13 September, Sunnybank Plaza was awarded the Property Council's Excellence in Marketing Award for Regional Shopping Centres, beating seven other Queensland shopping centres for the title.
Sunnybank Plaza Marketing Manager Lisa Smith said her award entry focussed on the centre's popular Food Discovery Tours which began in September last year.
Lisa said the food tours were inspired by Sunnybank's strong Asian influence and international dining offer. "Sunnybank Plaza is unlike any other shopping centre of our size in that we're home to over 30 restaurants and take-away outlets.
"I've lived in the area all of my life and have worked in the centre for more than 10 years so I've been able to get to know the special qualities of the precinct very well. The Food Tours are one way we can encourage the broader community to embrace Sunnybank for what it is – a unique melting pot of food and culture," she said.
"Throughout my time here I've come across a lot of people who love Asian food and want to try something new, but don't really know where to start. It's not an easy task deciding where to go and what dishes to order and sometimes you just need someone to point you in the right direction! We're very lucky to have our tour guide Tony Ching; he's a great character, extremely knowledgeable and has worked as a chef for over 30 years."
Sunnybank Plaza has also been nominated as a finalist in the national 2013 Shopping Centre Marketing Awards which will be presented in Sydney on October 31.