Fancy learning about Lebanese family life and their food culture? Interested in learning the right way to do things using the short cut way? Keen to make a delicious meal of Lebanese, African mezze? Look no further my foodie friends, thanks to Taste Trekkers you can….
Robert Bousamra has recently released a fabulous cookbook titled Lebanon to Ghana – the food I grew up with.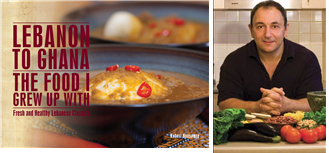 Taste Trekkers cooking class, Lebanese Mezze will be about Robert teaching you to cook his favourite dishes and enjoying a friendly meal with him afterwards.
On the menu are some classics that you will uncover the authentic secrets to taking these dishes to the next level.
Hommous and Baba Ghanouj with flatbreads
Tabouleh Salad
Sambouzik pastries
Chicken Rice
Kefta
Donut balls in floral syrup
Lebanese cheese platter to finish
What You Get
A sensational dinner
All the recipes cooked from Roberts new book, Labanon to Ghana. The Food I grew up with.
The chance to talk to Robert and find out about his fascinating upbringing
What to Bring
There's only a few spaces left so contact Taste Trekkers to secure your spot today!
Taste Trekkers
Phone Taste Trekkers: 0408 321822
Email Taste Trekkers: info@tastetrekkers.com.au
Taste Trekkers Cooking School: 8 Turner Ave, Fairfield