If you haven't heard about The Bun Mobile yet you must be living under a great big rock! The Bun Mobile is super-duper cool man! They themselves put it perfectly:
It's a taste sensation.
 Leads the way in Brisbane.
 Hand crafted steam buns.
 Healthy, quick, affordable.
 Local ingredients, ever changing locations.
 It's everything made the right way when you order it, exactly how you like it.
 Unique, fresh and "bun worthy".
 It's The Bun Mobile.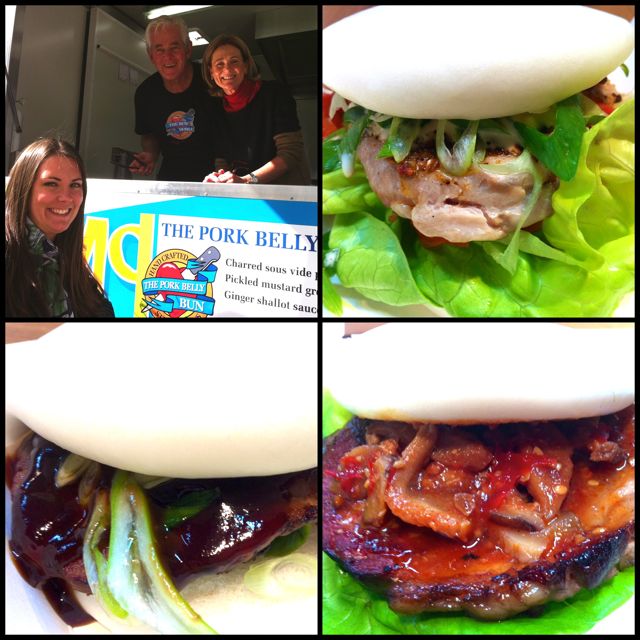 My very first 'Bun' experience was at Thompson St Bowen Hills. It was a Friday and I had read on Facebook that the The Bun Mobile was to be parked down the road from my work. I was bragging to my colleagues about where I was going and it wasn't long before the orders started rolling in!
Arriving at the The Bun Mobile van I was warmly greeted by owners Harold and Christine. The three of us had a lovely chat about their infamous handrafted steamed buns. I was thrilled to hear that most of their produce is sourced from local Queensland suppliers. Their vegetables are from the Lockyer or Fassifern Valleys, and they have a small vegetable garden at home where they grow most of the herbs they use. Should they use eggs in any sauces, they are supplied by their very own hens – Martha and Agnes (aww cute). Their beef is grown in Kilcoy, pork from Kingaroy and their chicken from Darling Downs.
I love it when I hear local businesses using local produce! I think it's an integral element in the food industry's "circle of life". If we don't support our local farmers they won't bother farming any more, and that my friends is a terrifying thought. So good on you Bun Mobile!
I've had the pleasure of enjoying The Bun Mobile on not one, but two occasions. A standard on the menu are the Wagyu Buns. I love the flavour of the beef, and the accompanying soy pickled shiitake mushrooms and Red Dragon Sauce makes this a definite favourite of mine.
THE WAGYU BUN – $8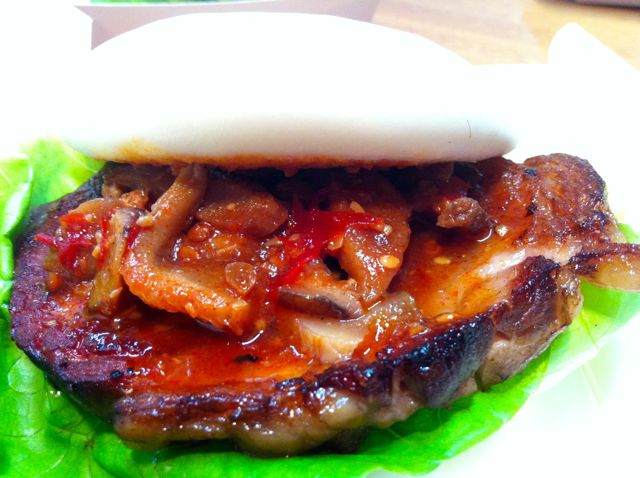 My ultimate favourite though has to be the Confit duck sausage special (it's not a standard menu item).  This tasty bun of goodness has not only duck sausage but crispy pork belly, sakura pickled cucumbers, pomegranate pearls, shallot batons and hoisin sauce! Yes it is amazing!!
Confit Duck Sausage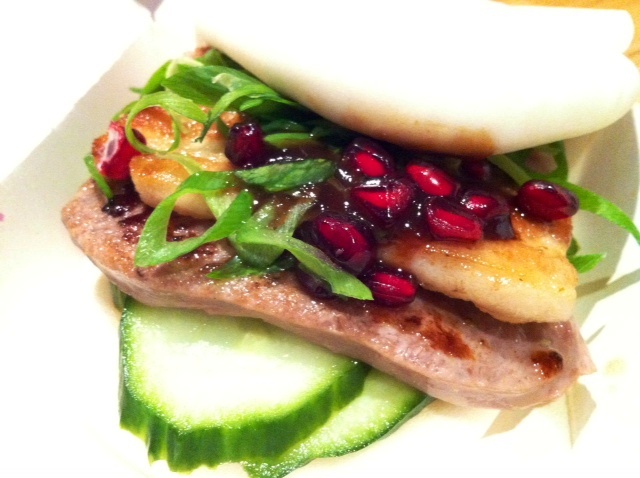 With the help of my friends, I've been fortunate enough to sample…
Twice cooked pork
Hoisin sauce - Sakura pickled cucumber - Shallot batons - $8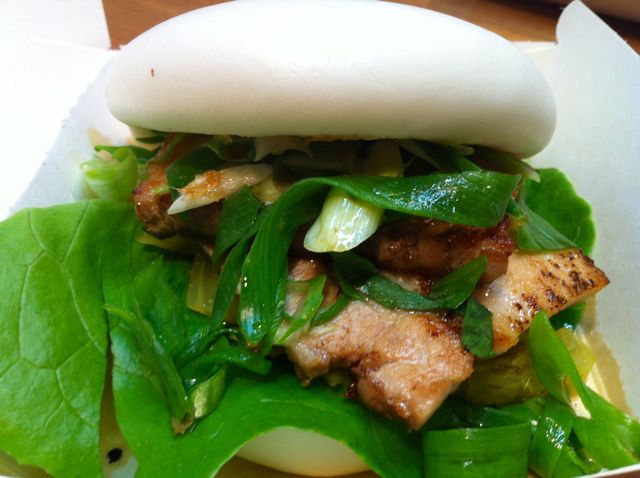 Cajun Chicken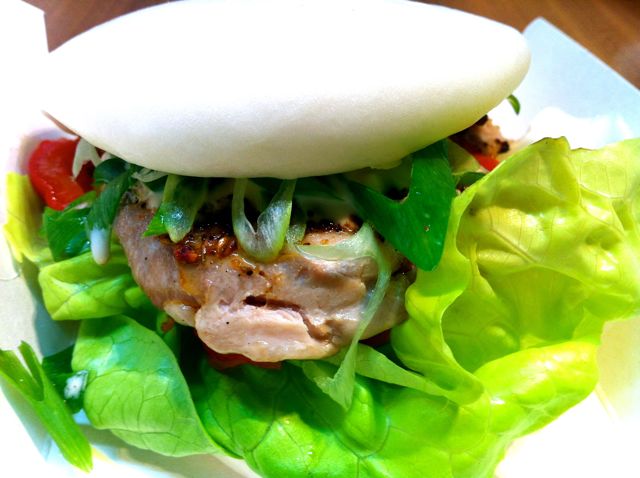 Pork Belly
Slow cooked Pork Belly - Pickled Cucumber - Shallots Hoisin and Sriracha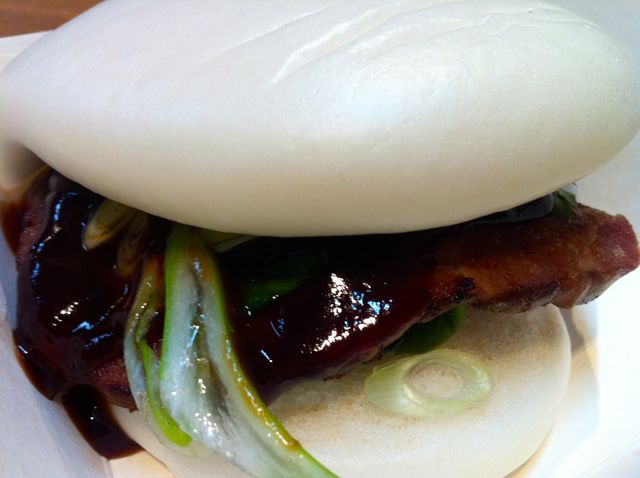 Caramel Banana
Caramel Banana w Salted Peanut Praline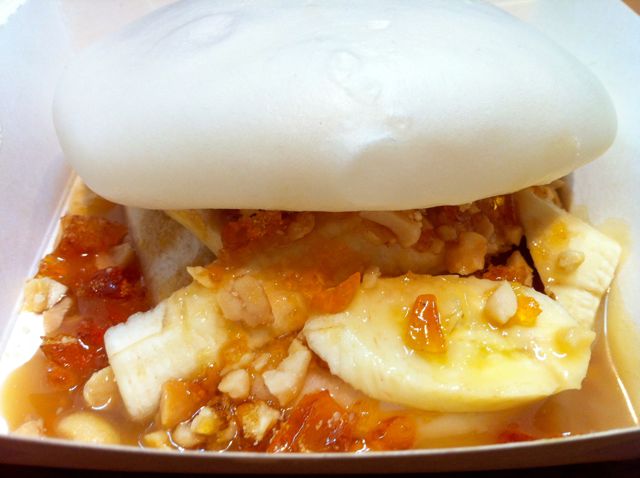 With the success of The Bun Mobile, Harry's catering business Harold Fleming Catering has taken a back seat. They still however cater for corporate events and boardroom lunches. The Bun Mobile also makes visits to private functions, where they give people their very own Bunworthy experience.
Find out when The Bun Mobile is pulling up to a place near you, by visiting www.thebunmobile.com.au and checking out their location calendar. Otherwise you can follow them on Facebook and Twitter to get instant location and menu updates.  You can even fill out a Location Request Form and have The Bun Mobile come directly to you.