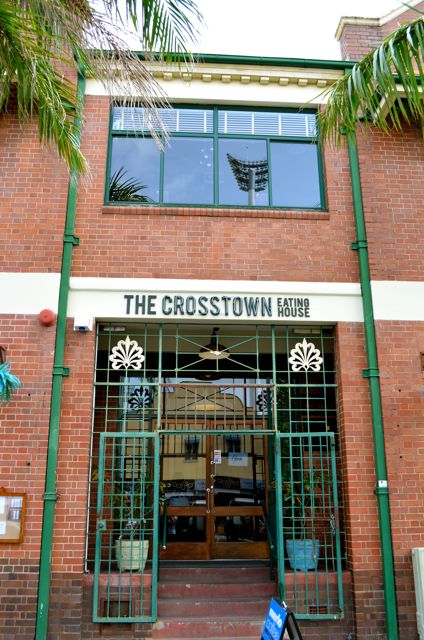 There's nothing better than walking out of restaurant with a happy-as-can-be palate. That happened to me at The Crosstown Eating House in Woolloongabba this week.
Nestled in a 1920's two-storey brick building on the antique strip of Logan Road, Crosstown Eating House's rustic entrance certainly excites you straight away.
Entering the historic gates of The Crosstown Eating House you're instantly warmed to the casual homely like atmosphere that welcomes you inside. It's the hidden coves and antique pictures hanging on the white washed walls that give it its historic charm. The furniture décor of old school tables and stools, together with the original timber floors and high ceilings, complement Crosstown's trendy diner-like charisma.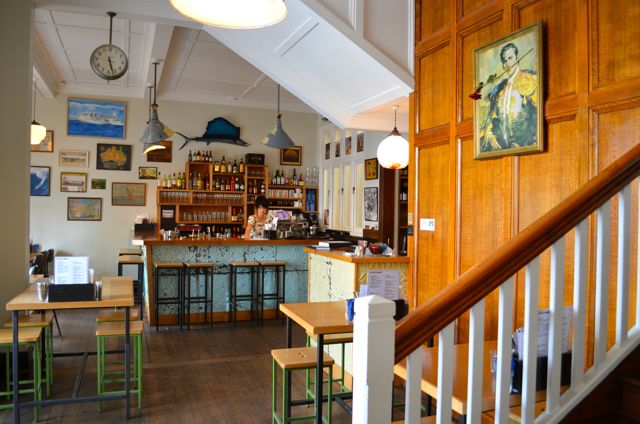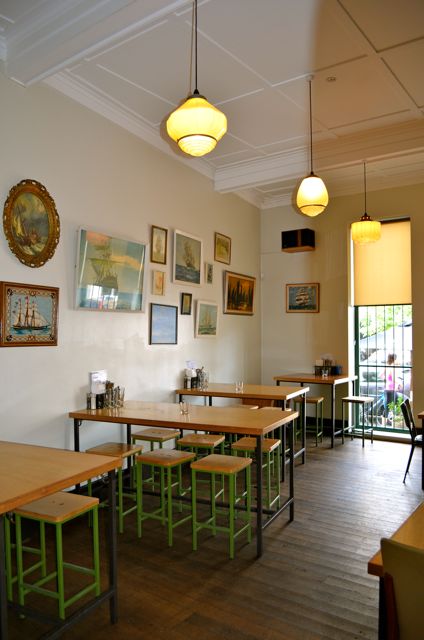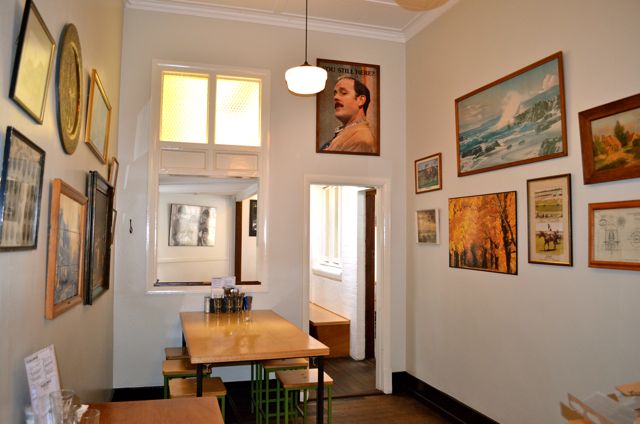 Service at The Crosstown Eating House isn't your fine dining, waiters-wearing-white-gloves style. Instead you've got an eclectic array of personalities who are for the most personable, but then again if they've had a bad day they'll be sure to let you know if you get what I mean. I won't complain about the service because I do appreciate the Crosstown's casual style, however I do feel that some of the staff over the years could have been a little more chirp.
Becoming more aware about the origin of my food, I've had to ask bold questions when dining out. The Crosstown Eating House happened to be the first place I took the leap and I asked whether the beef I was about to eat was sourced locally. The young lady who looked after us as suspected didn't know, but she did kindly go to the kitchen to ask the chef/s on my behalf. Perhaps the kitchen wasn't appreciative of such an enquiry 30 minutes before closing for the answer I got from the young lady was "I don't know exactly where but yes they said it's local". I had to take her word for it and ordered anyway.
The following day I emailed The Crosstown Eating House to ask the same question and Co-Owner Matthew Howland kindly responded to my enquiry. Matthew Howland advised me that all their meat comes from their Noosa based supplier (Viande).
Steak – Kilcoy
Lamb – Goldfielfds Ballarat
Bacon- Black Forest brand – Northern NSW
Seafood – Local supplier (Rivercity Seafoods)
Whiting – local
Fresh Salmon – Tasmania
The team at The Crosstown Eating House always look at local suppliers and producers which is refreshing to hear. They do however admit they also need the best and sometimes this can mean sourcing interstate. "Certainly we try and limit overseas produce for all the reasons" Howland advised.
The Crosstown Eating House's menu is wholesome with a few funky twists. They serve lunch and dinner and breakfast is now also available from Wednesday through Sunday.
Dining for lunch my mind couldn't steer away from The Crosstown's Open Haloumi Kebab or the Cheeseburger – so of course I had to have both. Earlier when I said how wonderful it is to walk out of a restaurant with a happy palate? Well I was referring to the Open Haloumi Kebab ($16.50). The combination of chargrilled pita bread, baba ganoush, quinoa tabouli, grilled haloumi, rocket and fresh lemon wedges brought happiness to every mouthful. So much so that I plan to replicate the same meal at home because if I had my way I would eat this at least a 100 times a week; well at least once anyway.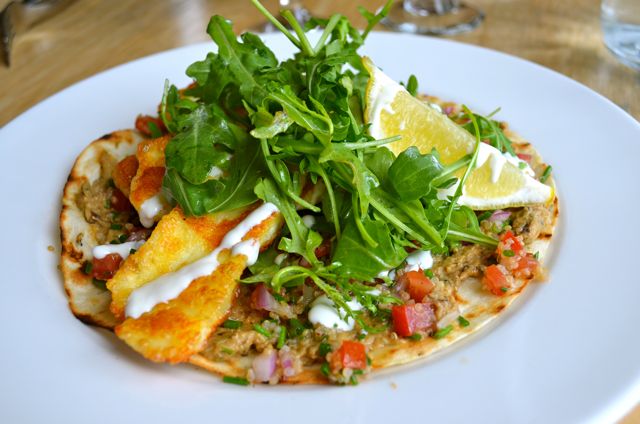 I had to pick the Cheeseburger for the main (I did it for you). I thought the meat patty was OK, a little humongous but still juicy and satisfying all the same. Sadly I had only 3 tiny pickles and not a great deal of sauce, and with a burger patty on steroids it really needed it. The French fries were unfaultable.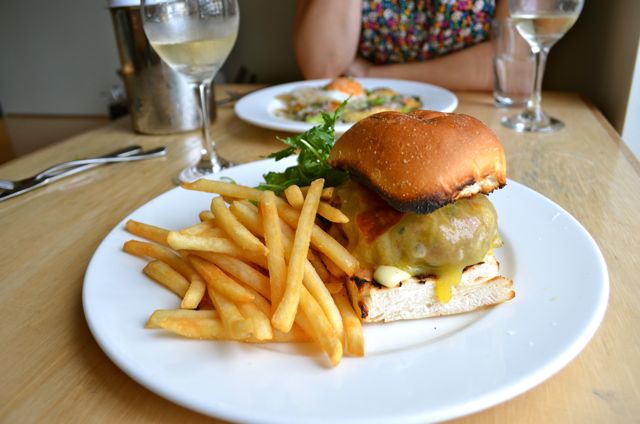 My friend savoured in the Ricotta gnocchi, asparagus, gremolata, crispy sage, duck egg, parmesan and lemon ($19). We both loved the flavours and breaking open the duck egg was somewhat orgasmic. The dish had generous Parmesan shavings and when it amalgamated with the duck yolk, ricotta gnocchi and other tasty morsels was very comforting indeed – perfect for the rainy day that it was.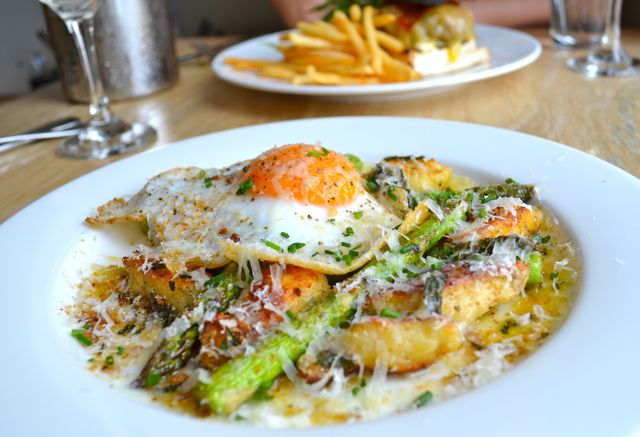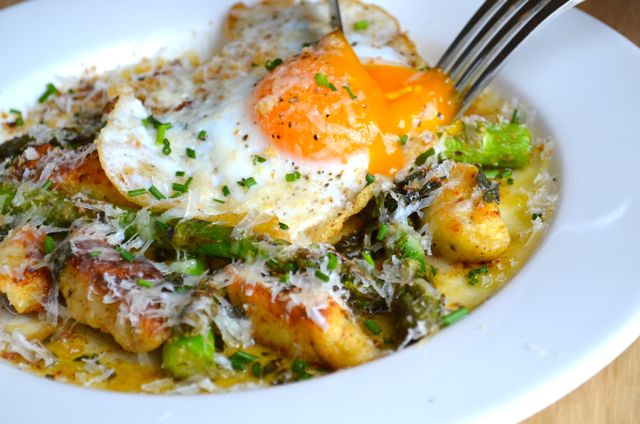 It's a blessing to have a lovely, rustic, reasonably priced establishment like The Crosstown Eating House in my neighbourhood  If you're looking for a casual place to enjoy some good 'ol fashion tucker with a tasteful twist then The Crosstown Eating House is for you.