Sundays never felt so good. A tranquil, early morning bushwalk to Cedar Creek waterhole followed by one of the best breakfasts ever!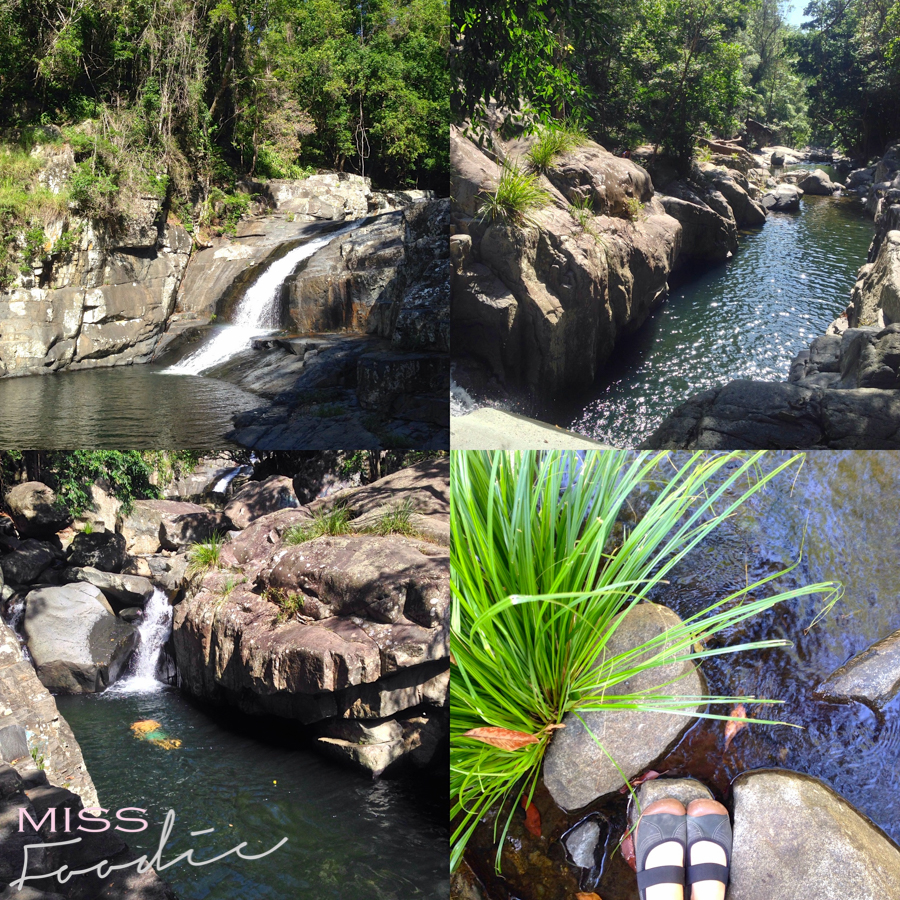 My friends and I wanted to do something active on Sunday; a morning walk or mountain trek perhaps, but couldn't venture too far as we had to be home by midday. Recalling a secret waterhole about 45 minutes North West of Brisbane and at the base of Mount Glorious, we thought we would try our luck and go there.
With little directional information from Samford Village we fumbled our way, which merely added to the morning's adventure. What we did eventually find was nothing short of wonderful. Scrambling over rocks, climbing over boulders, dipping our toes in the cool mountain brooks of Cedar Creek was just want the doctor had ordered. You have to walk to the end to immerse in the largest of swimming holes — which we did, regardless of its icy temperature.
Starting our bushwalk at 7:30am, there wasn't a soul around. Walking back however were families and couples setting off on their own adventure. If you want to enjoy your own private exploration, beat the crowds and start early.

Returning to our cars with grumbling tummies, we agreed to grab a bite to eat before heading home. We stopped for a coffee at The Flying Nun Cafe prior to our walk and thought it was nice, so we headed back. Unaware of how busy the place got, we had to wait patiently until a table was available, but boy was it worth it.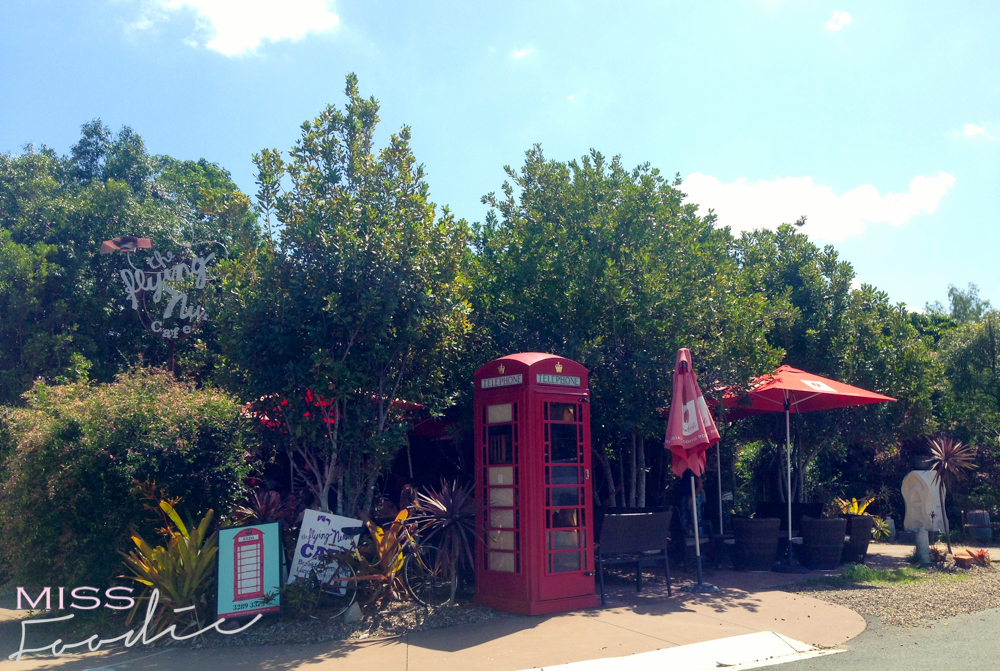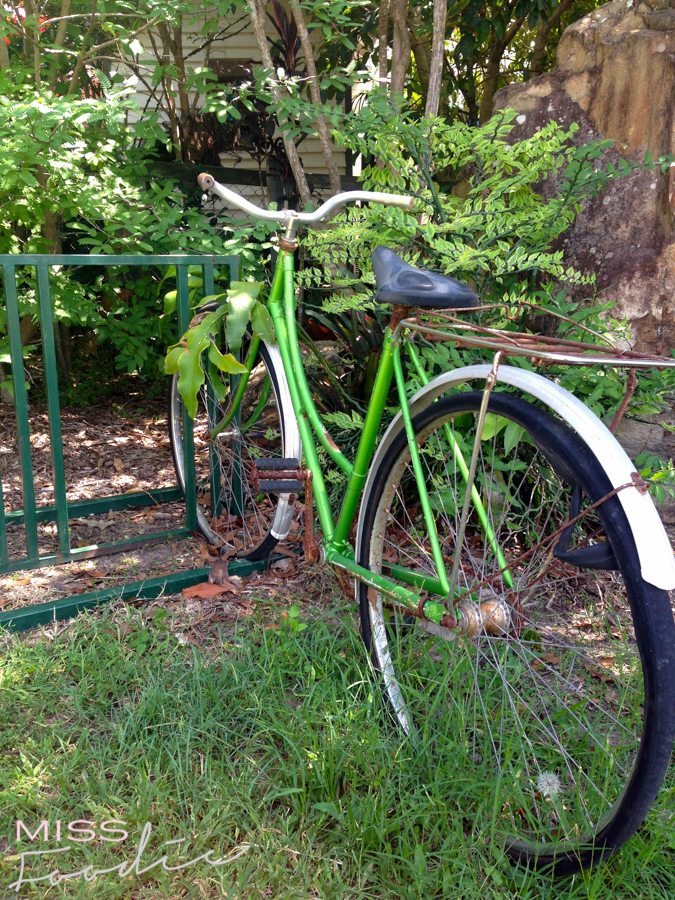 The moment I was handed The Flying Nun Cafe 's menu, I was in salivating paradise. I hadn't seen a breakfast menu this good in years! The question was….Did I want sweet? Did I want savoury? Did I want both!? The bottom line is I wanted it all!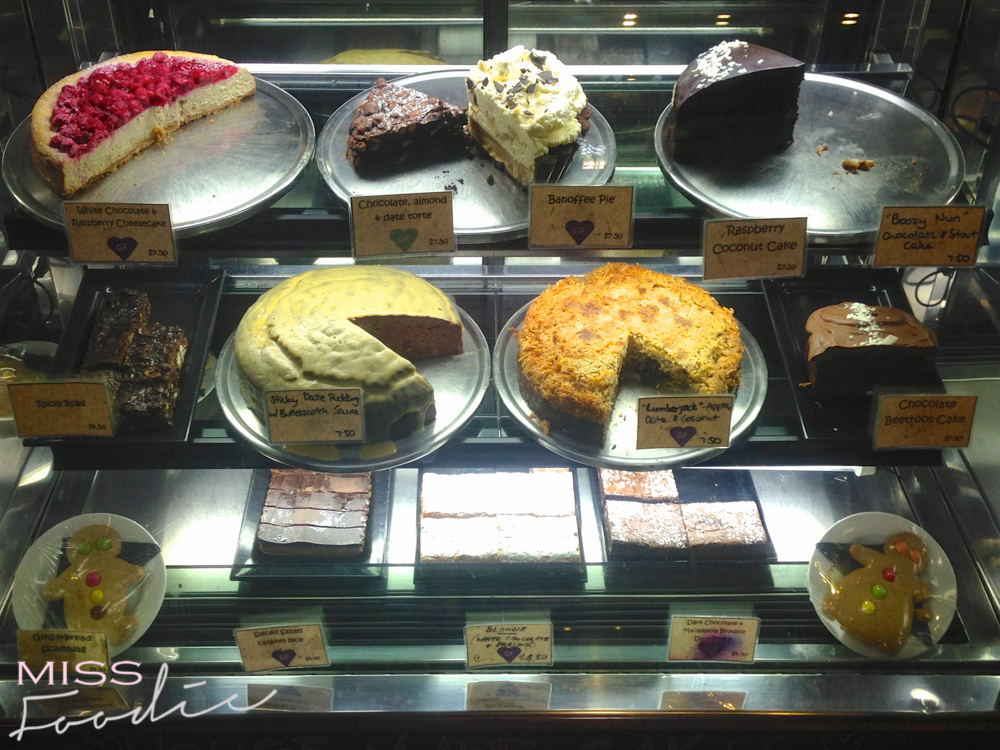 Of course the boys went for The Flying Nun Cafe 's Big Breakfast. Piled high on top of pumpkin sour dough toast was two eggs, bacon, Italian gourmet sausage, roasted tomato, mushrooms, potato and pumpkin rosti. They gobbled it down in minutes; loving their super crunchy bacon and perfectly cooked eggs.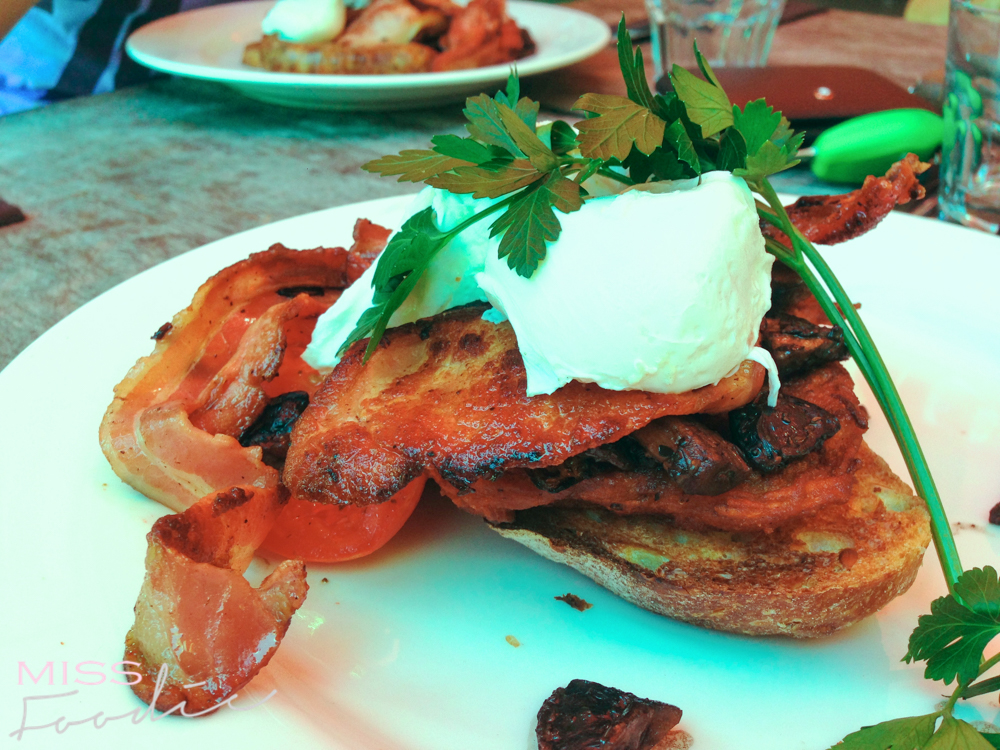 Still struggling to decide whether I wanted sweet – the sumptuous Brioche French Toast with north Queensland mango, honey and macadamias, vanilla bean ice-cream and fresh strawberries was calling me, but in the end it was my cousin who relished this. It was a stunning looking plate and I was well-versed it tasted even better than it looked.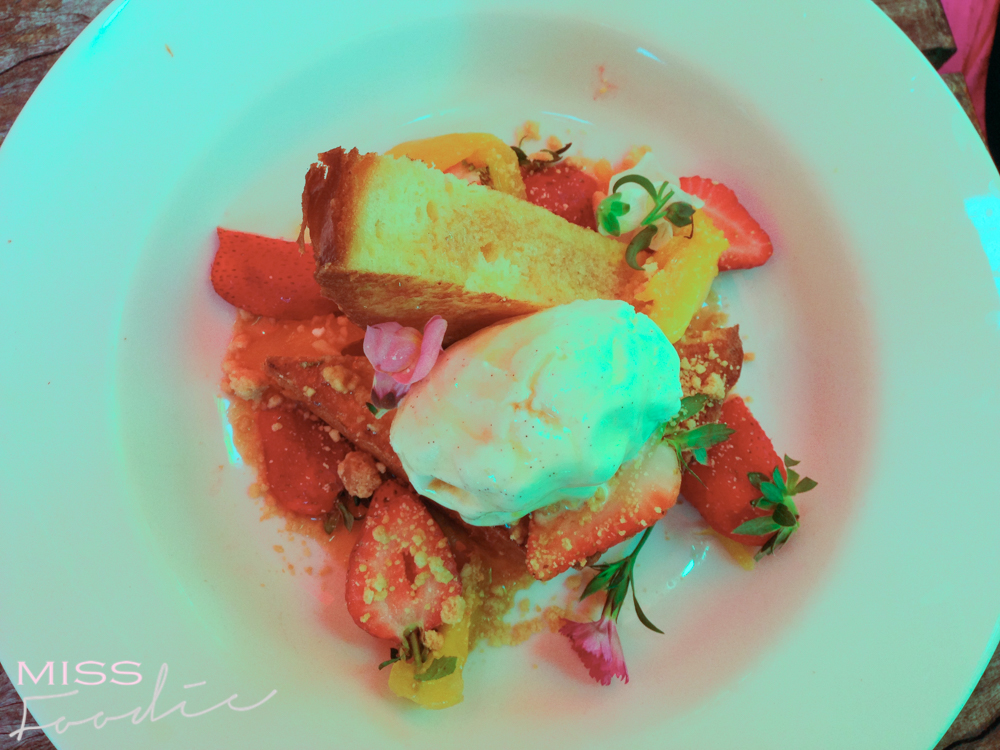 I finally settled on Potato and Persian feta hash cakes with poached eggs, carrot puree and chorizo crumb. With a side of crispy bacon, I'd made the perfect decision. As soon as my board of goodness approached my table, I was in love. The potato and Persian feta hash cakes were lavish and I savoured every bite. I loved how the Persian feta oozed seductively over my board, marrying with the carrot puree and chorizo crumb; each mouthful was better than the last.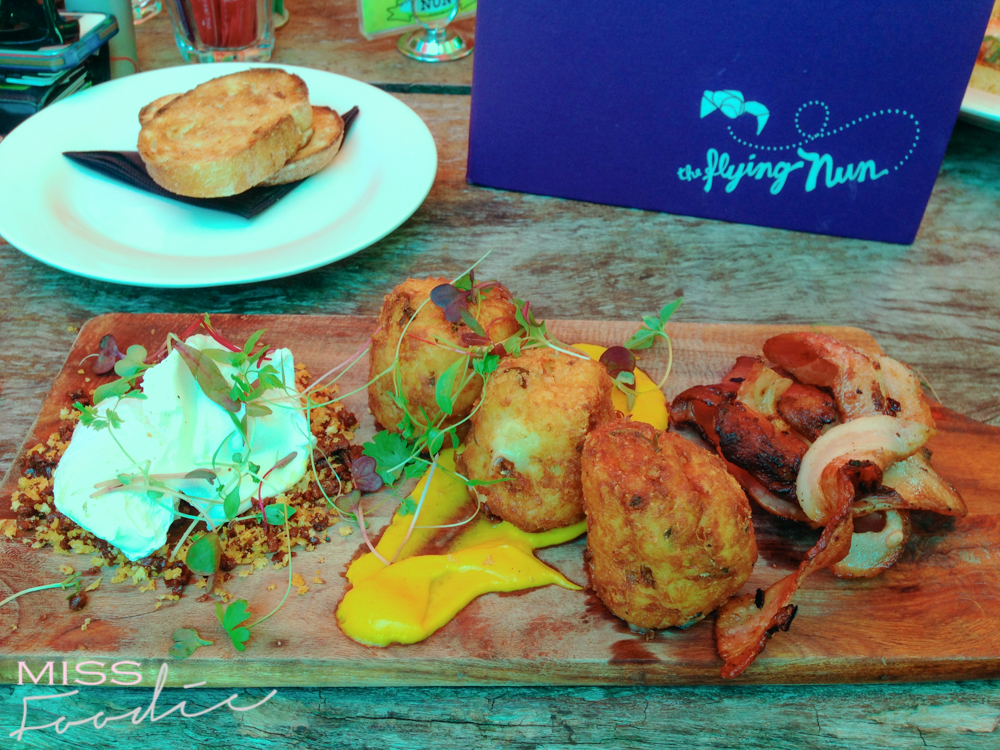 I struggled saying no to the North American pan seared scallops, herbed croutons, fig and vanilla jam with traditional Spanish chorizo and poached eggs. It was the North American scallops that disappointed; why not local scallops The Flying Nun? Hervey Bay Scallops are just around the corner and are nothing short of sweet perfection when I've tried them.
The Flying Nun Cafe is located opposite John Scott Park at 16 Station St, Samford, just 25 minutes drive from Brisbane. The cafe is set in a relaxing rainforest garden and the foliage blankets each section allowing a warm sense of privacy. The old Uniting Church building includes a colourful mosaic tiled and a lead light extension.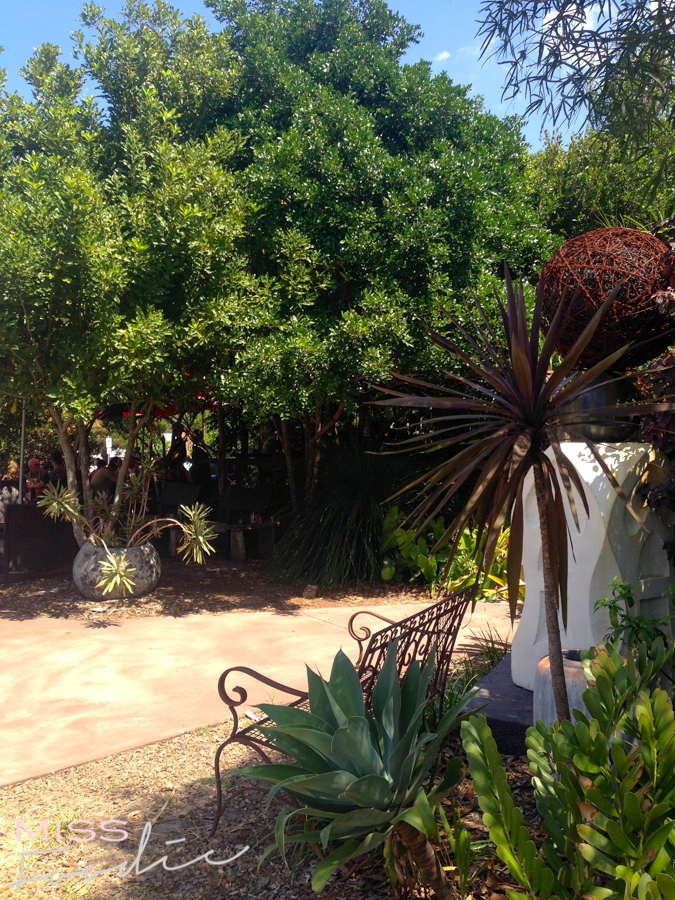 Walking around The Flying Nun Cafe you will also find a fascinating range of sculptures and artefacts as well as local art on the walls for sale. Sit outside and watch the horses in the nearby paddock and enjoy the sweet sounds of the birds singing. Or stay cosy inside and admire the exciting colours the sun brings as it reflects through the charming windows.
This is the way Sundays should feel.