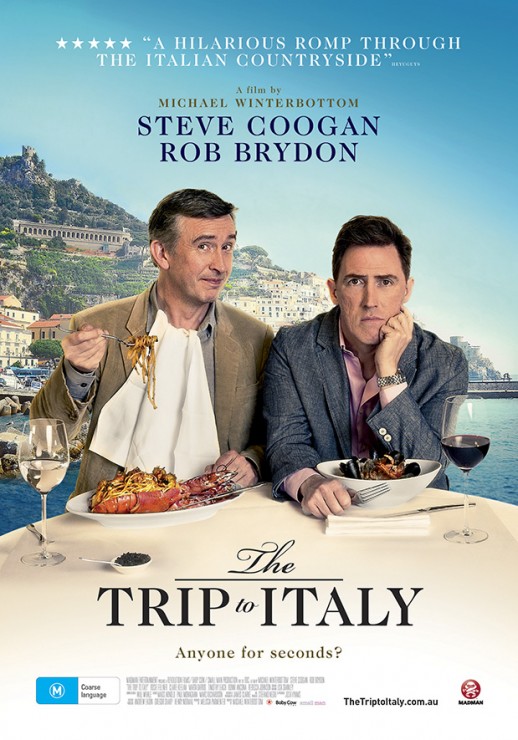 The Trip to Italy – 2014
Writer/Director – Michael Winterbottom
Stars – Steve Coogan and Rob Brydon
Comedy Drama
Writer/Director Michael Winterbottom's sequel The Trip To Italy sees comedic stars Steve Coogan and Robert Brydon savour six meals in six different places on a road trip around Italy.
Asked to write a food and travel piece for a magazine, Brydon calls on old friend Coogan to accompany him on his Italian adventure. The minute the pair buckle into their hire mini convertible coupe, a trickle of laughter fills the cinema. Who would have thought two men talking about Alanis Morisette's Jagged Little Pill album could be so funny. Heavily based on dialogue (which I love) you do need to have your educated wits about you though for there are many historic and poetic references to the jokes wound in throughout the film.
Coogan and Brydon's relaxed and witty personas in front of the camera make for entertaining viewing. As we watch them continually try to outdo each other with their Sean Connery, Michael Caine, Woody Allen and Al Pacino impersonations, we have no choice but to laugh along with them. Conversely, I did feel it got repetitive at times, however it's these caricatures that people have grown to love. In fact, Winterbottom's original movie 'The Trip' was based around a six-part series from the BBC and it seems audiences can't get enough.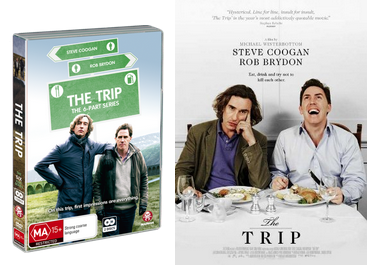 More comical than anything, The Trip to Italy does have its dramatic undertones. Coogan quietly struggles with the confidence issues of an aging married man. As you watch him attempt to make his wife laugh over the phone with yet another impersonation, I could not help but ask myself whether he can just be himself. Does he even know who he is anymore? Brydon the successful writer on the other hand is very comfortable in his skin but does realise the need to step up and be a better father.Portraying true Italy, the cinematography in the film is picturesque and authentic. I enjoyed the handheld camera work in the restaurant scenes as it created a wonderful sense of real time. We are whisked from dining scene to the hustle and bustle of the kitchen and the mouth waters as we look upon the culinary talents of the Italian chefs.
Meandering through the scenic cobblestone roads and Cliffside pathways of Tuscany, Rome, Amalfi and Capri, A trip to Italy is one of those films where you live for a moment in someone else's life. There are no intense Hollywood climaxes; instead, this film is about a clever script. It's about great food, travel, family and friends…. It's about enjoying life.
The trip to Italy is out now and playing at Dendy and Palace Centro cinemas.
Miss Foodie was a guest of Madman.