I've never been all that impressed with tofu; the lack of taste and consistency can be very off putting for some. Lately however I've been getting right into it and I've found a couple of Tofu varieties that I'm enjoying.
My first Agedashi tofu experience was my huge tofu-turn-around; the delicate and velvety smooth texture of the silken tofu together with the dashi broth is a fabulous flavour combination. Next time you're dining out for Japanese please give Agedashi Tofu a try, it's only a starter dish and I think you'll be satisfyingly surprised, even the biggest tofu hater.
My friend Alyssa made a stunning Asian Tofu Noodle Stir Fry at our Wednesday Girls Dinner break-up last year. I had to found out which tofu variety she used because I very much enjoyed the flavour and consistency and it was now the second tofu experience I'd delighted in. I found out Alyssa used a marinated tofu variety called Blue Lotus Tofu Nuggets Sweet Chilli and it's sold at Woolworths. Since then I've purchased the tofu and I've been replacing the chicken in my Asian chicken noodle soup with the Blue Lotus tofu and I'm very much loving it (definitely not B though that's for sure! I've learnt my lesson there – DO NOT feed B tofu… ever!).
After reading through a couple of Tofu salad recipes I came up with this Tofu Salad with Miso dressing. Because of its healthiness and simplicity I've been delighting in this salad at work for lunch. I pre-make the dressing and toast the sesame seeds at home and transfer them to small individual containers; the remaining salad ingredients go into another container. Then I simply assemble and dress the tofu salad at work.
What Tofu varieties do you like and recommend? I'm keen to try my luck on some other tofu varieties.
Tofu Salad with Miso dressing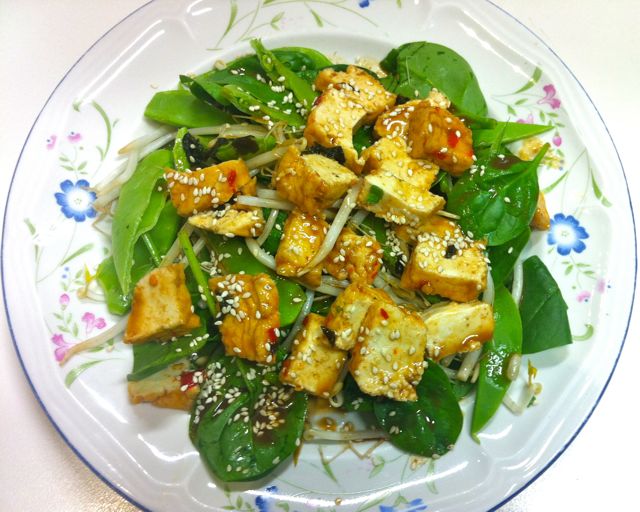 Ingredients
½ tblsp miso paste
1 tblsp soy sauce
1 tblsp white vinegar
Pinch of caster sugar
Blue Lotus Tofu Nuggets Sweet Chilli, cut into halves
1 handful of snow peas, topped and tailed, halved diagonally
1 handful of baby spinach leaves
1 handful of beansprouts
2 tsp sesame seeds, lightly toasted
Method
Place miso paste, soy sauce, vinegar and sugar in a small jar and shake until sugar dissolves and the mixture is combined. Alternatively you can whisk in a small bowl.
Divide the spinach and snow peas on a plate. Top with tofu. Drizzle over the dressing and sprinkle with sesame seeds.