Miss Foodie has officially entered Gourmet Gardens search for Australia's Best 'Blogger-Come-Chef'. As soon as I read the competition I enrolled instantly. What I loved about Gourmet Garden and the Herb eCooking School was "there passion for making everyday cooking easier, more joyful and inspiring by incorporating fresh herbs and spices." That's pretty much exactly how I see Miss Foodie! Cooking is about sharing, about bringing families and friends together, it's about love. I don't want people to think of cooking as a chore. Gourmet Garden's selection of herbs are easily kept in the fridge and instantly add flavour to your cooking, it doesn't have to be difficult.
Today I received my gift pack of tasty Gourmet Garden goodies and tonight I thought I would use my favourite herb Gourmet Garden Basil.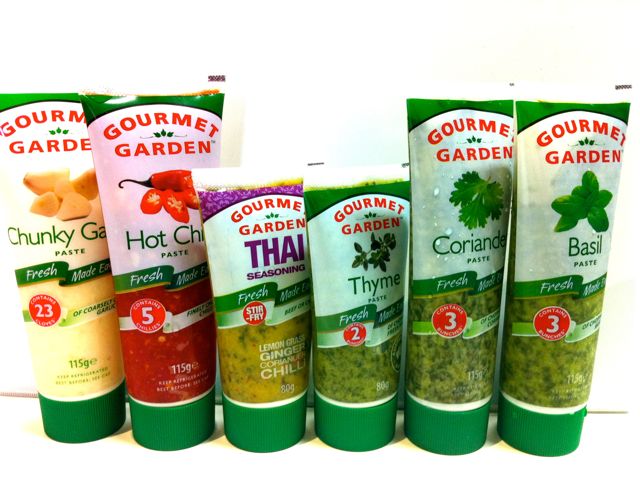 I  posted a photo of my Tomato, Feta & Basil Topped Mushrooms on Facebook/MissFoodieAus a few months ago and wow what a response! This dish isn't complicated and I'm sure everyone you make it for will love it! So why not give it a go yourself. You will find Gourmet Garden Basil in the herb section of your local supermarket.
Tomato, Feta & Basil Topped Mushrooms

Ingredients
150g feta cheese, crumbled
1 punnet of cherry or grape tomatoes
2 tablespoons Gourmet Garden Basil
Freshed cracked pepper
1/3 cup olive oil
8 flat mushrooms, stalks trimmed
Method
Preheat your oven to 180°C.
Combine feta, tomato, Gourmet Garden Basil, pepper and 1/4 cup of oil into a bowl. Spoon mixture into your mushrooms and drizzle with remaining olive oil. Place your mushrooms onto a baking tray lined with baking paper and cook for approximately 15 minutes or until cooked. Enjoy immediately.