In a previous post I spoke about a few of my favourite cookbooks. One of those was Saraban, a Persia n cuisine cookbook created by an ex-husband and wife pair who travelled to Iran. These recipes are from that book and are some of the best dishes I have created.
Cucumber, Pomegranate and Feta Salad
The cucumber, pomegranate combination, plus the added creamy deliciousness of feta, makes this Persian salad a taste sensation.  The dish works perfectly as an entrée, but would also work well as a side dish.

Ingredients
6 Lebanese cucumbers, peeled
3 tablespoons vegetable oil
60g flaked almonds
Seeds from ½ pomegranate
2 tablespoons shredded mint leaves
2 tablespoons shredded chervil sprigs
2 tablespoons snipped chives in 2cm lengths
Juice of ½ lemon 2 tablespoons extra virgin o live oil
80g creamy feta, crumbled
Sea salt & fresh ground black pepper
Method
Using a vegetable peeler, shave the cucumber flesh into long strips, being careful not to include any seeds. Discard the seedy core. Tip the shavings into a colander set a on a plate and refrigerate for 10 minutes.
Meanwhile, heat the vegetable oil in a frying pan over a low heat and fry the almonds until golden brown. Drain briefly on paper towels.
Combine the shaved cucumber with the pomegranate seeds and herbs in a large mixing bowl. Whisk the lemon juice and extra virgin olive oil together and pour over the salad, scatter on the feta and crisp almonds, then season with salt and pepper and toss everything together gently. Serves 6
Roast Lamb with Pumpkin and Sultanas
I've cooked this dish 3 times already and I love it more and more every time. It's nice to enjoy a roast without having to eat the same old traditional roasted veg, don't get me wrong I love roast veggies it's just better enjoying it with something different. I love the sweetness from the pumpkin and sultanas and the yoghurt really accompanies the meal perfectly. I highly recommend this easy and very flavoursome dish.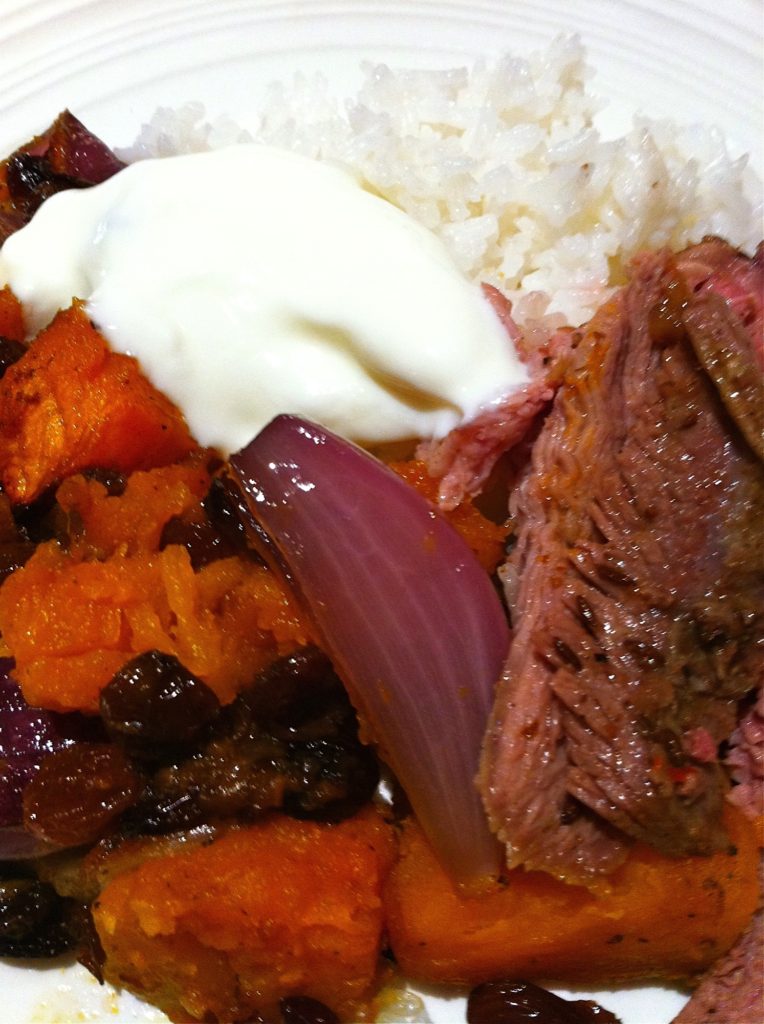 Ingredients
1 x 2.5kg leg of lamb
Olive oil
600g peeled pumpkin, cut into chunks
2 red onions, cut into quarters
¼ cup sultanas
Splash of verjuice (you may not have this item in the cupboard but I certainly recommend you change thata. Since purchasing my Maggie Beer Verjuice I have used it for salads and it's perfect for deglazing pans)
Rice and yogurt to serve
Spice Paste
2 cloves of garlic roughly chopped
1 shallot, roughly chopped
1 long red chili, roughly chopped
1 tsp sea salt
1 tsp caraway seeds, ground
1 tsp freshly grated nutmeg (buying whole nutmeg is so much better than the ground stuff! My banana smoothies are tastier than they've every been. The flavor is so much fresher and distinct, not like the musty, fine and powdery bottled counterpart)
½ tsp ground cinnamon
½ tsp ground cardamom
Fresh ground black pepper
50ml olive oil
Method
Preheat the oven to 200°C
To make the spice paste, combine the garlic, shallot, chili and salt in a mortar and pound to a paste. Add the remaining spices and pound again to incorporate thoroughly. Stir in the oil. Use your fingers to rub the paste over the lamb working it in thoroughly.
Pour half the oil into a heavy based roasting pan, then add the lamb and cook in the centre of the oven for 20 minutes. Turn the oven down to 180C and cook for a further 20 minutes. Remove the pan from the oven and add the remaining oil. Scatter in the pumpkin, onion and sultanas, tossing them around the spicy oil to coat. Return the pan to the oven and cook for a further 30 minutes. Check from time to time and turn the vegetables to ensure they cook evenly.
Check for doneness – at this stage, the lamb should be cooked medium rare. Return to the oven for a little longer, if you prefer it less pink. Allow the meat to rest for at least 15 minutes before carving – the vegetables can be kept warm in the oven if they are done. Serve with the pan juices and vegetables, your choice of rice and lots of yoghurt. Serves 6.
Profiteroles with Fig Cream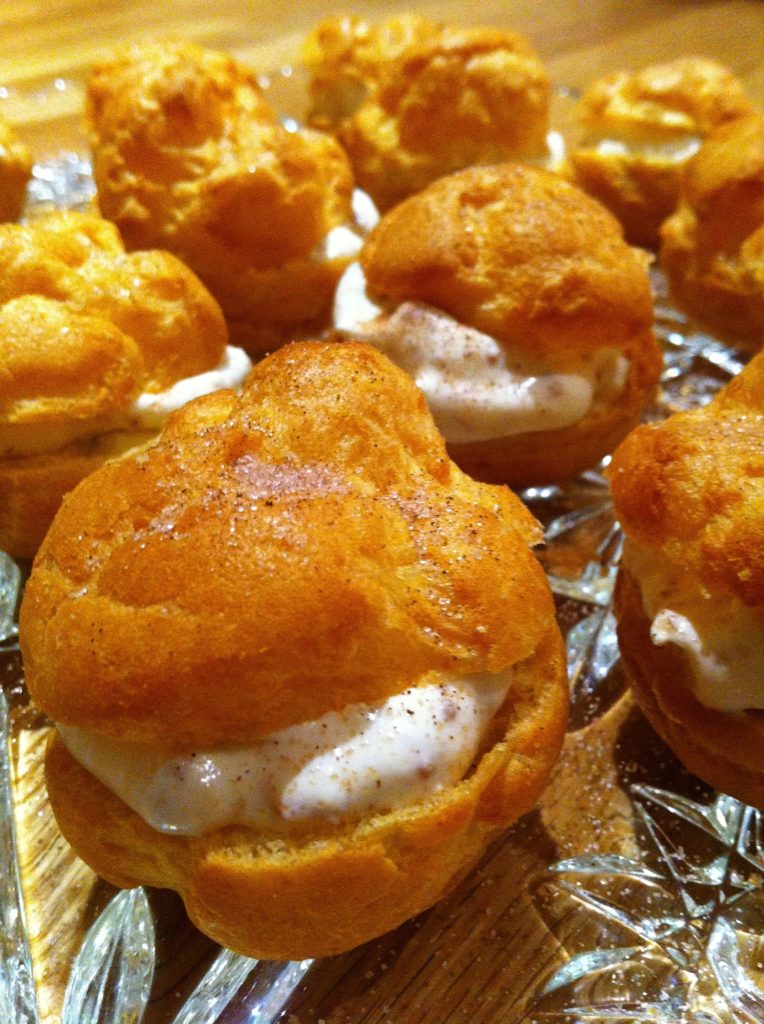 Ingredients
Thick Fig Cream
150g dried figs, roughly chopped
50g caster sugar
200ml water
Juice of ½ lemon
300ml thickened cream, chilled
2 tblsp thick natural yoghurt
¼ cup icing sugar
Lemon or orange juice (optional)
Profiteroles
Method
To make the fig cream, bring the figs, caster sugar, water and lemon juice to a boil in a small, heavy-based saucepan over medium heat. Lower the heat and simmer gently for about 15 minutes, or until the figs break down to a paste. Cool for a few minutes, then whiz to a smooth puree in a food processor. Set aside until the ready to serve, but don't refriedgerate.
Whip the cream, yoghurt and icing sugar to medium stiff peaks, then chill until ready to use.
Now  you can most certainly go ahead and make your profiteroles, but on this occasion I purchased pre-made ones. I will do this recipe again making my own choux pastry; of course it would taste a lot better.  For a mid week 3 course dinner the pre-made ones save you a lot of stress and time.
When ready to serve, take the chilled cream out of the fridge and loosely fold in the fig paste, if the paste is very stiff, loosen it first with a  alittle lemon or orange juice. Use a sharp knife to cut the tops off the profiteroles and fill each with a generous spoonful of the cream, then replace the tops. Mix the cinnamon with the caster sugar and dust on the profiteroles. Because I had pre-made profiteroles they were a little dryer than what they would have been fresh so the cinnamon sugar kind of fell straight off. It still tasted good though! Serve straight away.
Persia Persia n = deliciousness