I have been asked to cater for a small 20 person wedding this year so I thought I would have a go at some canapé recipes. Loving the versatility of eggplants I thought I would give eggplant rolls a go as I've enjoyed them a few times at events in the past.
Slicing and chargrilling eggplants gives you the perfect wrap for any number of fillings. On this occasion I made a mix of fresh ricotta, organic mozzarella, spring onions and dried oregano. Warming them through created a cheesy gooiness which was extremely satisfying as a light meal. I allowed them to cool overnight to see what the flavour and texture was like and it was perhaps even more appetizing the next day. The cheese mixture firmed up once again making it perfect for a catered affair or picnic. The size and temperature of the eggplant rolls will determine whether you enjoy them as a canapé or as a light lunch served with a side of green salad.
The tomato sauce was a nice touch and it was simply a process of roasting cherry tomatoes and garlic and blending them together. You could use this sauce tossed through pasta or as a base for pizza.
So for the wedding thus far I'm going to go with these vegetarian eggplant rolls and my strawberry bruschetta. I have a few other ideas up my sleeve so watch this space.
Vegetarian Eggplant Rolls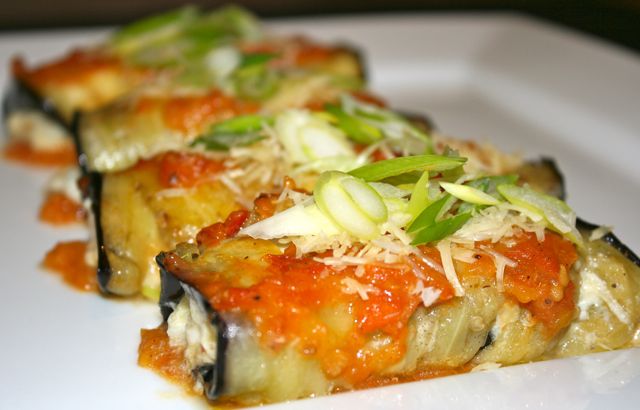 Ingredients
2 eggplants (size dependent on whether you want this as a canapé or light lunch)
Ground sea salt and black pepper
Extra virgin olive oil
Filling
150g fresh ricotta cheese
150g mozzarella
2 spring onions
Dried basil to taste
Sauce
250g cherry tomatoes, halved
4 garlic cloves
250ml extra virgin olive oil
Ground sea salt and black pepper and pinch of sugar
Presentation
Cheese shavings
Very thinly sliced spring onions
Method
Preheat oven to 180C
Eggplants
Slice eggplant lengthways approximately 1cm thick. Sprinkle salt on each slice and let sit for 5 mins – this draws out the moisture. Then pat eggplant slices dry with good quality paper towel.
Season eggplant with black pepper and drizzle oil on the eggplant strips. Grill the slices till softened for about 2 minutes (you can also cook them on a tray in the oven). When cooked, drain the slices on paper towel and rest on the cutting board. Note: be careful not to overcook the eggplant or it becomes too soft and falls apart when rolling.
Filling
Mix ricotta, mozzarella, onions and dried oregano in a bowl; stir well. Spoon the mixture at the base of each eggplant slice and carefully roll.
Sauce
Pour the olive oil into an ovenproof dish, add the tomato halves and garlic cloves, season with salt and pepper and roast in preheated 180C oven for approximately 15-20 minutes or until softened. Transfer tomato mix to a small jug and add a pinch of sugar. Lightly blend with hand blender – you could also mash with a fork for a more rustic texture.
Spread some of the sauce on an ovenproof dish, place the eggplant rolls seam-side down, spread the remaining sauce over the rolls. Place in the oven, cook 13-15 minutes until cheese melts. Serve topped with cheese shavings and spring onions.