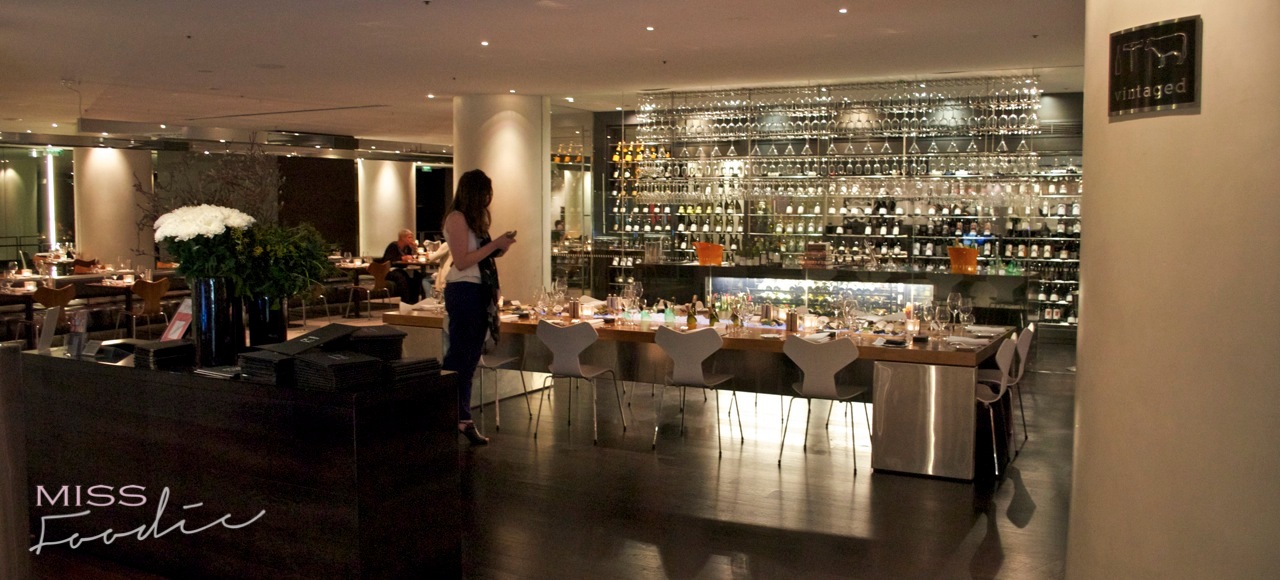 Dining inside the Hilton Hotel wouldn't typically come to mind, but after my recent Vintaged Bar and Grill experience it does now.
Awarded the prestigious Chef's Hat at the 2014/2015 brisbanetimes.com.au Queensland Good Food Guide (GFG) Awards for the third time running, Vintaged Bar and Grill's Executive Chef Jeremy Clark and Sous Chef Dario Fiorino are without doubt dedicated to food excellence.
Promising fresh local produce, Vintaged Bar and Grill meats are key features on the menu and it doesn't stop there.  An impressive cabinet stocks their dry aged meat and an illuminated, Himalayan rock salt wall stands as the backdrop.
Directly in front, flames dance as their fine cuts of meat are cooked in the open grill kitchen creating a culinary theatre for diners.  The best seat to view the show is at the interactive Chef's Table which is available for group bookings.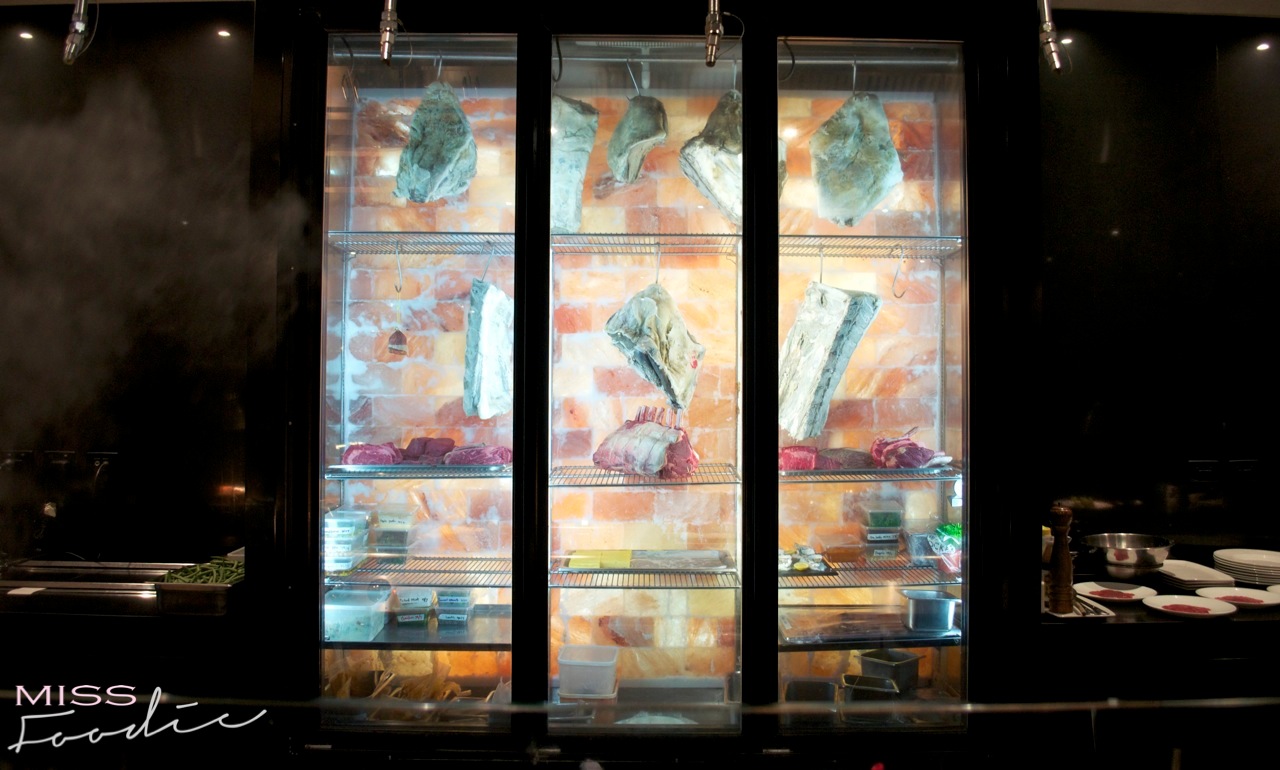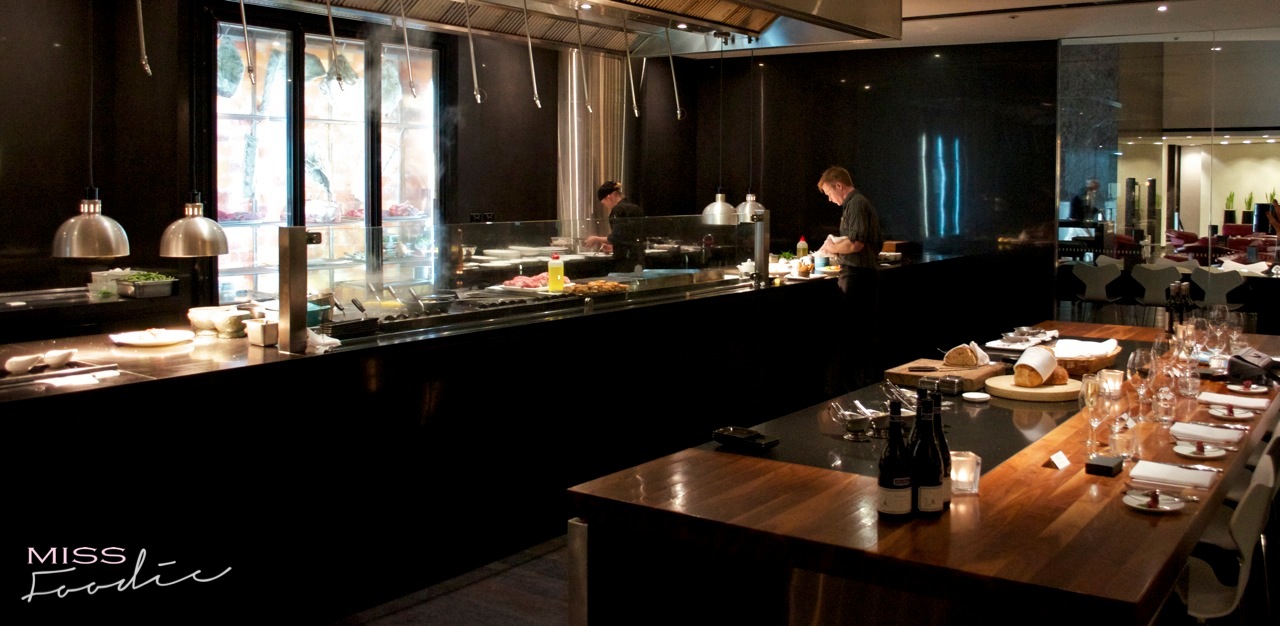 Whether you appreciate wine or not, another standout is the glass walled Wine Room which stocks a drooling 1,000 bottle collection. Seated on this occasion at the Wine Table, this was my vista.
Stretching 5.5m long, the Wine Table was such a delight to sit at and I'm already thinking how I can get my friends together so I can sit there once again. Personally I think it's the best seat in the house; not only do you have views of the open grill kitchen and Wine Room, but running through its centre is a striking, end-to-end ice well to keep bottles perfectly chilled (or fresh oysters and scallops) and it's illuminated from within so the stunning light adds for extra drama.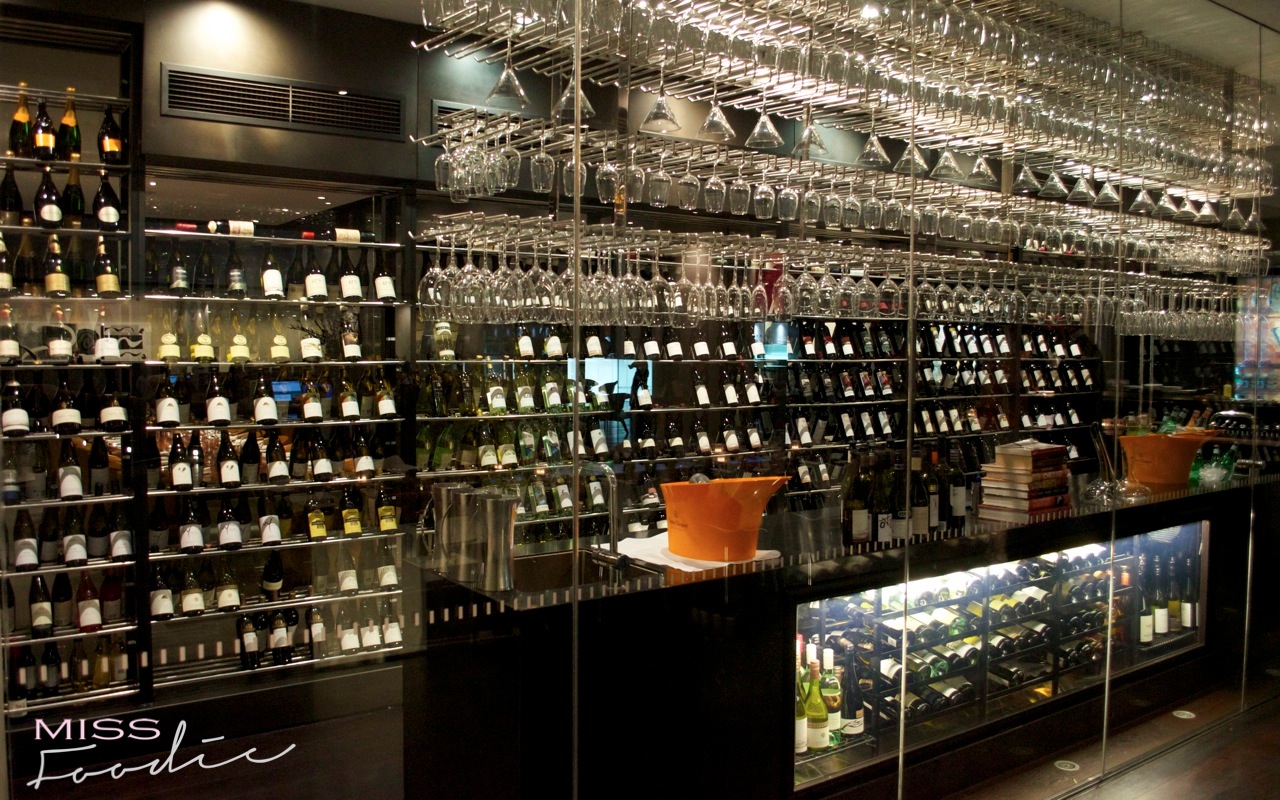 The main act – the food, didn't disappoint. In the bar area we got to know each other whilst enjoying fresh Coffin Bay oysters. Marinated organic pepper salad with a stunning aged parmesan and Jamon Serrano fig with goats curd and aged balsamic. These tempting share plates are the perfect accompaniment to pre-dinner cocktails.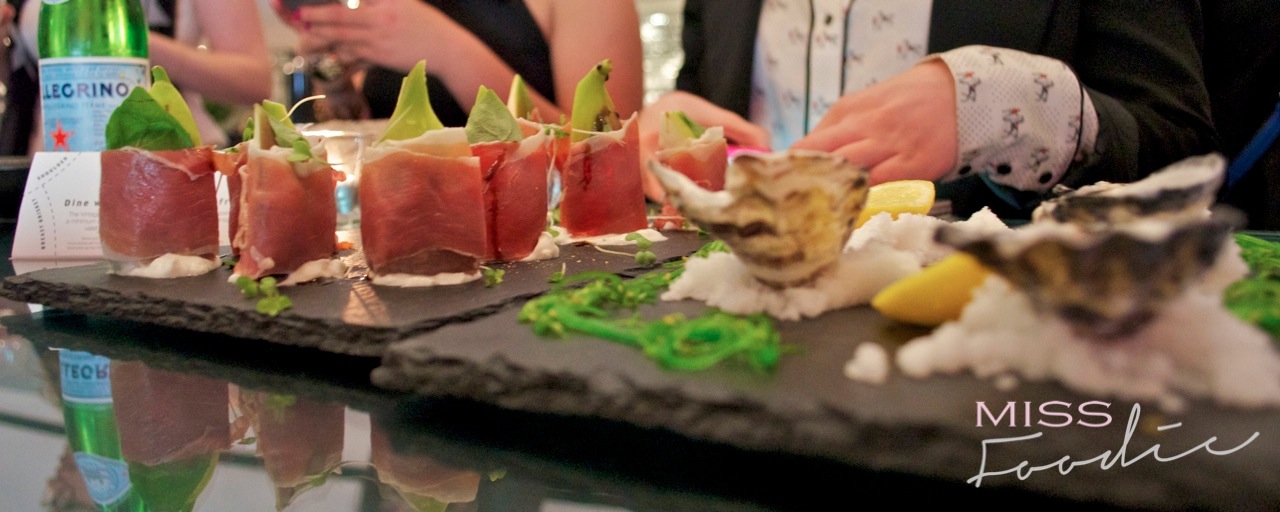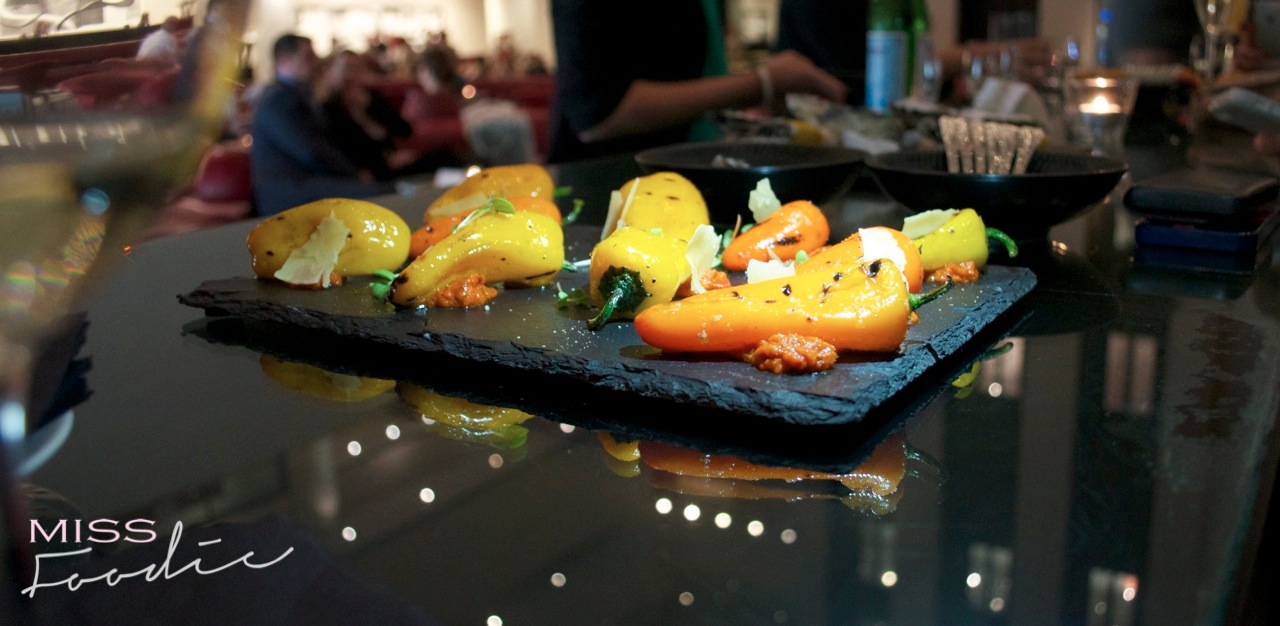 Next it was time to sit down, relax and enjoy more from Vintaged Bar and Grill 's menu.  A Wagyu carpaccio drizzled with truffle and dressed with baby rocket was the first starter and I couldn't tell you of a better carpaccio tale. The wagyu was cut with such finesse and the accompaniment of truffle was like nothing I've had before.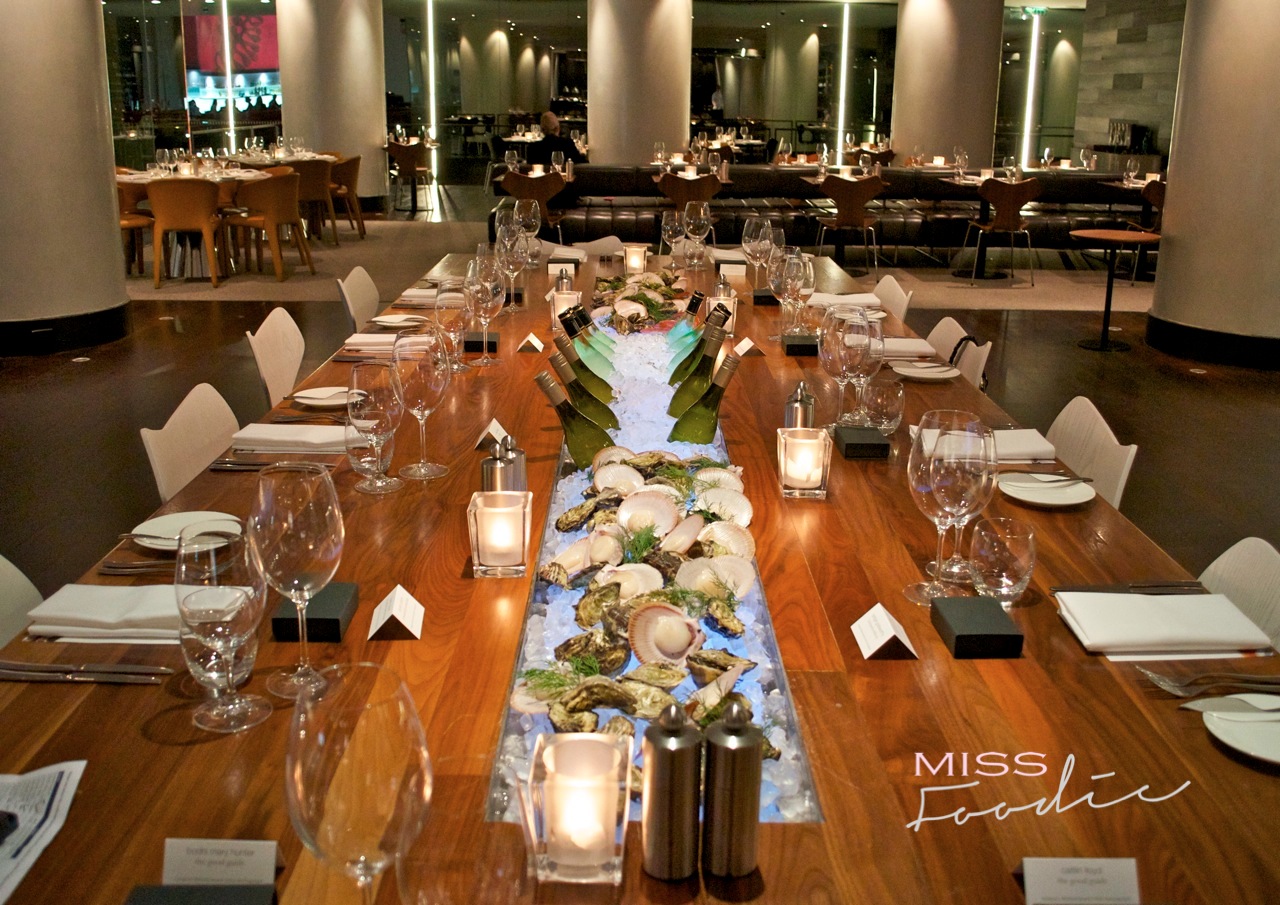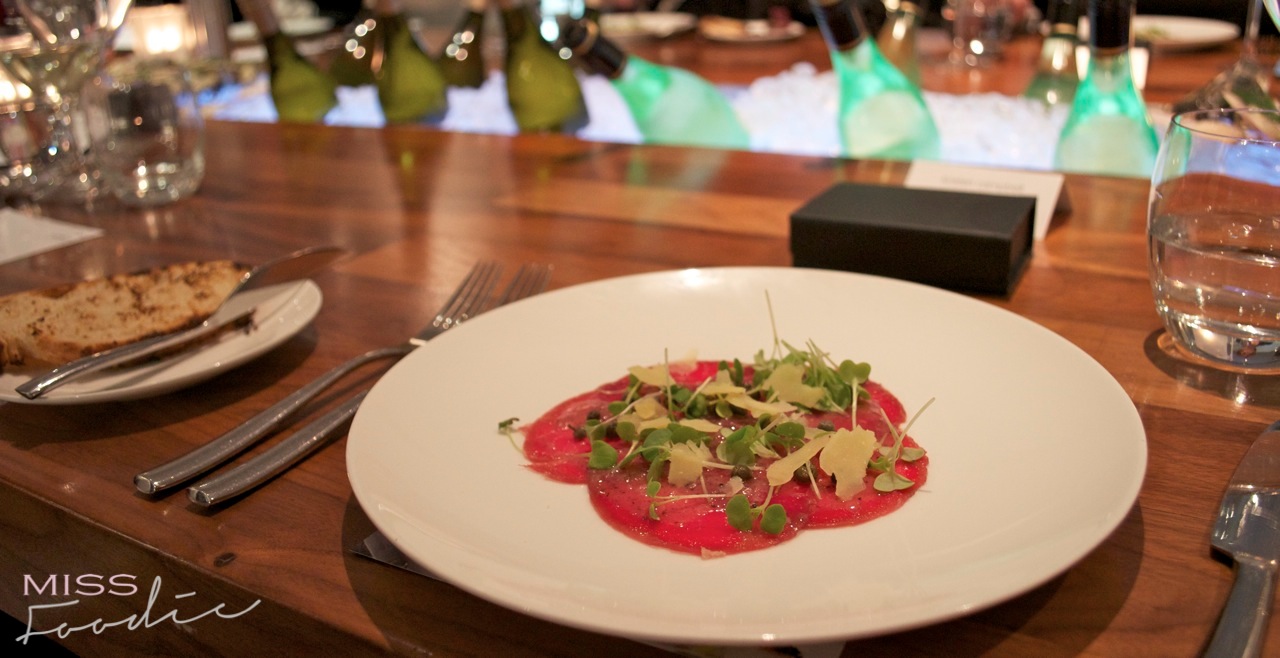 Originated from the ancient breed of pig known as Black Berkshire, Kurobuta pork is labelled as the most highly prized pork in Japan and its meat quality the best of best in the world. Understanding all this, when my Kurobuta pork belly with morcilla sausage and apple came out I was excited to sink my teeth in. It didn't disappoint, it was a lot less fatty than the other pork belly's I've tasted and the crackling crispy and light.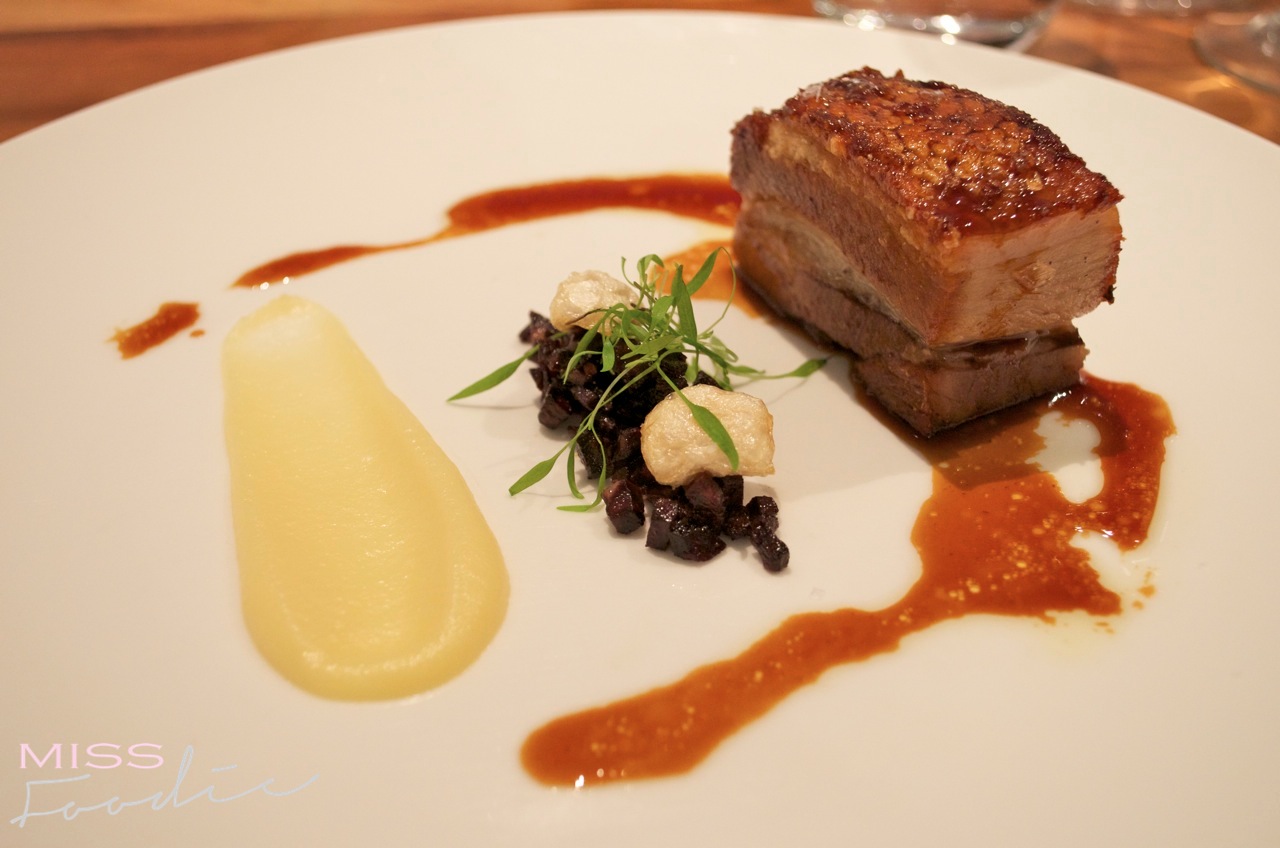 Two fresh, plump white scallops with morsels of asparagus and cos was next and the taste was simple which allowed for the sea freshness to shine.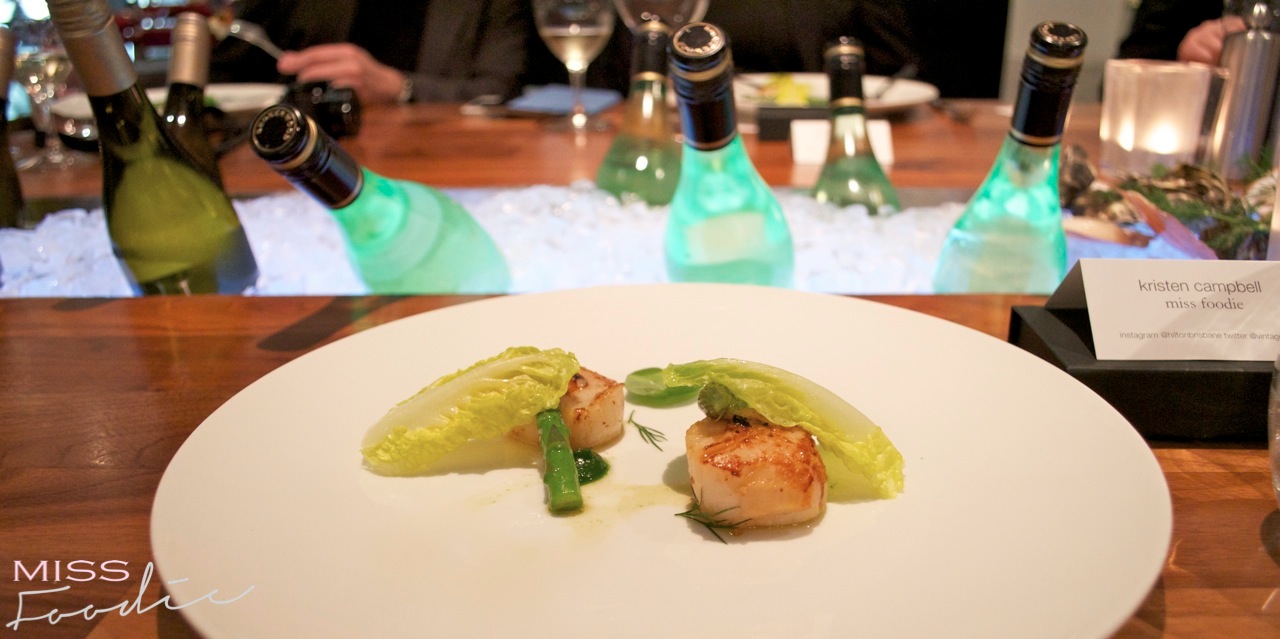 Mains of slow cooked lamb shoulder and bone on rib eye with bone marrow crumble were accompanied by gratin potatoes, housemade mint sauce, duck fat chips and mac and cheese. The lamb shoulder was salaciously juicy and I enjoyed it most in the meat category. But I have to say with much surprise that the mac and cheese was my second favoured. Vintaged Bar and Grill do their mac and cheese with preserved truffle! It was divine and I want more of it.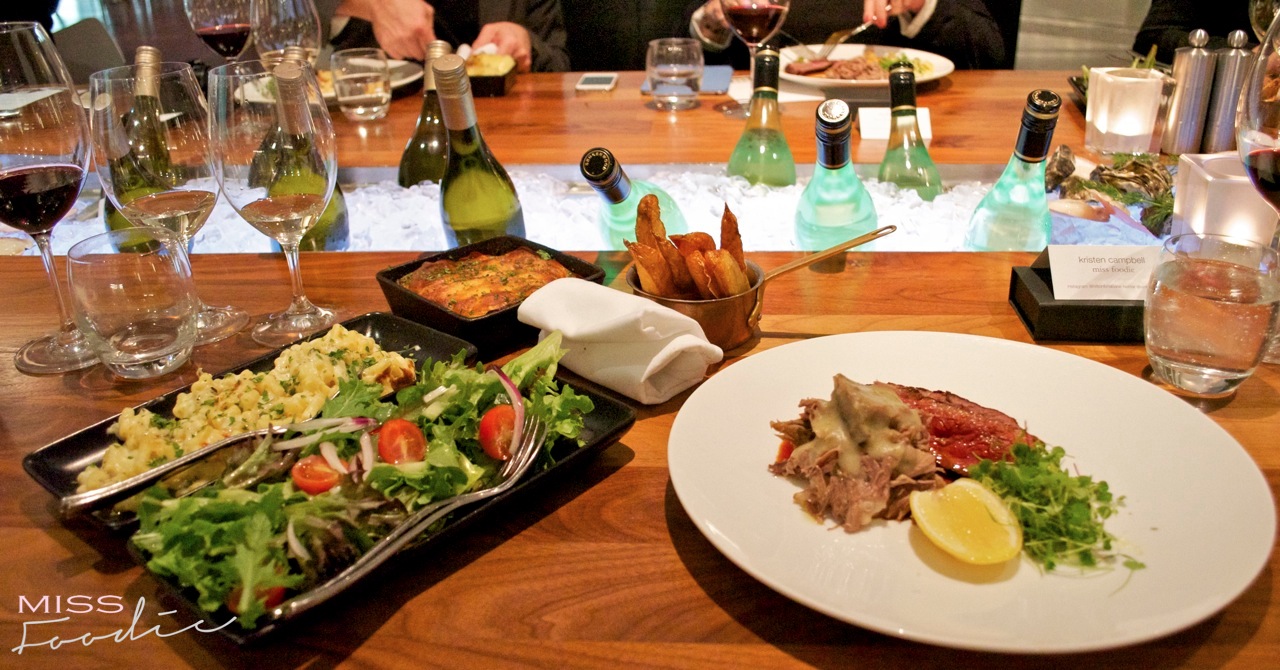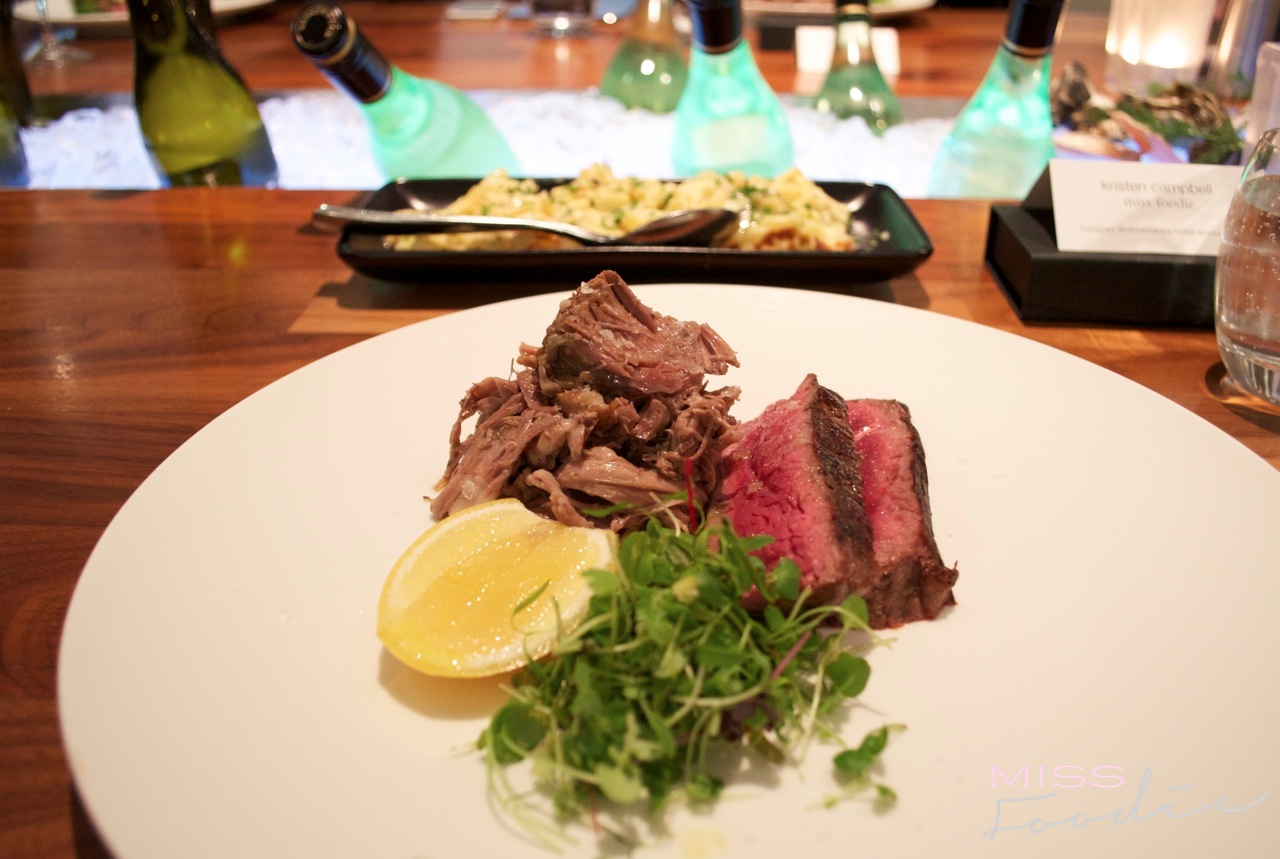 There's nothing more beautiful than a cheese board for dessert or cheese trolley in this instant. On show was Gorgonzola Dolce Latte from Italy, an oozing Brie from France, Kennelworth Vintage Chedder, burnt fig jam, fresh fig and the most elegant poached pears.  My stomach was now full and very satisfied.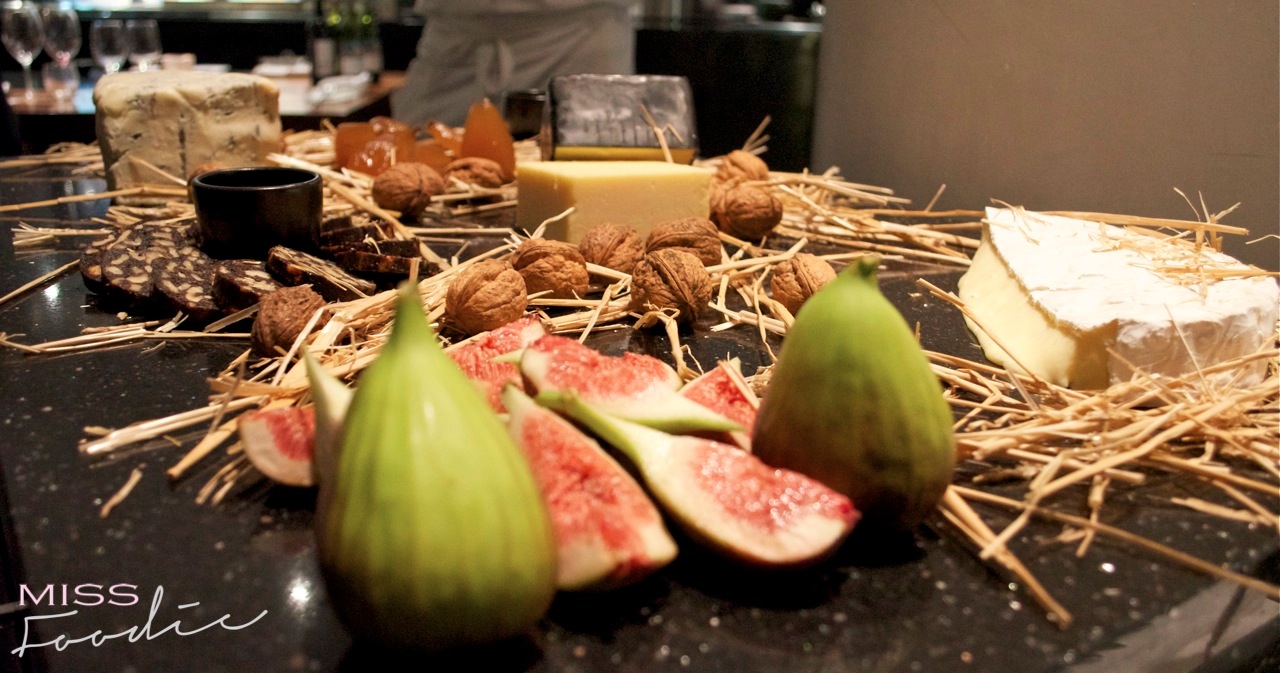 Vintaged Bar and Grill's space is vast so you don't get the cosy feeling of your favourite intimate restaurant, but that's ok, after all it is a hotel – The Hilton. I quite liked the soaring ceiling and the spotted fairy lights on each floor act as a fanciful milieu and the glass elevator going up and down is quite simply fun.
"Bringing together the very best of Australian architecture, design, produce and service, Vintaged Bar and Grill is a celebration of home-grown excellence on every imaginable level." Hilton Hotel.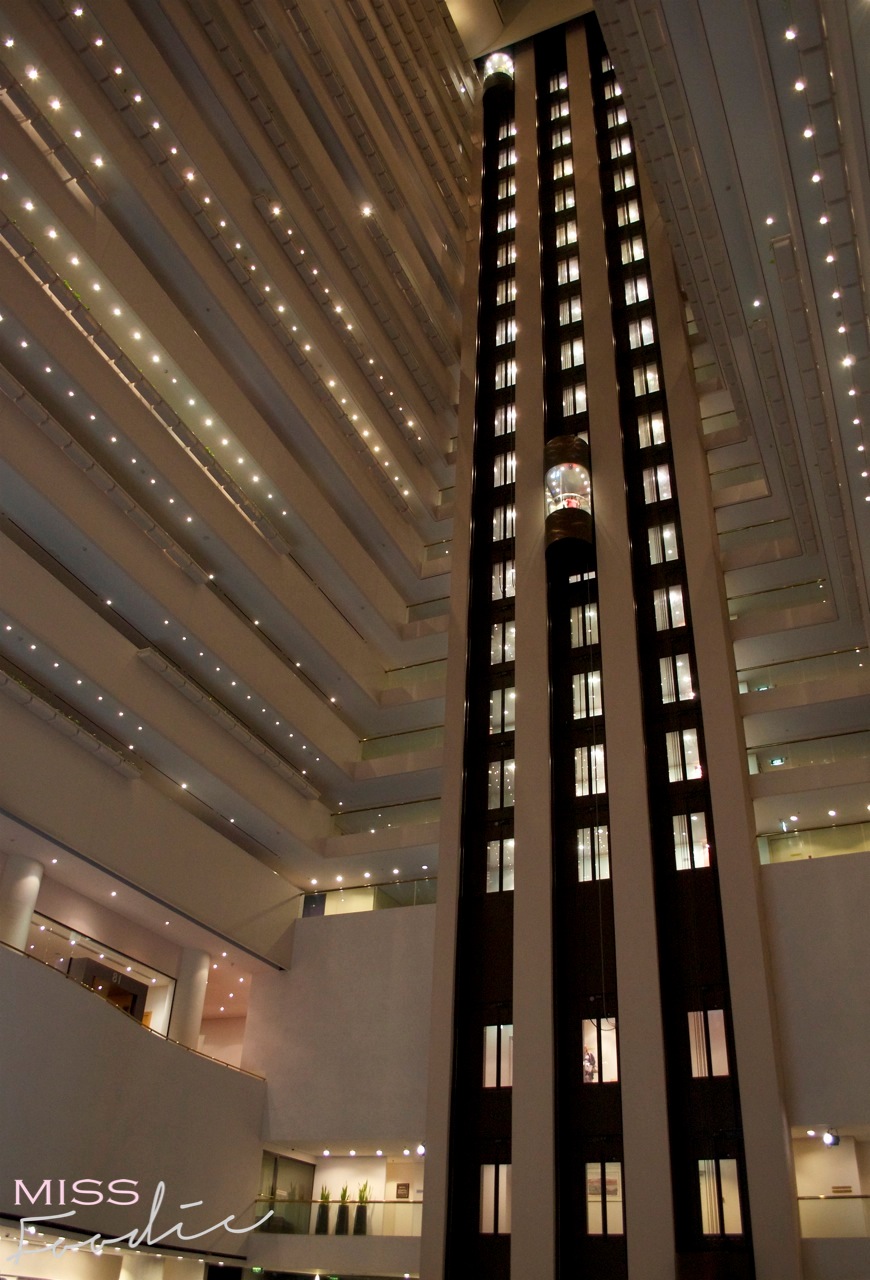 Vintaged Bar and Grill also offer:
 Wine Room tours
For that extra little bit of sparkle, raise a glass in our custom-designed wine room, a haven for wine connoisseurs! The room houses an impressive 1,000 bottle collection, and a list of up to 120 labels featuring a mix of Australian wines, and premium wines from boutique wineries from Queensland and New Zealand.
$10.00 per person including tastings and question and answer time.
 Cheese + Wine tasting
Upgrade your wine room tour and sample a selection of cheese sourced from South East Queensland cheese-makers. Sample five wines including sparkling, white and red and sticky wines paired with a selection of cheese.
$20 per person including tastings and question and answer time.
Vintaged Bar and Grill
Level Six, 190 Elizabeth Street, Brisbane, QLD, 4000
Phone: 07 3231 3265
Miss Foodie was a guest of Hilton Hotel