This is for my beautiful and loving Aunty Kathy. You have influenced me more than you can imagine. When I'm older, if I'm half the woman you are I'll be over the moon.
My Aunty Kathy saw the cover to one of my favourite cookbooks; e'cco 2, and wanted the recipe, so here it is lovely. I've made this dish before and honestly it's delicious!! Cara this one's for you too, I know how long you've been waiting.
Warm salad of Prawns, Southern Golds, Shaved Fennel & Chilli Oil
Philip Johnson's e'cco 2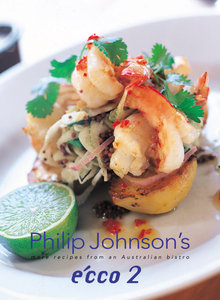 Ingredients
Serves 6
4 baby fennel, outer leaves and core removed, finely shaved
1/2 red onion, finely sliced
1 cup picked coriander sprigs, washed and spun
1/2 cup (125ml) good quality mayonnaise
1 tablespoon seeded mustard (preferably Hill Farm Mountain Pepper)
grated zest of 1 lime
1 tablespoon (20ml) lime juice
12 medium southern gold (pink eye) potatoes, steamed and peeled
olive oil
30 medium green prawns, peeled, butterflied with tails attached
salt/freshly ground black pepper
chilli oil
3 limes, halved
Method
Toss fennel, onion and coriander in a bowl, reserving a few coriander sprigs
Combine mayonnaise with mustard, lime zest and lime juice. Dress salad with mayonnaise to moisten.
Slice each potato in half. Heat a wide, heavy-based pan and fry potatoes cut side-down in a little olive oil until the surface has crisped and potatoes have good colour and are warmed through.
Season prawns and pan-fry, char-grill or barbecue until just cooked.
To serve, place 4 potato halves in the centre of each plate and top with 3 prawns. Arrange salad on top of prawns. Place remaining prawns on top. Drizzle a little chilli oil over and around. Top with reserved coriander and serve with lime halves.
Warm salad of Prawns, Southern Golds, Shaved Fennel & Chilli Oil