Alyssa Alyssa the quieter Wednesday Girls Dinner achiever. A fresh, colourful and tasty meal tonight. The roasted Beetroot soup not only tasted wonderful but the striking colour was so impressive. Haloumi and couscous now why haven't I tried that! It tasted great and the pearl style couscous you used enhanced the presentation beautifully.
Roasted Beetroot Soup w/Creme Fraiche & Fresh Mint
Ingredients
Extra virgin olive oil
1 carrot, chopped into chunks
3 to 4 small or 2 large baby beetroots cut into quarters
1 desiree potato, peeled, chopped1 granny smith apple, quartered
40g unsalted butter
1 onion, quartered1 bay leaf
1L (4 cups) chicken or vegetable stock
Creme fraiche (or sour cream), finely snipped mint to serve
Method
Preheat oven to 180 degrees. Spread carrot, beetroot, potato and apple on a large roasting pan. Drizzle with olive oil and cook for around 45 minutes.
Heat the butter in a large saucepan over medium heat. Add the chopped onion and cook, stirring, for 3 minutes or until slightly softened. Add the slightly cooled roasted vegetables, bay leaf, stock and 1 cup (250ml) water. Increase the heat to medium-high, bring soup to the boil, then cook for a further 5 minutes or until the vegetables are very tender.
Allow the mixture to cool slightly, then discard the bay leaf. Using a stick blender, blend soup until smooth (or puree in batches in a blender).
Season soup to taste, add a little extra water if it's too thick, and warm through over low heat if necessary.
To serve, divide soup among bowls and top each with a dollop of creme fraiche or sour cream. Scatter with fresh snipped mint, then drizzle with oil.
Spicy Couscous Salad with Haloumi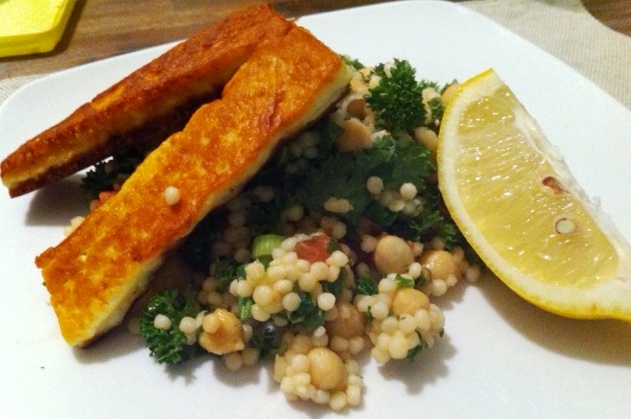 Ingredients
2 cups Real Vegetable Stock
1 small onion
250g pearl couscous
250g haloumi cheese
1 teaspoon olive oil
420g can chickpeas, drained, rinsed
5 green onions, thinly sliced
1/2 cup mint leaves, roughly chopped
2 long red chillies, deseeded, thinly sliced
Dressing
1 large lemon, rind finely grated, juiced
2 teaspoons paprika
1/4 cup olive oil
Quarter lemon to serve
Method
Saute chopped onion in olive oil until golden. Add pearl couscous and stir until golden. Add salt, pepper, chopped parsley and other spices to taste. Add 2 cups boiling water or stock. Cover pot and simmer for 8-10 minutes.
Cut haloumi into 3 lengthways. Heat oil in a small frying pan over medium heat. Add haloumi and cook for 1 to 2 minutes each side or until golden. Transfer to a plate. Toss couscous, chickpeas, green onion, mint and chilli until combined.
Make dressing: Whisk lemon rind, 1/4 cup lemon juice, paprika and oil in a jug until well combined.
Pour dressing over salad. Season with salt and pepper. Stir to combine. Top with haloumi and Serve with a fresh piece of lemon.
Chocolate Semi-freddo w/ Berries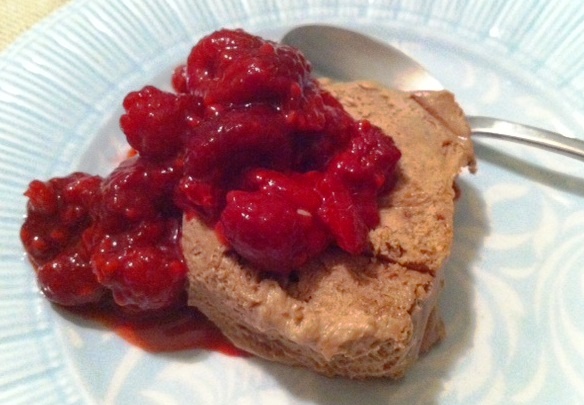 Ingredients
(serves 6-8)
6 eggs, separated
2/3 cup caster sugar
1 cup thickened cream
2 tablespoons cocoa powder
1/4 cup warm water
fresh berries, to serve
Method
Using a hand mixer, beat egg yolks and sugar in a large bowl until pale and creamy. Wash and dry beaters. Beat eggwhites until soft peaks form. Fold eggwhites into egg yolk mixture until just combined.
Using beaters, whip cream until soft peaks form. Combine cocoa and warm water in a small bowl. Stir into cream.
Carefully fold chocolate cream into egg mixture until just combined. Spoon into a 4-cup capacity airtight container.
Cover and freeze for 3 hours or until firm. Serve with fresh or frozen berries.