A very very impressive Wednesday Girls Dinner tonight Alyssa! Beetroot salad, Duck Ragu and Blood Orange Panna Cotta… a match made in heaven.
Warm Beetroot Salad w/ Pancetta, Walnuts & Blue Cheese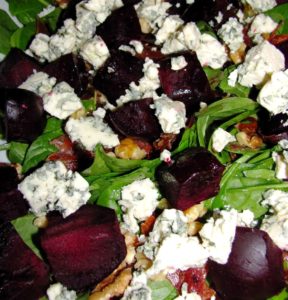 Ingredients (serves 4)
12 baby beetroots
4 slices pancetta
1/2 cup (55g) walnut halves
100g blue cheese, crumbled
100g Rocket
Method
Preheat oven to 180°C. Wrap each beetroot in foil. Place on an oven tray. Bake in oven for 25-30 minutes or until tender. Remove from oven and set aside for 5 minutes to cool slightly.
Meanwhile, place pancetta and walnuts on separate oven trays and bake in oven for 5 minutes or until pancetta is crisp and walnuts toasted.
Wear gloves to peel beetroot. Dress with olive oil and available vinegar (I used red wine vinegar). Season to taste with salt and pepper.
Arrange the rocket leaves on serving dishes. Top with beetroots, crumbled blue cheese, walnuts and pancetta. Drizzle with dressing. Serve.
Duck Ragu w/ Mashed Potato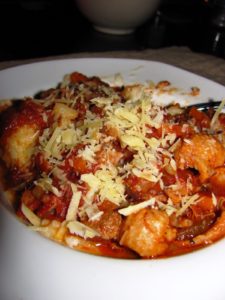 Ingredients (serves 4)
20g unsalted butter
2 tbs olive oil
2 duck breasts (see note), trimmed of excess fat, and thinly sliced into strips
6 slices pancetta, chopped
1 onion, finely chopped
2 garlic cloves, chopped 1 carrot, finely chopped
1 celery stalk, finely chopped
2 bay leaves
2 tbs tomato paste
1 cup (250ml) dry red wine
600g good-quality tomato pasta sauce
1 cup (250ml) chicken stock
Method
Heat the butter and oil in a frypan over medium-high heat. Cook the duck, in batches, until browned. Remove duck with a slotted spoon and place in a bowl.
Drain all but 1 tablespoon oil from the pan and heat over medium heat. Add pancetta, onion, garlic, carrot, celery and bay leaves to the pan and cook, stirring, for 2-3 minutes until they start to colour.
Return the duck to the pan with any resting juices, then add the tomato paste and cook, stirring, for 1 minute. Add the red wine and cook for 2-3 minutes until the liquid has reduced slightly. Add the tomato passata and chicken stock, bring to a simmer, then reduce heat to low, cover and gently simmer for 45 minutes or until the duck is tender and the sauce has thickened slightly.
Season the sauce to taste, then serve the ragu with creamy mashed potato.
*Please note when I was cooking this I could not locate duck breasts therefore cooked a whole duck and stripped the meat from the duck after it was cooked (this was a process I observed from cooking beef ragu). Note this was somewhat messy however I found this added a rich flavour to the dish.
Blood Orange Panna Cotta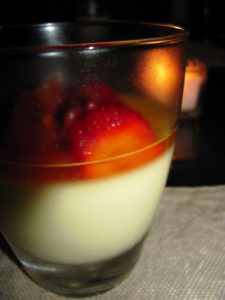 Ingredients
600ml pouring cream
1 vanilla bean (split lengthwise down the middle)
1/2 cup of sugar
1 sachet of gelatin
Method
Heat cream, sugar and vanilla bean on medium heat for five minutes stirring gently until sugar dissolves and the mixture somewhat thickens.
Remove cream mixture from heat. Scrape seeds from vanilla bean and remove vanilla bean from the mixture. Let it cool for five minutes.
Mix gelatine with water (as per packet directions). Allow gelatine rest for 3-5 minutes. Main concern is to have cream and gelatine mixture similar temperatures. Add gelatine to the cream mixture and gently stir.
Pour into glasses/moulds. Note it is easier to pour the mixture into moulds/glasses using a jug. Place in fridge for about four hours.
Additionals – I created grapefruit syrup with mine by simply juicing one grapefruit and adding sugar. Do not be too concerned if there is pulp. I also added a citrus twist to my fat bottom panna cotta by including a long strip of orange rind with the vanilla bean in step one.
Maybe not the best recipe leading into pool party season but delicious and extremely easy.