We visited Karolina at her new house in Manly. She has recently purchased the new Bill Granger's Holiday cookbook and so her yummy dinner was inspired by Bills tasty recipes.
Eggplant Salad w/ Chilli & Mint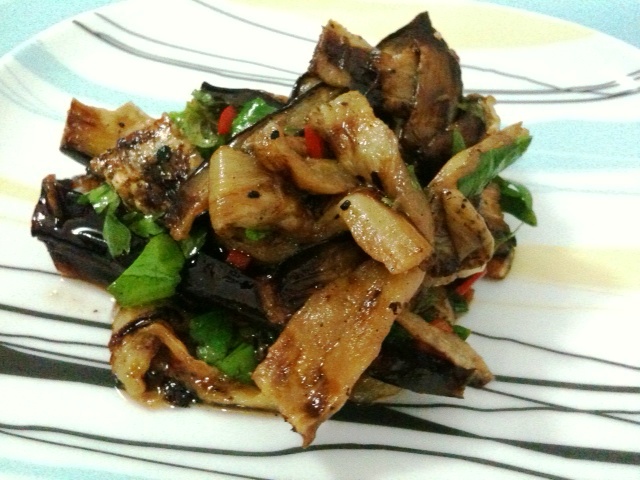 Ingredients
Serves 4
3 large eggplants
2 tbls extra virgin olive oil
2 tbls red wine vinegar
1 long red chilli, seeded, finely chopped
3 tbls shredded fresh mint leaves
3 tbls shredded fresh flat leaf parsley
Sea salt and black pepper
Method
Cut each eggplant into thinck slices. Preheat a bbq or chargrill pan to high and cook the eggplant for -3 minutes on each side or until lightly charred and cooked through. Transfer to a heatproof bowl, cover with plastic wrap and set aside for 15 minutes.
Meanwhile, whisk together the olive oil and red wine vinegar in a small bowl. Add the chilli, mint and parsley, season with salt and pepper and stir together.
Tear the eggplant into rough strips with your fingers and place in a serving bowl. Add the dressing and gently toss together.
Braised Lamb Shanks
Ingredients
Serves 4
4 Lamb shanks
Plain (all purpose) flour, season with salt and pepper, to toss
2 tbls olive oil
1 large onion, cut into thin wedges
3 garlic cloves, thinly sliced
1 large long red chille, seeded and finely chopped
2 tsp five spice powder
400g tin chopped tomatoes
3 tbls light soy sauce
2 tsp brown sugar
To serve
Steamed leafy greens
Steamed rice or mashed potato
Lime wedges
Method
Place lamb shanks, flour, salt & pepper into a bag and toss to coat shanks. In a heavy based casserole dish or electric fry pan gently saute onion and garlic until opaque add the next 5 ingredients followed by the coated lamb shanks. Turn the heat to low and cook for approximitely 2 hours or until the meat deliciously falls off the bone. Serve with steamed leafy greens, steamed rice or mash potato and a lime wedge.
Apple Griddle Scones w/ Blackberries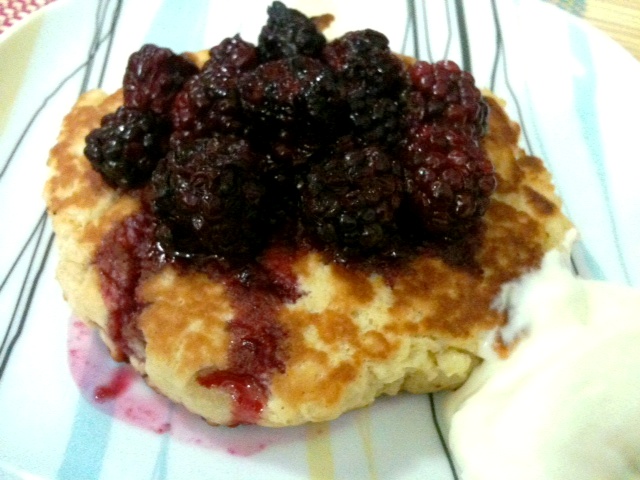 Ingredients
Makes 2 large or 8 small
2-3 punnets blackberries90g caster sugar
2 small Bramley apples, peeled, cored and diced
110g butter, softened plus extra for frying
Clotted cream or crème fraiche, to serve