Karolina bought the old fashioned 80's salad favourite Waldorf Salad back to life at Wednesday Girls Dinner tonight!! The presentation on this dish was stunning! I loved how the bite'y blue cheese dressing dripped over the carefully structured layers of apples and walnuts – fruit, nuts and cheese need I say more people!
Fancy Waldorf  Salad Stack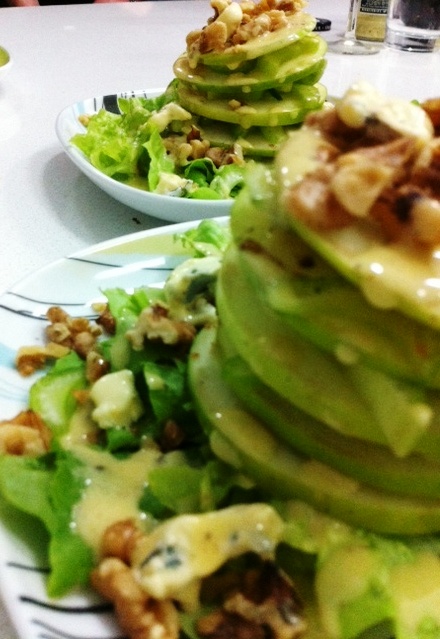 Ingredients
Handful of chopped walnuts
Medium Granny Smith Apples, very thinly sliced
2 Celery Stalks, thinly sliced
1 cup Fancy lettuce
Good quality Blue Cheese
Method
In small pan heat walnuts over medium low heat, stirring frequently, for 4 to 5 minutes or until toasted and fragrant, being careful not to burn.
On 4 plates carefully arrange apples, celery, lettuce and walnuts in a layered stack.
To make the blue cheese dressing simply heat the cheese in a pan on low to medium heat. Let it cool slightly then drizzle over your beautifully assembled stack. Sprinkle with salt and pepper to taste.
Pork w/ Coconut Cream Spinach & Chilli
This was a flavour surprise here, coconut spinach with sweet potato, who'd have thought. I loved the combination in this dish. Pork always works well with a bit of sweetness so the coconut and sweet potato worked really well here.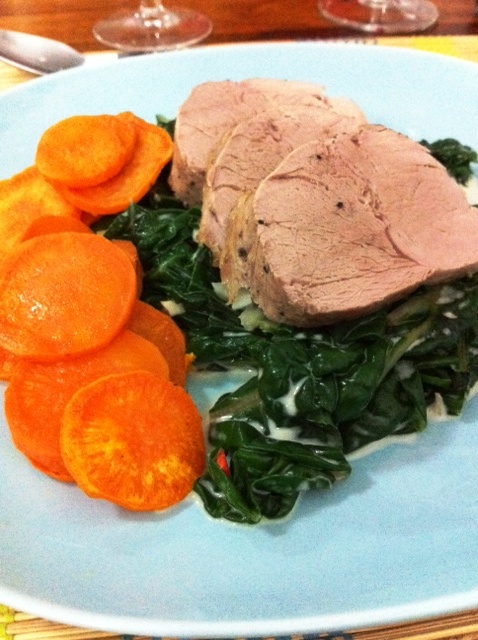 Ingredients
Serves 4
1.5kg orange sweet potato (kumara), peeled, cut into 7mm-thick slices
1 1/2 tbs olive oil
4 pork loin medallion steaks
1 garlic clove, finely chopped
1 small fresh red chilli, finely chopped
2 bunches English spinach, ends trimmed, washed
150ml coconut cream
Method
Preheat oven to 200°C. Place the sweet potato in a bowl. Drizzle over 1 tablespoon of the oil and toss to coat. Arrange the sweet potato in a single layer on 2 baking trays. Bake in oven, swapping the trays halfway through cooking, for 25 minutes or until golden and tender.
Meanwhile, heat 1 teaspoon of the remaining oil in a frying pan over medium-high heat. Add the pork and cook for 3-4 minutes each side for medium or until cooked to your liking. Transfer to a plate and cover with foil to keep warm.
Heat the remaining oil in the frying pan over medium-high heat. Add the garlic and chilli, and cook for 30 seconds or until aromatic. Add the spinach and coconut cream and cook, stirring, for 2 minutes or until the spinach just wilts.
Divide the sweet potato among serving plates. Top with the spinach mixture and pork to serve.
Good Taste – May 2008 – Recipe by Gemma Purcell
Rhubarb Pie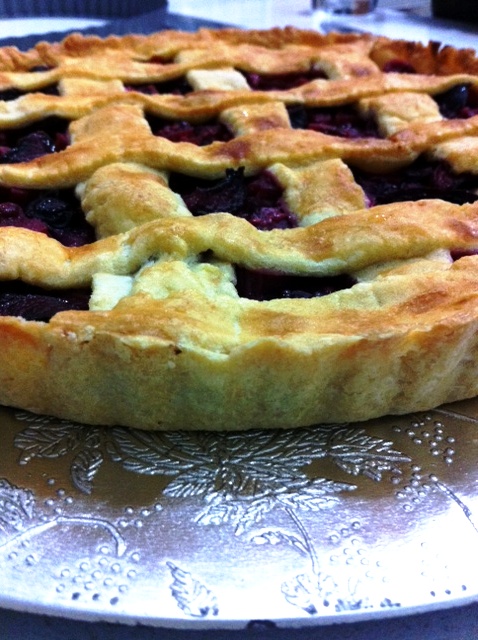 I'm still chasing the recipe for Karolina's tasty pie, doesn't it look delicious!!