As usual the girls and I had a lovely evening sitting out on Megsie's deck for Wednesday Girls Dinner! We feasted on Prawn Saganaki, Braised Lamb Gnocchi and classic poached pears for dessert. Saganaki I hear you say? I guess the simplest way I understand it to be is a Greek appetizer made with very good quality Greek cheese i.e. Feta and usually fried or broiled.
Prawn Saganaki

Ingredients
600g whole green prawns
4 brown onions
250g extra virgin olive oil
3 cloves garlic
1 tbs thyme, chopped
2 cups crushed tomatoes
1 cup water
1/2 bunch shredded parsley
100g feta, crumbled
Method
In a heavy saucepan, sauté prawns in olive oil for 3 minutes. Add sliced onion and cook for further 3 minutes. Add sliced garlic and thyme, cook for 2 minutes then add crushed tomatoes and 1 cup water and simmer for 5 minutes. Season to taste. Stir in shredded parsley, spoon into serving dish/bowl and sprinkle with crumbled feta. Grill until golden and drizzle with extra virgin olive oil to serve.
Source: George Calombaris Greek Cookery from the Hellenic Heart
Braised Veal or Lamb Served with gnocchi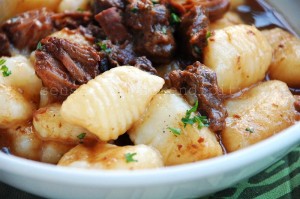 Ingredients
800g veal shanks (I used lamb)
30g plain flour
100 ml extra virgin olive oil, plus extra
60 g unsalted butter
1 brown onion, finely diced
1 leek, white part, only, washed and finely diced
4 celery stalks, cut into 5 mm thick diagonal slices
1 large carrot, halved and cut into 5mm thick diagonal slices
2 garlic cloves, finely chopped
2 fresh bay leaves
375 ml dry white wine
500 ml chicken stock (I used vegie)
400 g can Italian tomatoes
2 tbs roughly chopped flat-leaf parsley
sea salt and freshly ground pepper
400 g gnocchi (see my recipe in notes)
Parmesan.
Method
Dust shanks in flour and shake away excess. Heat oil and butter over medium heat in a frying pan large enough to hold the veal and vegetables quite snugly. Brown shanks in pan (in batches if needed) then remove from pan. Add a little extra oil to the pan then add onion, leek, celery, carrot and garlic. Cook over medium hear for 10 minutes, or until vegies are soft, but not coloured. Add the bay leaves, white wine and chicken stock to the pan and stir to release any pieces stuck to the bottom of the pan. Add the chopped tomato and half the parsley. Return shanks to the pan and cook, covered, stirring occasionally, for about 30 minutes. Removed the lip and cook for a further 1 1/2 hours, or until the meat falls off the bone. Remove shanks and allow to cool slightly. Remove meat from bones and tear into 2 cm pieces (don't cut). Return meat to the sauce and check the seasoning. Keep sauce warm while you cook the gnocchi. Stir remaining parsley into sauce. Spoon the gnocchi into bowls and top with sauce. (I stirred the gnocchi into the sauce rather than serving it on top of the gnocchi). Grate Parmesan over (lots of it!) and serve. Delicious!
Source: My signed copy of Neil Perry, The Food I Love!
Poached Pears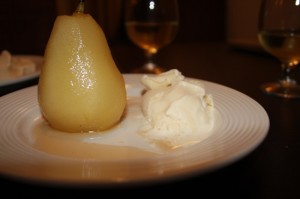 Absolutely delicious, especially when served with ice cream. Do this recipe justice and make sure it's full cream ice cream too!
Ingredients
4 whole pears (I used Josephine)
500 ml sweet white wine (I used Moscato because I had it in the fridge)
175 g caster sugar (I think I used a bit less than that)
zest of 1/2 lemon 375 ml water
Method
Make sure the saucepan fits the pears snugly. Combine wine, sugar and zest and 375 ml water in the pan. Put over low hear until sugar dissolves. Add the pears and cover (with a round of baking paper – I didn't so this). Bring slowly to the boil, then simmer for 10-15 minutes, or until the pears are soft yet still a little firm. Remove the pan from the heat and cool the pears in the poaching liquid. Once cool, remove the pears from the pan and serve. The liquid can be used later in a variety of ways.
Source: Neil Perry, The Food I Love