Megsie you're my best friend – Coconut prawns my favourite, then dipped in a mango mayonnaise, delicious! (this mayonnaise recipe is a definite keeper for the fridge).  And what better way to accompany our yummy entree but with a   Mango and Macadamia Chicken with Salad – Gee I love summer! To finish White chocolate mango cheesecake with berries. Thanks Megsie this is why I love you  so. Another Wednesday Girls Dinner masterpiece 🙂
Coconut Prawns w/ Mango Mayonnaise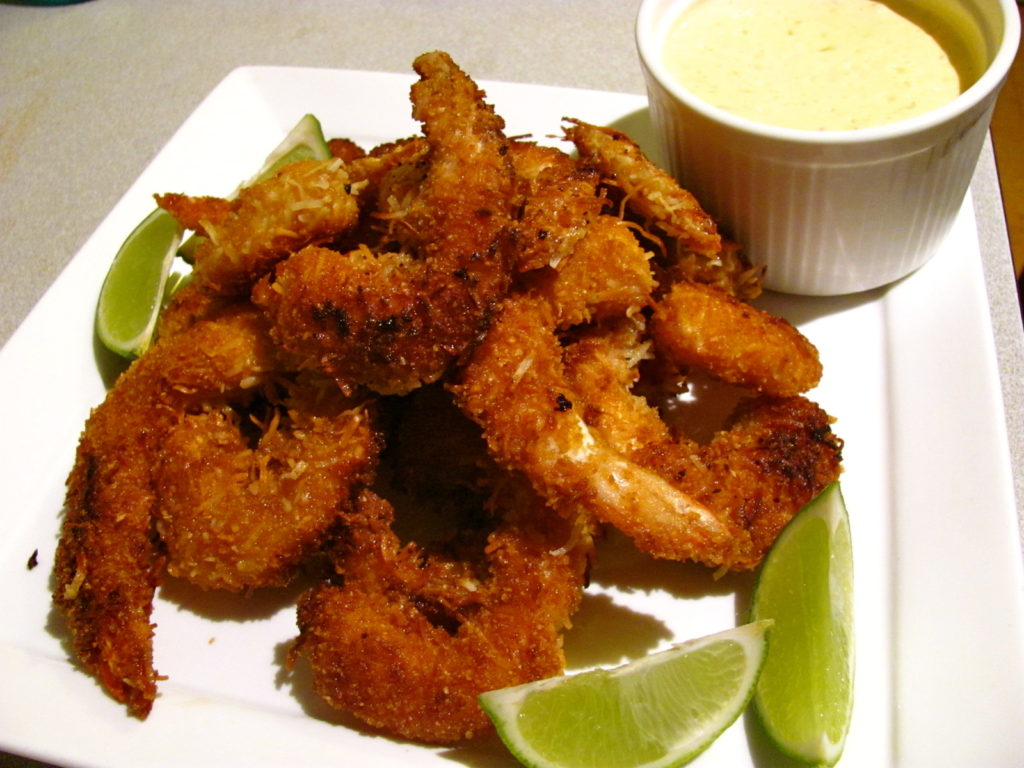 Ingredients (serves 6)
1 cup (150g) plain flour
1/2 tsp caster sugar
2 tbs coconut cream
1 egg, beaten
2 cups panko breadcrumbs
2 cups unsweetened shredded coconut
36 green prawns, peeled (tails intact), deveined
Canola oil, to deep-fry
Mango mayonnaise
1 ripe mango, flesh finely chopped
Finely grated zest and juice of 1 lime, plus extra wedges to serve
1 cup (300g) whole-egg mayonnaise
1 small red chilli, seeded, finely chopped
Method
For mango mayonnaise, place mango, lime juice and zest, mayonnaise and half the chilli in a food processor and whiz until smooth. Place in a serving dish and refrigerate until needed.
Mix flour and sugar in a bowl and season. In another bowl, beat coconut cream and egg with a fork. In a third, mix crumbs and coconut. Dip prawns first in the flour, then the egg, then the coconut crumbs. Chill until needed.
Half-fill a deep-fryer or large heavy-based saucepan with oil and heat to 190°C (or test a cube of bread – it will turn golden in 30 seconds when oil is ready). Fry prawns, in batches, for 1-2 minutes until golden, turning if necessary. Drain on paper towel. Serve with mayonnaise, topped with remaining chilli.

delicious. – December 2005, Page 95 Recipe by Valli Little
Mango & Macadamia Chicken w/Salad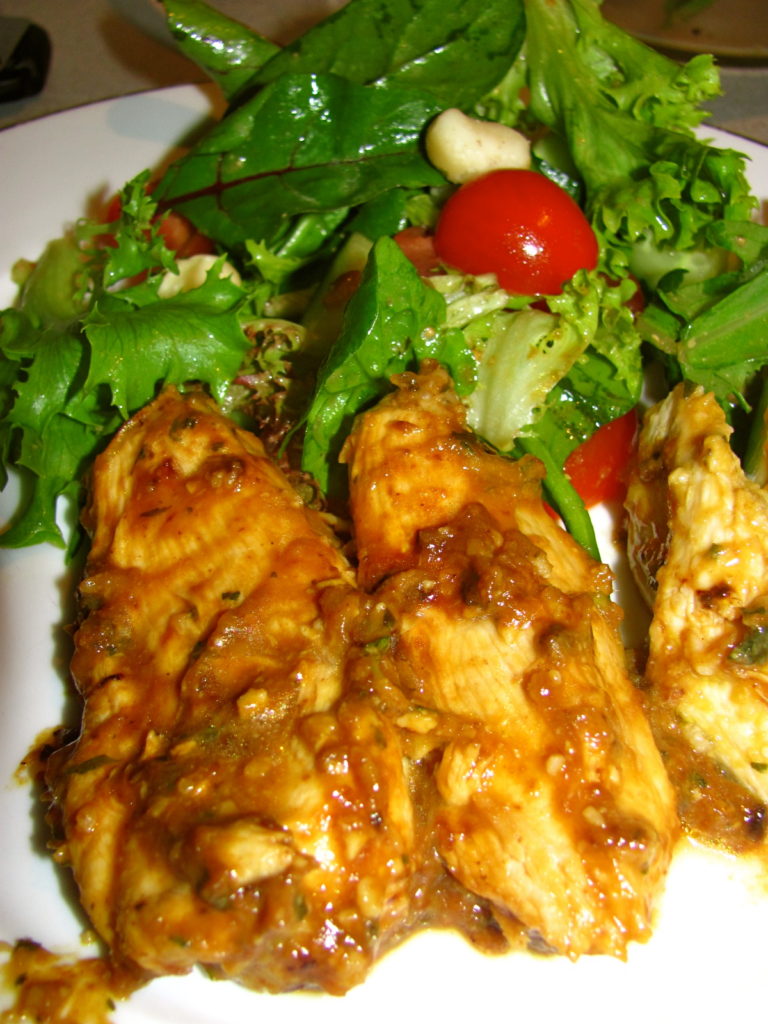 Ingredients (serves 6)
Chicken tenderloins (firm white fish or prawns work wonderfully too)
Salad
Mixed green leaves
Cherry tomatoes
Feta
Macadamia nuts
Marinade/Dressing
1 Mango
Handful of fresh mint
Handful of macadamia nuts
Method
Wizz all the marinade ingredients together; add chicken tenderloins and marinade for about 1 to 2 hours. Fry the chicken in the marinade juices until cooked.  Serve alongside salad. Pour the sauce over cooked chicken.
White Chocolate Mango Cheesecake w/ Berries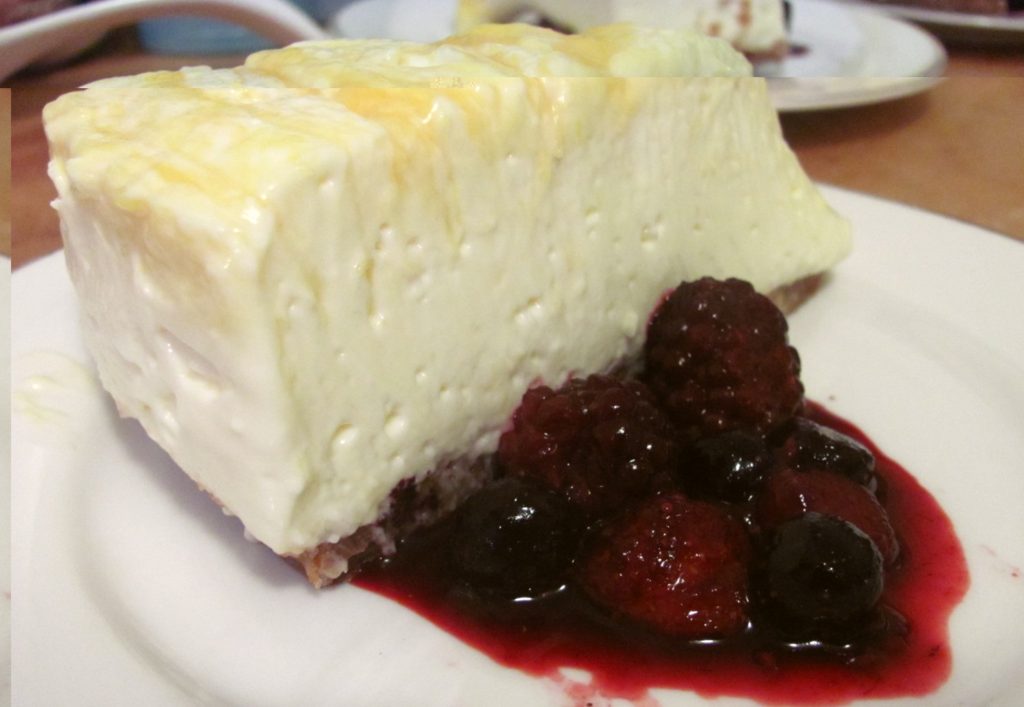 Ingredients (serves 6)
250g plain sweet biscuits
125g butter, melted
100g good quality white chocolate
1 tablespoon gelatine
¼ cup water
1 mango pureed (you can replace with 1 punnet of fresh berries)
500g cream cheese softened
1 x 400g sweetened condensed milk
1 x 300ml tub thickened cream
Method
Crush biscuits in an electric food processor until fine. Add butter and process a few seconds more. Transfer to the base of a 23cm springform pan. Refrigerate until firm.
Break chocolate into pieces,
Microwave 1-2 minutes on MEDIUM or until melted.
Sprinkle gelatine across water; microwave 20-30 secs on high. (or follow gelatine packet instructions)
Microwave cream cheese and condensed milk until smooth. Beat in the cream. Add cooled melted chocolate and gelatine, mix well. Pour mixture over prepared base. Swirl through mango (or berry) puree. Refrigerate until set. Decorate with pureed mango and serve berries on the side.