Ladies and gentleman I have now tasted the best soup ever! I love artichokes, globe, Jerusalem, canned, fried you name it, I love it. Tonight Megsie made a Jerusalem artichoke soup and it was so magnificent. The recipe from memory wasn't too difficult. I believe you simply cook Jerusalem artichokes in stock, blending after cooking. Add cream and top with a mix of diced granny smith apples, roasted hazelnuts and lime. Megsie also submerged a few tasty scallops in there too. I loved the meal. The delicate flavours of the artichoke blended wonderfully with the nuttiness and were highlighted by the freshness of the apple and lime.
For main we feasted on a personal favourite of ours, Yamba Pasta. The name of this dish derived from a trip to Yamba, we were celebrating Megan and Ed's wedding. On one of the days there a group of us went to the famous Pacific Hotel for lunch. A few of us ordered the vegetarian pasta from the special board – it was an instant taste hit. Staying in Yamba for a week, we each probably ordered the meal about 2-3 times, yes it was that good. Spaghetti twirled around tasty morsels of zucchini, tomato, fresh basil, mint, parsley and topped with Goats cheese, this pasta had to be recreated. All having a go at cooking  the dish at home, it's now a regular meal in each of our homes – The Yamba Pasta – hallelujah
Megsie made a delicious dessert tonight – Gluhwein poached apple and pear with ice cream. If you don't know what Gluhwein is, first you're crazy, and second, its red wine infused with cinnamon, cloves, lemon rind and varies other spices. Serving this with a simple vanilla ice cream topped with roasted hazelnuts was a definite treat.
Thanks for a gorgeous menu Megs. I can't wait to make the Jerusalem artichoke soup myself!!!
Jerusalem Artichoke Soup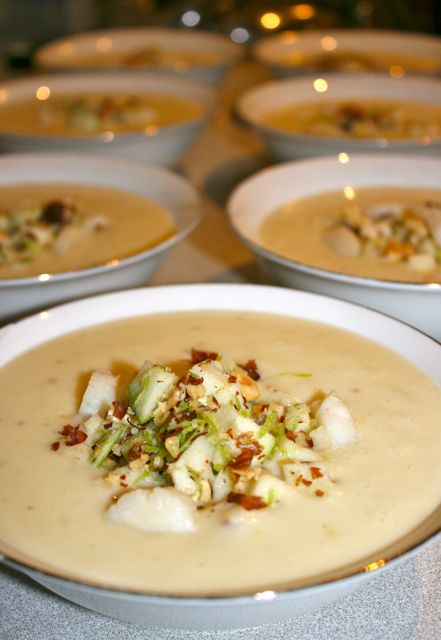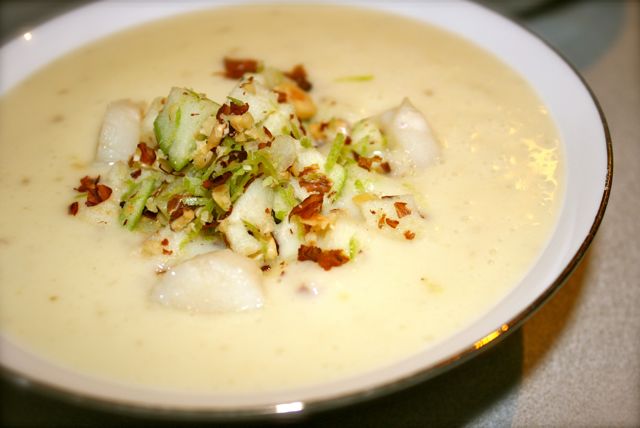 Yamba Pasta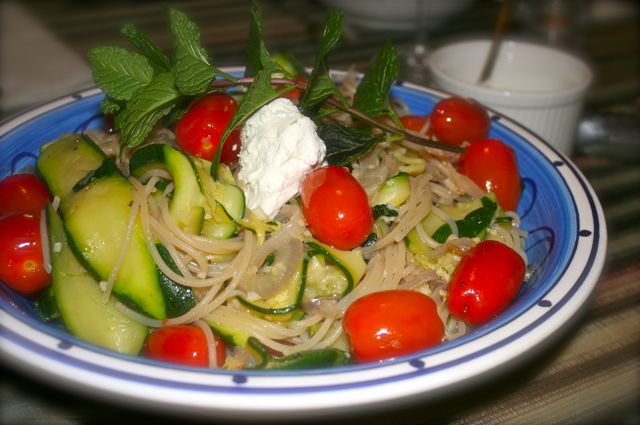 Gluhwein Poached Apple and Pear w Ice cream