Miss Foodie's turn for Wednesday Girls Dinner this week and another Asian inspired meal – What! I told you I loved Asian in my Meet Miss Foodie section. I just can't resist the flavour I tell you! Could you resist Tiger Prawns with Peanut Satay Dipping Sauce,  Natural Tasmanian Oysters with Asian Vinaigrette, Asian Turkey Balls with Rice Noodles, Snow Peas & Radishes? Hmmm yes I didn't think so.
Tiger Prawns with Peanut Satay Dipping Sauce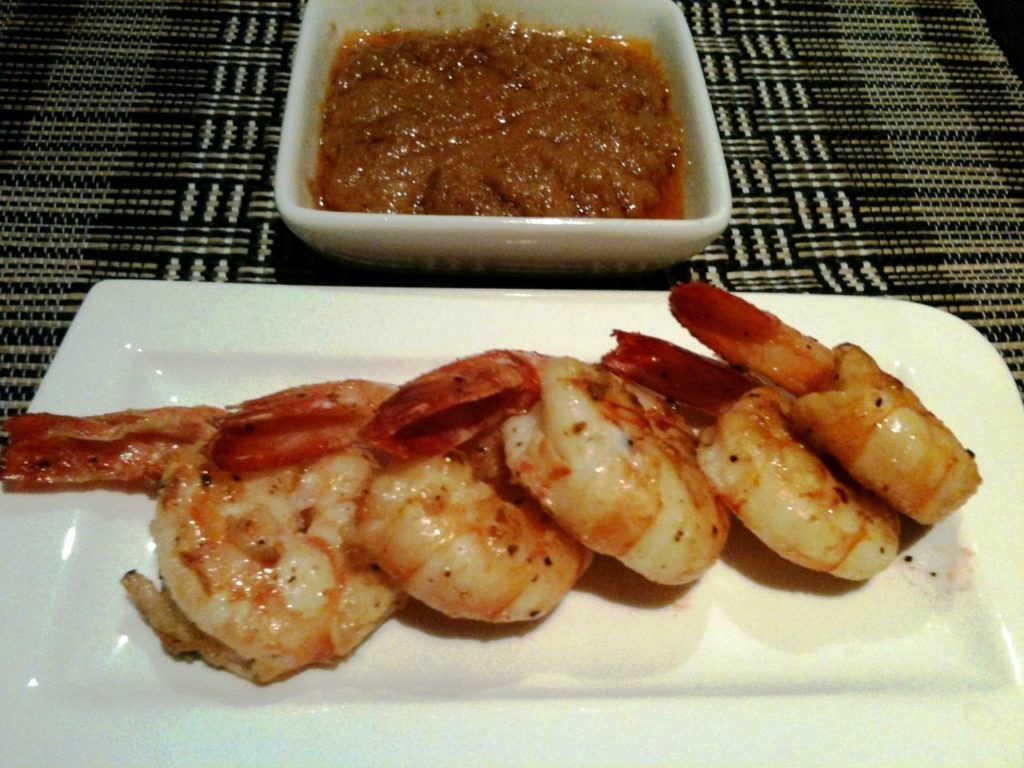 Ingredients
Fresh Tiger Prawns (tip: if a prawns feelers are long and intact you know they're fresh; once they're frozen they break off you see).
Peanut Satay Sauce. Recipe hmmm yeah well I could make it but honestly it's so easy to head to your local Thai Takeaway and order a small container, its like $4 – I did!
Method
Cook your prawns in a hot wok with garlic and a fresh squeeze of lime at the end. Lay out and serve with dipping sauce. Easy!!
Natural Tasmanian Oysters with Asian Vinaigrette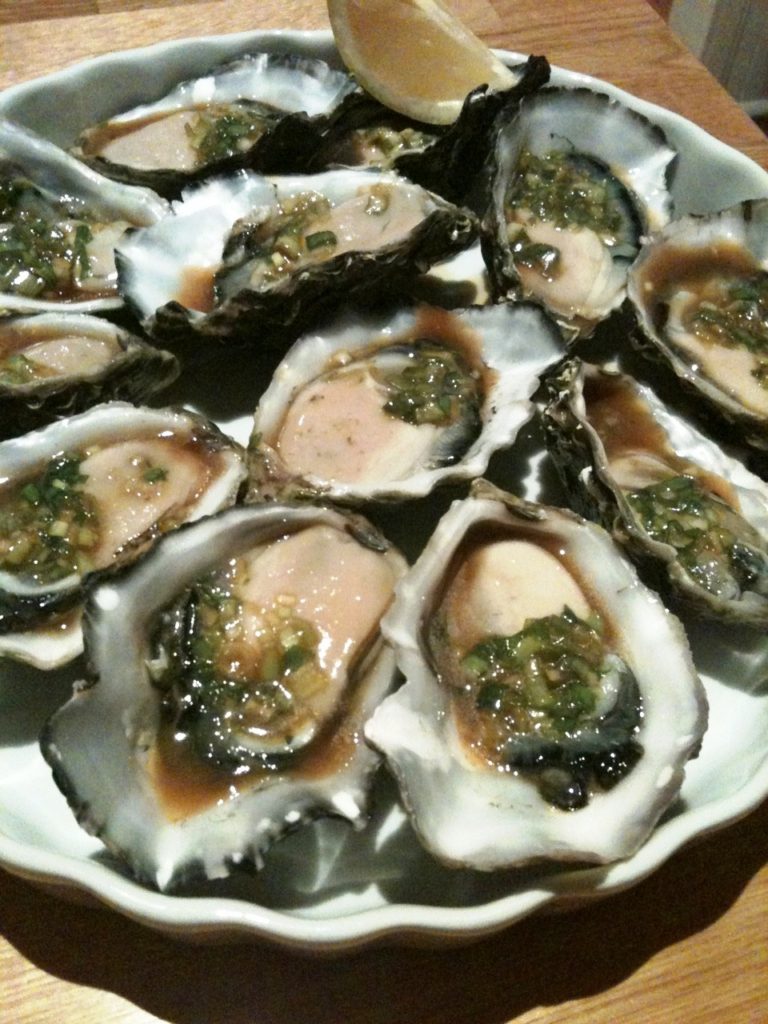 Ingredients
2 tbs light soy sauce
2 tbs rice wine vinegar
1 tsp sesame oil
24 Pacific oysters, in the half shell
2 green shallots, ends trimmed, thinly sliced
Method
Shake all ingredients together in an old glass jar or whisk in a small bowl. Spoon over fresh oysters. Another easy one 🙂
Braised Lemongrass Turkey Balls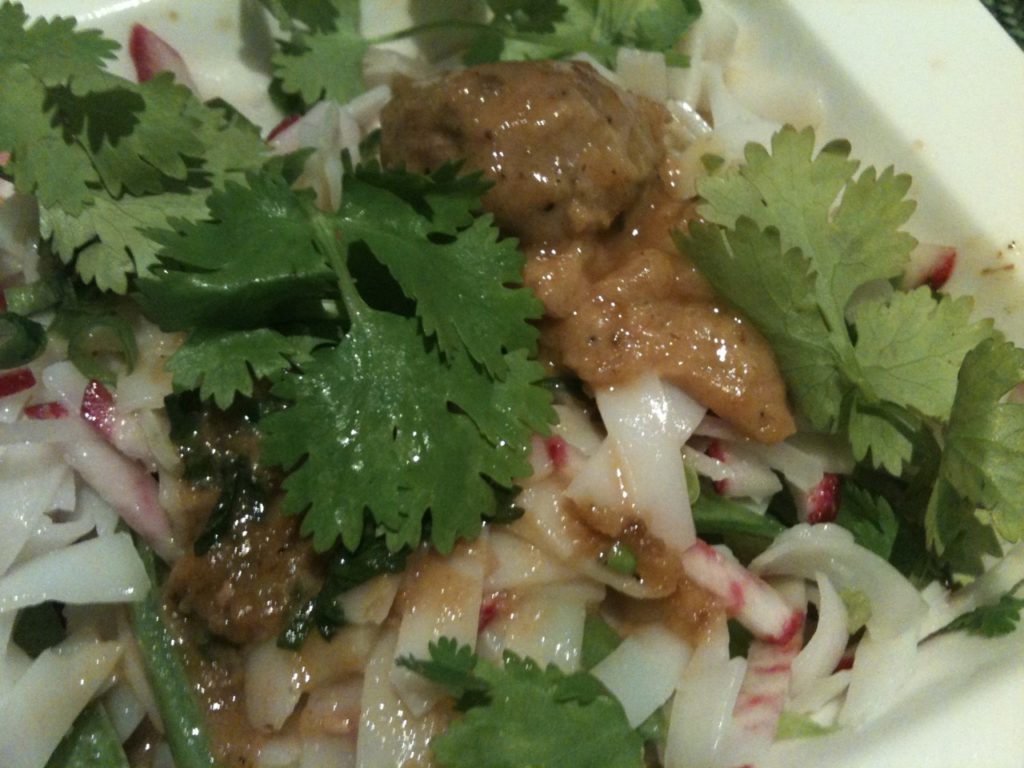 Ingredients
Serves 4
500g lean turkey mince, or chicken mince
1 tbsp chopped and crushed lemon grass
2 tbsp chopped fresh coriander, plus two tbsp extra for garnish
2 teaspoons lemon zest
1/2 cup rice flour or cornflour
2 tsp olive oil
1 tbsp chopped fresh ginger
juice of 1/2 lemon
1/2 cup white wine (and one for yourself while you're at it)
1/4 cup low salt chicken or vegetable stock
Noodles
100g thin rice noodles, soaded in hot water for 10 minutes and drained
3cm x 3cm fresh ginger peeled and shredded
2 radishes cut into this strips
8 green beans, cut diagonally
Method
Combine the turkey, lemongrass, 2 tbls of the coriander and zest in a bowl and mix well with hands. Shape into balls and roll in rice flour to coat.
Heat oil in a large non-stick pan and saute ginger and garlic for 1 minute. Add the turkey balls and cook for 2-3 minutes, shaking pan so they brown on all sides. Pour in the juice, wine and stock, cover and reduce heat to a simmer.
Cook, turning occasionally for 15 minutes or until cooked through and no pink meat shows in centre.
While they are cooking toss the noodles with the ginger, radishes and beans. Spoon noodles into pasta or soup bowls and top with the turkey. Spoon over some of the cooking liquid and top with the extra coriander.
Recipe source: Simply Sensational – Sally James (Victor Chang Cookbook#3)