Was a wonderful night with the girls; Karolina is in Sweden so we had an even four at the table. Quite an achievement for me this week!! Megsie darling isn't a pork fan, but my Asian pork dish had her sucking the cutlet bone dry, brilliant I say. It's always a wonderful feeling when you can see your friends enjoying the dish you made them.
Now I love and I mean love Gyoza. This was the second time I've made this and the recipe is so delicious, I don't think I've had better if I do say so myself. The white chocolate mousse we had for dessert is such an easy recipe and super-duper scrumptious. Be sure to give these recipe's a try; and if you do, I'd love to hear how it goes.
Pork Gyoza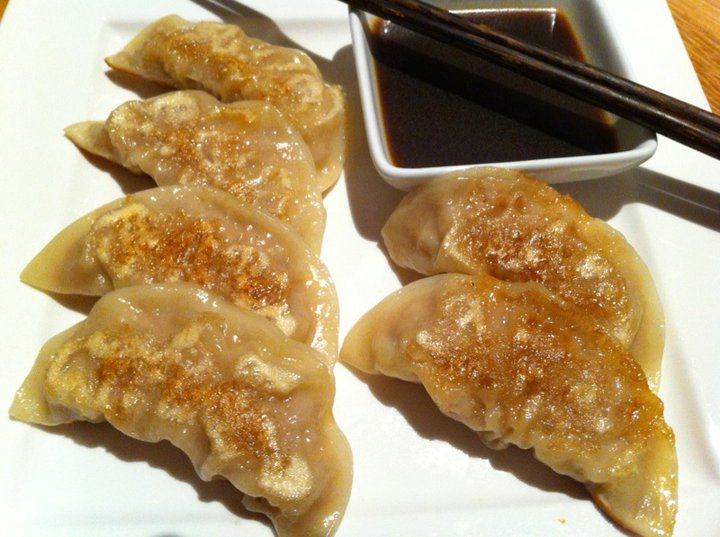 Ingredients
250g pork mince
1 cup finely shredded wombok (Chinese Cabbage)
1/4 cup finely chopped chives
2 garlic cloves, crushed or grated
1 tbs tamari (If you can't find (like me) use kecup manis)
1 tsp sesame oil
1/4 tsp ground white pepper
40 gyoza or gow gee wrappers (found in woolies in the latina fresh pasta area)
2 tsp peanut oil
1/2 cup (125ml) water
Dipping sauce
1 tbs tamari 1 tbs rice vinegar
1 tbs water 1 tsp caster sugar
1/2 tsp sesame oil
Method
Combine the pork, wombok, chives, garlic, tamari, sesame oil and pepper in a medium bowl.
Place a gyoza wrapper on a clean work surface. Spoon a heaped teaspoonful of pork mixture onto the centre of the wrapper. Brush the edge with a little water. Fold in half and use your fingertips to seal the edges. Place on a plate. Continue with remaining gyoza wrappers and pork mixture.
To make the dipping sauce, combine the tamari, rice vinegar, water, sugar and sesame oil in a small bowl or jar. Stir/shake until sugar dissolves.
Heat the peanut oil in a large frying pan over high heat until just smoking. Remove from heat. Arrange the dumplings over the base of the frying pan. Return to the heat and cook for 2 minutes or until the base of the gyoza is golden. Sprinkle the water evenly over the gyozas. Cook, covered, for 3-4 minutes or until gyozas are cooked through and the water evaporates. Remove from heat and set aside for 2 minutes.
Place on a serving platter. Serve immediately with the dipping sauce.
Asian Pork w/Wilted Asian greens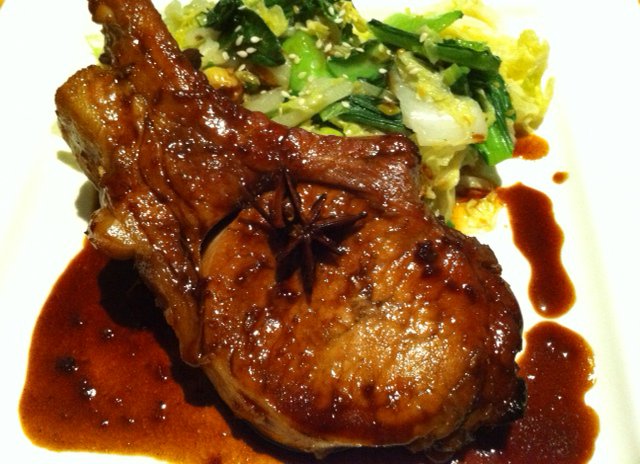 Ingredients
1 tbs brow n sugar
80ml (1/3 cup) tamari
6 whole star anise
1 tbs finely grated fresh ginger
1 tbs rice vinegar
1/2 tsp sesame oil
8 (about 1.6kg) pork loin cutlets, excess fat trimmed
60ml (1/4 cup) water
1/2 tsp sesame seeds
1 bunch gai choy, ends trimmed (bok choy, pak choy etc is fine)
1 bunch choy sum, ends trimmed (bok choy, pak choi etc is fine)
1/2 small Chinese cabbage, coarsely chopped
1 bunch green shallots, ends trimmed, thinly sliced diagonally
Method
Combine sugar, 60ml (1/4 cup) of the tamari, star anise, ginger, vinegar and oil in a glass bowl. Add the pork and turn to coat. Cover and place in fridge for 3 hours to develop the flavours.
Preheat oven to 220°C. Remove pork from marinade and place in a roasting pan. Reserve marinade. Bake in oven for 20 minutes or until pork is brown and cooked through. Transfer to a plate. Cover with foil and set aside for 5 minutes to rest.
Meanwhile, combine reserved marinade and water in the roasting pan and bring to the boil over high heat. Cook, stirring, for 5 minutes or until sauce thickens. Add the remaining tamari and stir until well combined. Remove from heat.
Heat a wok over medium heat. Add the sesame seeds and cook, stirring, for 1 minute or until toasted. Transfer to a plate. Add the gai choy, choy sum, cabbage and green shallot to the wok and stir-fry for 2 minutes or until just wilted.
Divide the Asian greens among serving plates and sprinkle with sesame seeds. Top with pork and serve drizzled with sauce.
White Chocolate Mousse with Fresh Strawberries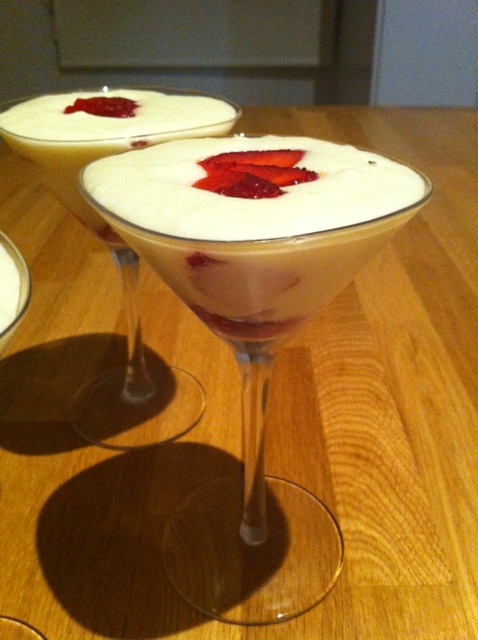 Ingredients (serves 4)
150g good-quality white chocolate, broken into squares
4 egg whites
1/4 cup caster sugar
160ml (2/3 cup) thickened cream
1 x 120g punnet strawberries
Method
Place the chocolate in a heatproof bowl over a saucepan half-filled with simmering water (make sure the bowl doesn't touch the water). Use a metal spoon to stir for 3-4 minutes or until the chocolate melts. Remove from heat.
Use an electric beater to beat the egg whites in a medium, clean, dry bowl until firm peaks form. Add half the sugar and beat until the sugar dissolves. Add the remaining sugar and beat until glossy. Add the cream and beat until the mixture thickens. Add the white chocolate and use a metal spoon to fold until just combined.
Reserve 16 strawberries. Divide half the remaining strawberries among 4 serving glasses. Top with half the white chocolate mousse. Repeat with the remaining strawberries and white chocolate mousse. Top with the reserved strawberries. Place in the fridge until set.
ENJOY!!!
Love Miss Foodie 🙂