Miss Foodie's turn for Wednesday Girls Dinner. On the menu tonight – Char-grilled asparagus and mozzarella salad. The warm caper vinaigrette that went with this was divine, I think this would work well as a good winter salad. For our main we enjoyed Moroccan chicken, preserved lemons and green olives. For dessert I made one of the prettiest (and yummiest) desserts I've ever made – Blueberry Tart by Gourmet Traveller.
Char-grilled Asparagus & Mozzarella Salad
w/ Warm Caper Vinaigrette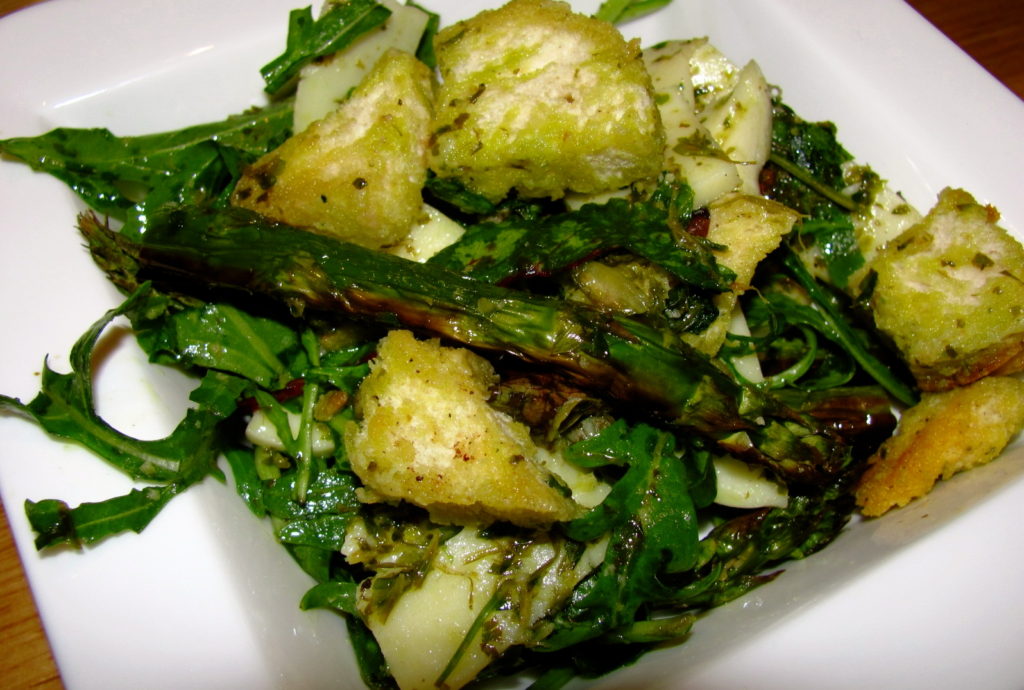 Ingredients
Serves 4
1/3 cup firmly packed flat-leaf parsley leaves 1/3 cup extra-virgin olive oil
1/3 loaf Italian-style bread, crusts removed, cut into 2cm cubes
3 bunches of thick-speared asparagus, ends trimmed
3 balls (125gm each)
buffalo mozzarella, coarsely torn
2 cups snowpea tendrils or rocket leaves
2 tbsp salted capers, rinsed, soaked in water for 15 minutes, then drained
1 tbsp lemon juice
1 tbsp finely chopped chives
Method
Place parsley in a small bowl, cover with boiling water, drain immediately, refresh in iced water, then drain again and squeeze out excess water. Process parsley and 1/3 cup olive oil in a food processor until very finely chopped, then transfer to a small frying pan.
Place bread on an oven tray, drizzle with 1½ tbsp olive oil and cook at 190C for 10 minutes or until golden. Brush asparagus lightly with a little olive oil, then char-grill or barbecue, in batches, for 1-2 minutes on each side or until lightly charred and tender. Transfer to a large bowl; add toasted bread, mozzarella and snowpea tendrils.
Add capers to oil mixture in frying pan and cook over medium heat until just sizzling, add lemon juice and chives, then remove from heat. Season to taste, then pour over salad and toss gently to combine. Serve immediately. Source: http://gourmettraveller.com.au
Moroccan Chicken, Preserved Lemons & Green Olives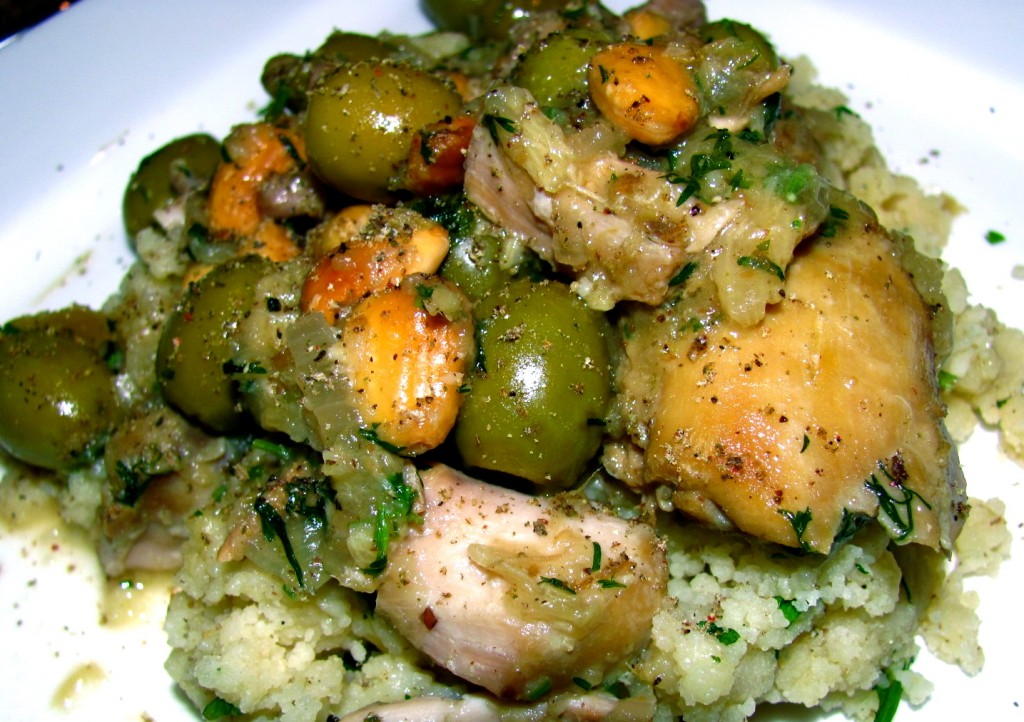 Ingredients (serves 6)
60ml (1/4 cup) olive oil
6 chicken marylands
3 Spanish onions, thinly sliced
1 bulb garlic, cloves separated
1/2 teaspoon saffron threads
1 teaspoon finely grated ginger
3 cinnamon quills, halved
2 litres chicken stock
8 preserved lemons (flesh removed and rinsed)
300g Sicilian green olives
3/4 cup coarsely chopped coriander
500g packet couscous
100g roasted blanched almonds
Method
Heat 2 tablespoons oil in a large casserole over medium heat and cook chicken in batches until browned all over. Remove chicken and tip off all but 1 1/2 tablespoons fat. Add onions to pan and cook for 10 minutes. Add garlic, saffron, ginger and cinnamon, and cook for 1 minute or until fragrant. Return chicken to pan and add 1.5 litres stock, lemons and olives. Bring to a simmer, cover, reduce heat to low and cook for 1 hour or until chicken is tender.
Remove chicken from pan and simmer juices until reduced by one-third. Return chicken to pan with half the coriander.
Bring remaining stock and oil to the boil in a pan, season, then stir in couscous. Remove from heat, cover tightly with plastic wrap and stand for 10 minutes. Fluff with a fork and stir in remaining coriander. Serve chicken on a bed of couscous, scattered with almonds.
Source: Vogue Entertaining + Travel – October/November 2008, Page 102 Recipe by Sophia Young
Blueberry Tart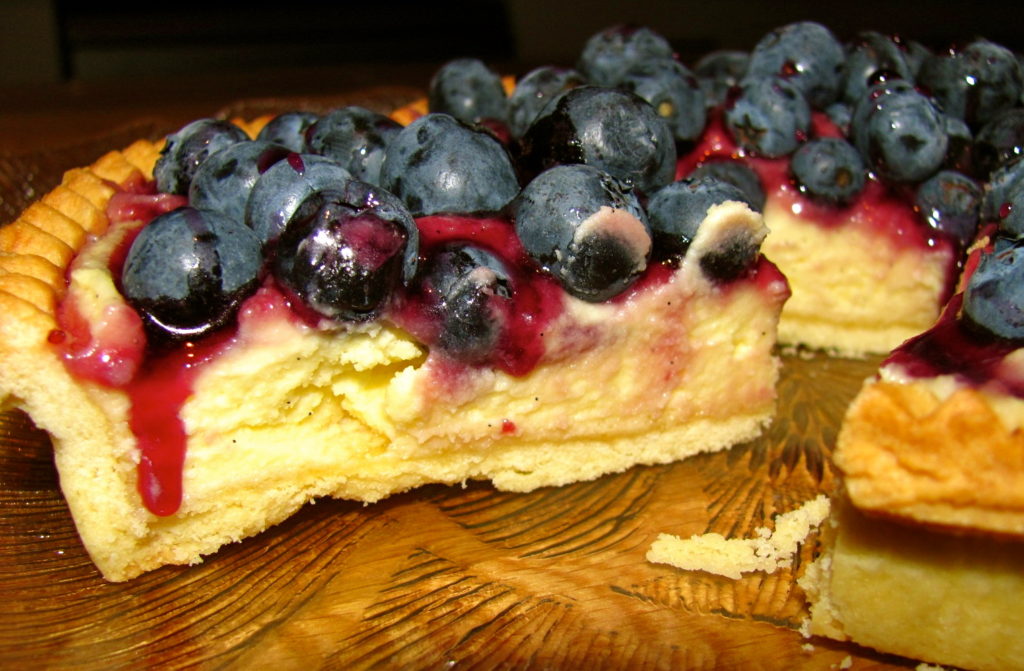 You can have the tart case and syrup ready to go the day before and fill it at the last minute. Any type of berry would work well in this recipe.
Ingredients
Pastry Shells (you will find them in the deli area of your supermarket)
3 punnets blueberries (about 375gm)
Blueberry syrup
150g frozen blueberries
2 pieces lemon rind, removed with a peeler
150g caster sugar
Crème fraîche filling
250g each crème fraîche and mascarpone
80 ml (1/3 cup) thickened cream
1 vanilla bean, split and seeds scraped
1 tsp vanilla extract
45g caster sugar
Method
For blueberry syrup, combine ingredients in a heatproof bowl, cover with foil, place over a saucepan of simmering water and cook until syrupy and berries are deep purple (2 hours). Strain through a muslin-lined sieve (do not press solids), discard solids and refrigerate syrup until required.
For crème fraîche filling, whisk all ingredients in a bowl until medium peaks form (do not overbeat as mixture may split), spoon into tart case and spread to fill.
To serve, scatter fresh blueberries over tart and drizzle with blueberry syrup to taste.
Source: December 2009 issue of Australian Gourmet Traveller Magazine.