Sexy scallops, classy coriander chicken and Sarah's Dar's Black Cherry Cheesecake mmm mmm. Our tummies had a special Wednesday Girls Dinner treat tonight. We all can't believe how quickly this year has flown!! It can't be November already. I remember as a child Christmas taking eternity to come around; not any more that's for sure! I guess when you live such busy lives it's bound to happen. Lovely catching up as always ladies xx
Seared Scallops w/ Carrot Fritters & Yoghurt Dressing
Carrot Fritters Ingredients
½ cup plain flour
½ cup soda water
1 egg, lightly beaten
¼ teaspoon ground cumin
¼ teaspoon ground coriander
¼ teaspoon turmeric
1 teaspoon caster sugar
1 teaspoon sea salt
1 small red chilli, deseeded and finely chopped
1 ½ cups grated carrot8 spring onions, finely sliced
½ cup chopped coriander
¼ cup vegetable oil
Method
Combine flour, soda water, egg, cumin, coriander (dry), turmeric, sugar and salt in a bowl – mix well. Add chilli, carrots, spring onion and fresh coriander – stir to combine. Heat oil in a frying pan and fry in batches (1 tbsp per fritter), 2 mins per side. Drain on paper towels.
Ingredients: Yoghurt dressing
½ cup natural yoghurt
1 tbsp lime juice
Sea salt, black pepper, 1 tbsp olive oil.
Method
Place ingredients in a bowl and whisk to combine. Sear scallops, 1 minute each side. Serve on carrot fritters with a drizzle of yoghurt dressing. Marinated coriander chicken with cucumber relish.
Marinated Coriander Chicken w/ Cucumber Relish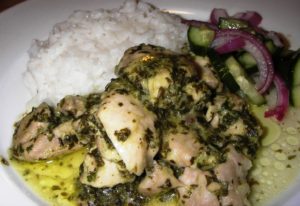 Ingredients
6 chicken thighs – sliced in chunks
2 cups fresh coriander (chopped)
2 tsp black peppercorns
2 tsp sea salt
3 garlic cloves
2 tbsp lime juice
¼ cup vegetable oil
Method
Combine all ingredients (except chicken!) in a blender – blend. Pour over chicken, stir through and place in fridge for 2 hours to marinate. Bring to room temperature and then fry in a pan until cooked.
Ingredients: Cucumber relish
½ cup rice wine vinegar
½ cup caster sugar (dissolve in vinegar over low heat – stirring)
1 Lebanese cucumber, slice finely
½ red onion
1 long red chilli, seeded, finely sliced
Method
Combine all ingredients and serve on the side of chicken. Serve all with rice – enjoy!
Dar's Black Cherry Cheesecake
This is my Sarah's Mum's recipe – she's been making it forever!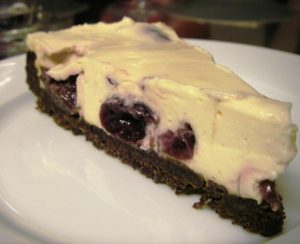 Ingredients
250g philly cream cheese (bring to room temperature)
250g cream
½ cup caster sugar
1 tin of pitted black cherries – drained
1 tbsp gelatine
75g butter (melted)
1 packet choc ripple biscuits
Method
Crush biscuits and combine with butter, press into a cling film lined spring form pan and harden in fridge. Cream cheese and sugar, add cream – beat. Dissolve gelatine in 1/3 cup boiling water – stir madly until dissolved, stir through mixture. Add black cherries – mix through. Pour on top of base and place in fridge – allow 2-3 hours to set.