Sarah experimented with Escargots this week for Wednesday Girls Dinner. You can have a little bit of Paris at home in Brisbane after all!
Escargots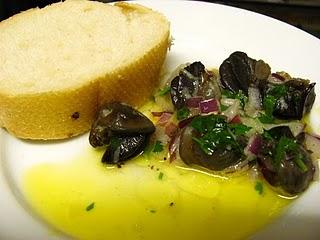 Ingredients
One tin of escargot from Samios (36 Annerley Rd, Woollangabba) – drained and washed
Sauce
Butter (as much as you like)
Red onion, diced
Italian flat leaf parsley (chopped – again, as much as you like)
2 cloves of garlic (crushed)
Pepper
Method
Place butter sauce mix over escargot in a casserole dish and bake at 180oC for 10 mins. Serve with crusty bread to soak up yummy sauce.
Chicken Schnitzels with Red Grapefruit & Avocado Salad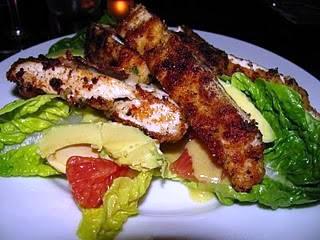 Ingredients
Baby cos lettuce
Ruby red grapefruit segments
Avocado
Chicken breasts
Dressing
2 tsp Dijon mustard
2xtsp white wine vinegar
A dribble of grapefruit juice (if any is produced in the segmenting of it)
Olive oil to emulsify (60ml)
Crumb for chicken schnitzel
2 x cups bread crumbs
1/2 cup grated parmesan
1 tbsp chopped thyme leaves
4 tbsp flat leaf parsley (Sarah actually added curly leaf in too and put in way more than 4 tbsp 'cos she likes herbs!)
Salt and pepper to season.
Plain flour
2 eggs – beaten
Method
Bash chicken breasts to make them a bit flatter, coat in plain flour, dip in beaten egg, then coat in bread crumb mix and fry for 3-4 mins either side.Slice up schnitzels when done (also cheaty way to make sure they are cooked – keep frying if they aren't!) and place over cos lettuce, scattered with ruby grapefruit and avocado, drizzle over dressing.
White Chocolate Mousse with Strawberries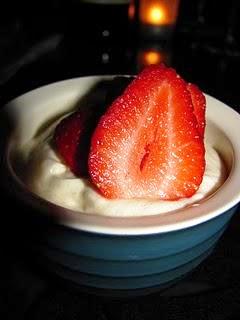 Ingredients
285g white choc
80 ml milk
1 tsp vanilla essence
1 1/2 cups cream – whip until forms soft peaks
3 eggs separated – beat egg whites until stiff
Method
Melt choc with milk and vanilla in a bain marie, stirring until melted. Set aside to cool for 4 mins then add egg yolks one at a time, beating as you add. Fold through whipped cream (best done in portions rather than all at once). Then fold through egg whites until just combined. Place in fridge for 4 hrs to set. I topped mine with strawberries, but any berry fruit or passionfruit etc would also work.