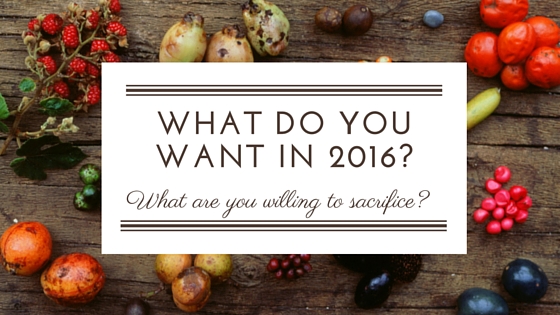 Hello foodie friends and a great big H E L L O to 2 0 1 6!
I'm not one for rigid New Year's Resolutions, but when the date on the calendar shifted I couldn't help but ponder. What could I be doing better to improve my wellbeing? How can I live the life I have imagined?
It's easy to conclude to vague answers like; do more exercise, read more, save more, find more time to relax. So this year I decided to ask myself some hard questions and delved a little further. What is it that I actually want? And am I ready to put the hard yards in to get there?
SBS published 'You probably know to ask yourself, "What do I want?" which got me thinking.
Rather than asking ourselves "what do we want out of life?" Mark Mason says 'a more interesting question, a question that perhaps you've never considered before, is what pain do you want in your life? What are you willing to struggle for?
I want to be a successful blogger and freelance writer. I want the opportunity to work for myself. This is all well and good and it's great to have dreams; but am I ready to make the sacrifices to get there? Am I willing to wake up at 4am to write before work? Am I ready to forgo my precious free time?
Many of us want the reward but not the struggle that goes with it. We want the results but aren't willing to work hard for it.
In order to become a freelance writer I need to expand my writing skills. So, I have made inquiries about a Freelance Writing course with Australian Writers Centre and I have given myself until the end of February to enroll. Exciting times.
To blogging. 2015 saw very little posts on my part. I not only planned my own wedding (I've shared a few pics below) but I was Maid of Honour for my sister's wedding too. Just to make things interesting, my husband and I also decided to move house. I had no choice but to put blogging on the back burner, otherwise I was going to burn out myself.
But it's 2016 now, and it's time to get stuck into it again.
1 blog post per week – minimum!
1 newsletter per month
Prioritize my time and plan plan plan
Fortnightly Social Media scheduling
Share more stories on local producers/providores/farmers
And engage more with my fellow food bloggers
I need to break it down further, but you get the gist. What do you want in 2016? And what are you willing to struggle for to get it?
My dream come true wedding at Yandina Station