Asian noodle soups, wonton soups, clear soups you name it I love them all!
Asian chicken noodle soup is a standard weekly meal in my house, one because it's so easy and two because I feel replenished and restored after eating it. Packed with the beautiful things in life: garlic, chilli, ginger and sesame oil, this broth makes your body scream out thank you! It's the perfect soup to enjoy after a big weekend.
I decided to use this same broth recipe but I substituted chicken with tasty wontons. The wonton mixture I use is pretty much the same as a gyoza mix (and who doesn't like gyoza). I do have to confess it is a little fiddly making the wontons; the filling isn't hard to do, it's just the construction. However I do promise you, the joy of biting into your first wonton makes it oh so worth it.
I love the bok choy and Asian mushrooms nearly as much as the wontons themselves! It's so fun picking and choosing what mouthful you want to enjoy next in this soup.
Whenever I've made my wonton soup there has never once been a drop of liquid left in the bowl. Another great treat about this soup is it makes 4 servings; this way you can make your friends jealous at work by eating it in front of them the next day for lunch.
Wonton Soup w/ Asian Mushrooms and Bok Choy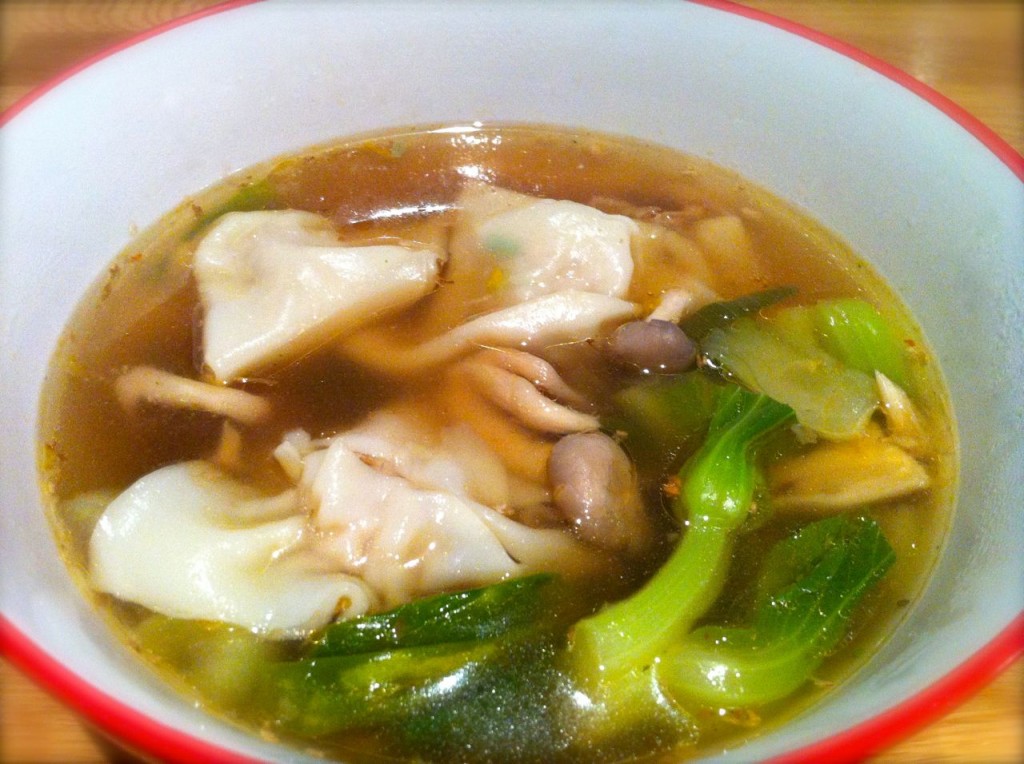 Ingredients
1 tblsp peanut oil
4cm ginger, peeled and grated
4 garlic cloves, crushed
Fresh red chilli to taste
6 cups salt reduced chicken stock
3 tblsp soy sauce
1 tblsp sesame oil (I love the stuff)
1 tblsp palm sugar or brown sugar
4 spring onions, thinly sliced diagonally
1 bunch baby bok choy, chopped in half
100g shimeji, enoki or shiitake (any fresh Asian mushroom is fine, they're all delicious!)
Spring onions, finely shredded, to serve
Wontons
200g pork mince
1 spring onion, very finely chopped/minced
2cm ginger, grated
2 tbsp soy sauce
1 tsp rice vinegar
2 tblsp sesame oil
2 garlic cloves, minced (use more if you love it)
Salt and pepper to taste
1 tsp cornflour
water
35-40 wonton wrapper*
Method
To make your wontons, mix all ingredients together in a bowl (excluding, wonton wrappers and cornflour). Use your hands, it's the easiest way.
Mix cornflour and water in a small bowl. Place 1 wonton wrapper flour-side up with one point of the wrapper facing you.
Place 1 teaspoon of pork filling in the centre.
Moisten all the edges of the wrapper with cornflour mixture using your fingertips to do so. Fold the wrapper sealing all sides together into a triangle shape, making certain that all edges are sealed tightly.
Take the two long points of your triangle and seal them together. Repeat with remaining pork mixture.
Place wontons on a large plate and cover with plastic wrap. Keep in the fridge until ready to use.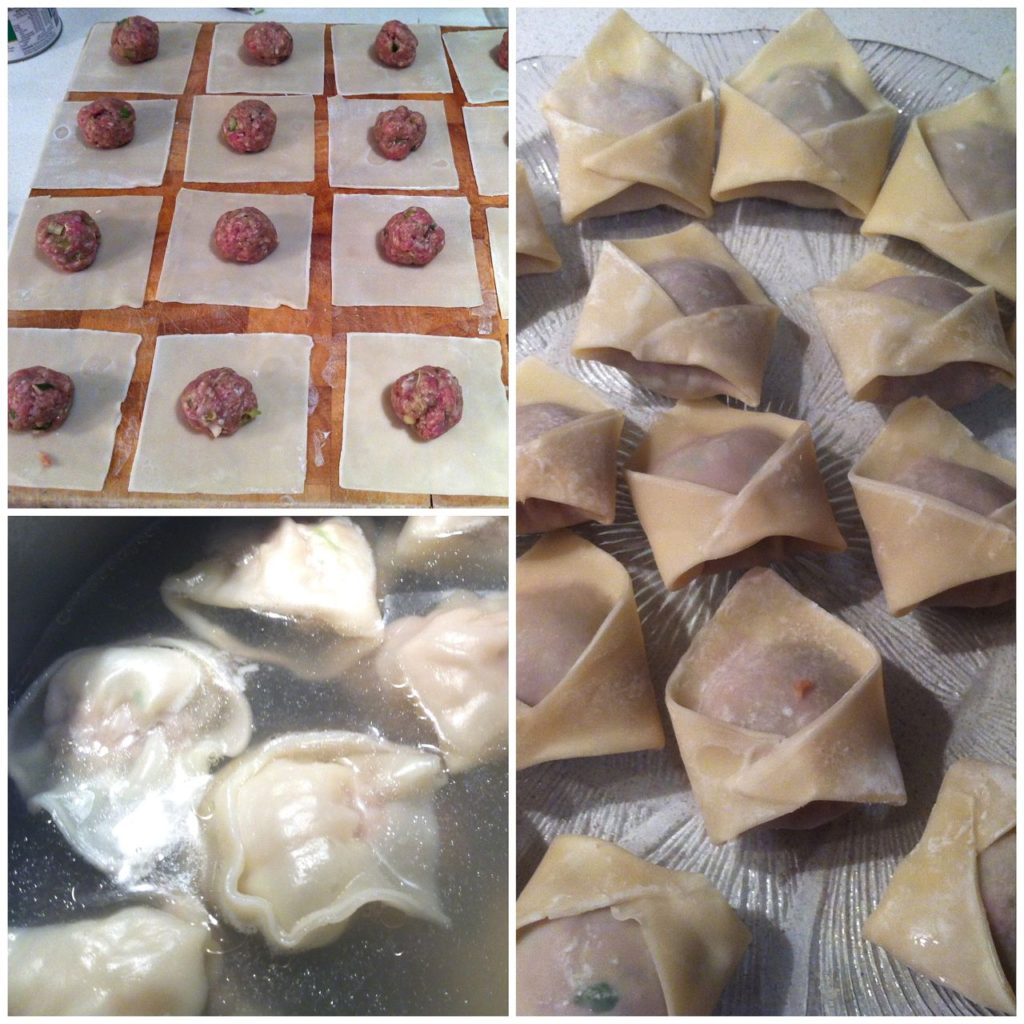 To make broth, heat peanut oil in a large saucepan over medium-high heat. Add ginger, garlic and chilli. Cook for 30 seconds or until fragrant. Add 6 cups of stock and bring to the boil. Reduce heat to medium then add wontons. Cook for 3 minutes or until they start to rise to the surface.
Add soy sauce, sesame oil and sugar to soup. Cover. Increase heat to medium-high and bring to the boil. Add spring onion, bok choy and mushrooms and cook for a further 2-3 minutes or until mushroom and bok choy have wilted.
Evenly distribute the mushroom, bok choy and spring onions in a bowl and top with wontons. Ladle boiling broth into bowls. Top with shredded spring onions and for those who like it real hot, serve some chilli on the side as well.
*Please note: you can find wonton wrappers in the fresh pasta area of your supermarket.