Saturday saw Miss Foodie dining, antique shopping and a bit more dining about Woolloongabba.
For breakfast I took a visit to the newly opened egg BISTRO at 989 Stanley St East (IS NOW CLOSED). Chris used to run the Garden Cafe at Cottage Garden Nursery on Stanley St East (just a few doors down from egg BISTRO). The venue itself is very chic and has a very warm, cosy feeling. Together with it's black and white interiors, timber furnishings, old silverware cutlery and soft music, you definitely feel like you've walked into something special. There's a lovely outdoor courtyard that connects itself to Michael Allen's Antique store, so make sure you have a mosy around there after you've tantalised your taste buds.
Talking about taste buds, lets get onto the best part – food! The menu at egg BISTRO is simple and the menu small, just how it should be. I ordered: Soft polenta with balsamic mushrooms, baby spinach and fried halloumi. Though I enjoyed my meal, I was still a little hungry afterwards so I would suggest accompanying a slice of sourdough with the dish.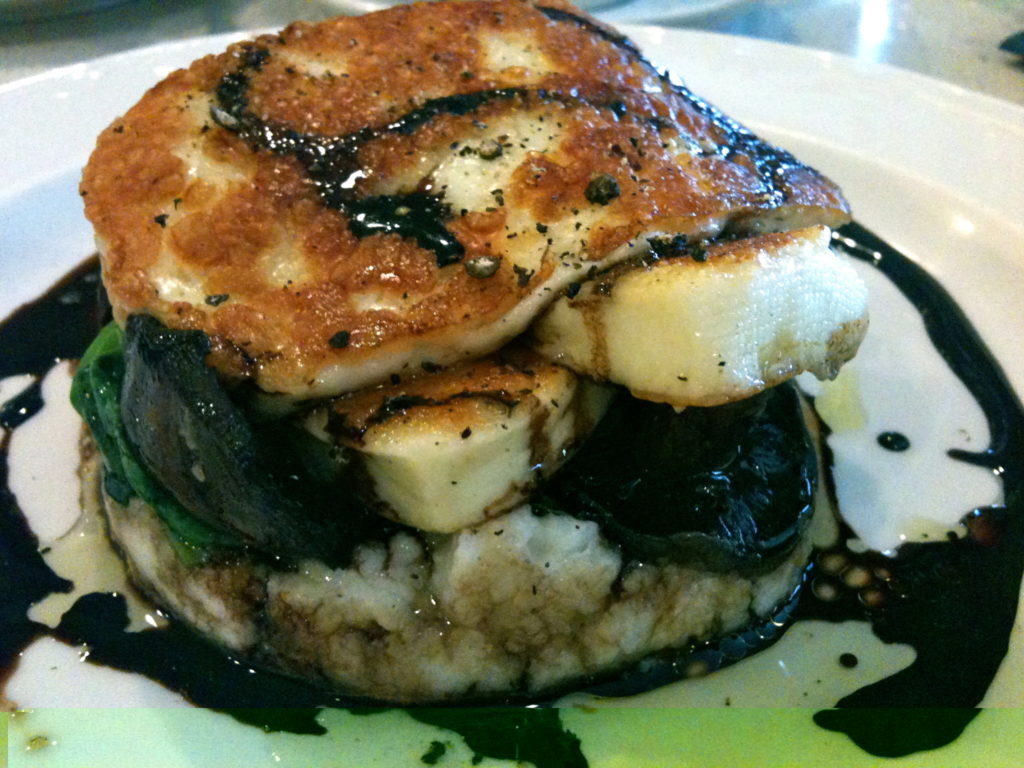 My partner and close friend couldn't go past the Big Breakfast. This consisted of 2 eggs, sour dough toast, thick bacon, pork sausage, grilled tomato, balsamic mushrooms, home made potato cake and a tasty tomato salsa. They enjoyed the meal greatly; their only criticism was that the balsamic mushrooms were too strong. I felt the same with my dish also (and I love balsamic).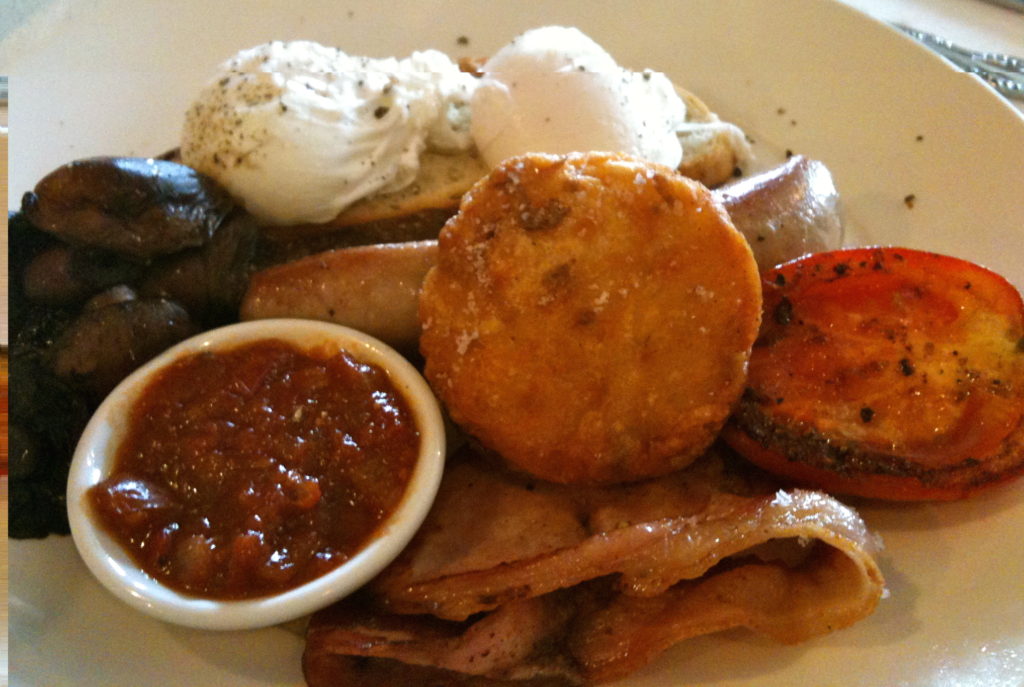 We sipped a couple of delicious coffees while we were there; my skinny flat white wasn't too hot and wasn't to bitter (truly a crime when this occurs!). Overall egg BISTRO is a lovely place to enjoy a quick coffee and home made cake or relaxing breakfast. I'll definitely be going back!
Later that morning I met up with some other friends and headed to the Woolloongabba Antique Centre. This place is awesome!! They have traditional Australian antiques, some amazing vintage clothing, groovy homewares, art and much much more.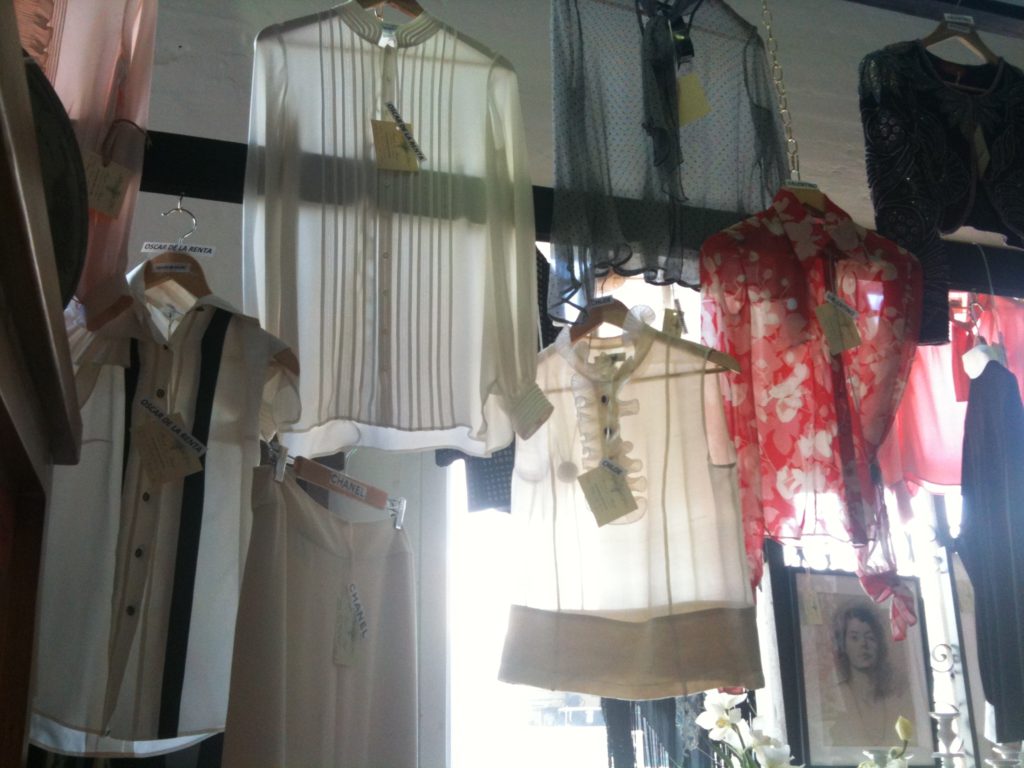 Walking further up towards Logan Road, you will find the newly renovated Woolloongabba precinct. I love this place. You've got antique stores, boutique clothing and homeware shops, groovy bars, cute cafe's and top end restaurants.
I will start with a dear favourite of mine, Pearl Cafe. They say good things come in small packages well this place is more like good things come in small venues. The place is quite small and sadly inside can be a little noisy for some but I love it; reminds me of the quaint little alleyway cafe/bistro's they have in Melbourne. I often head here for dinner or lunch on the weekends. They have a delicious modern menu comprising of rustic homely style meals. Their specials are always hard to go past! On Saturday I enjoyed the special which was Homemade Ricotta Gnocchi with Crispy Artichokes. I thought it was fresh and tasty, they over killed the olive oil but it was still good, not the greatest but still an enjoyable meal all the same.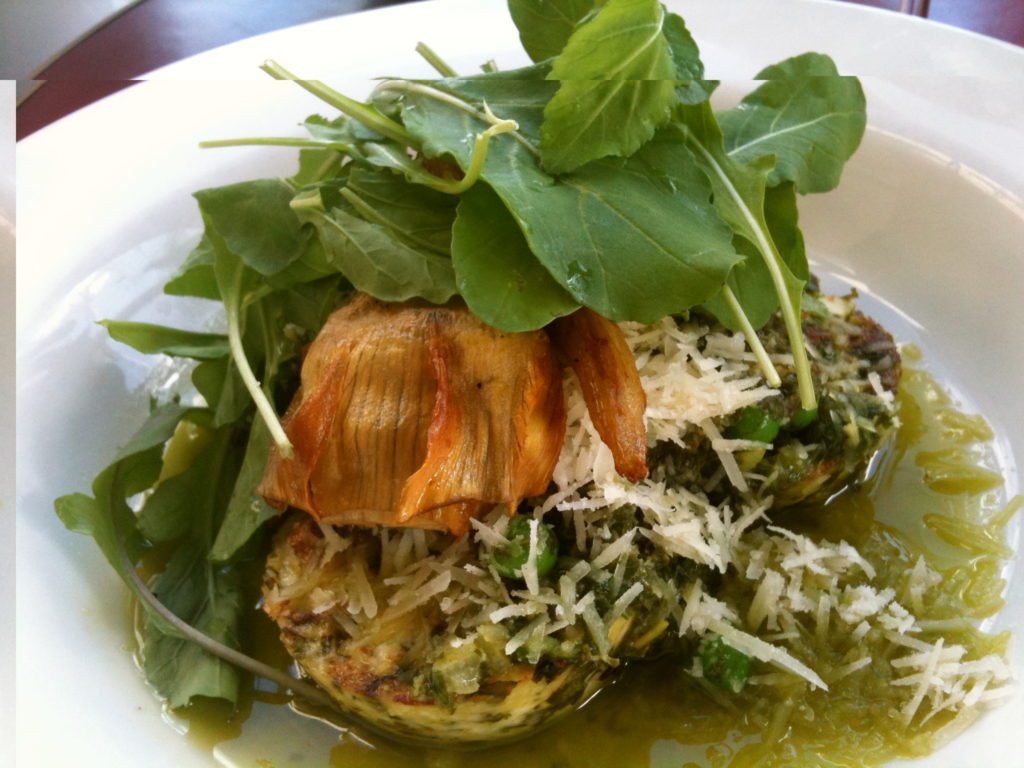 My sister delved into the crisp local pork belly with apple and fennel slaw, mustard fruits and almonds. A beautiful dish however the pork belly wasn't as crisp as my sister would have liked. Still the meal had full flavours and we loved the tasty accompaniments.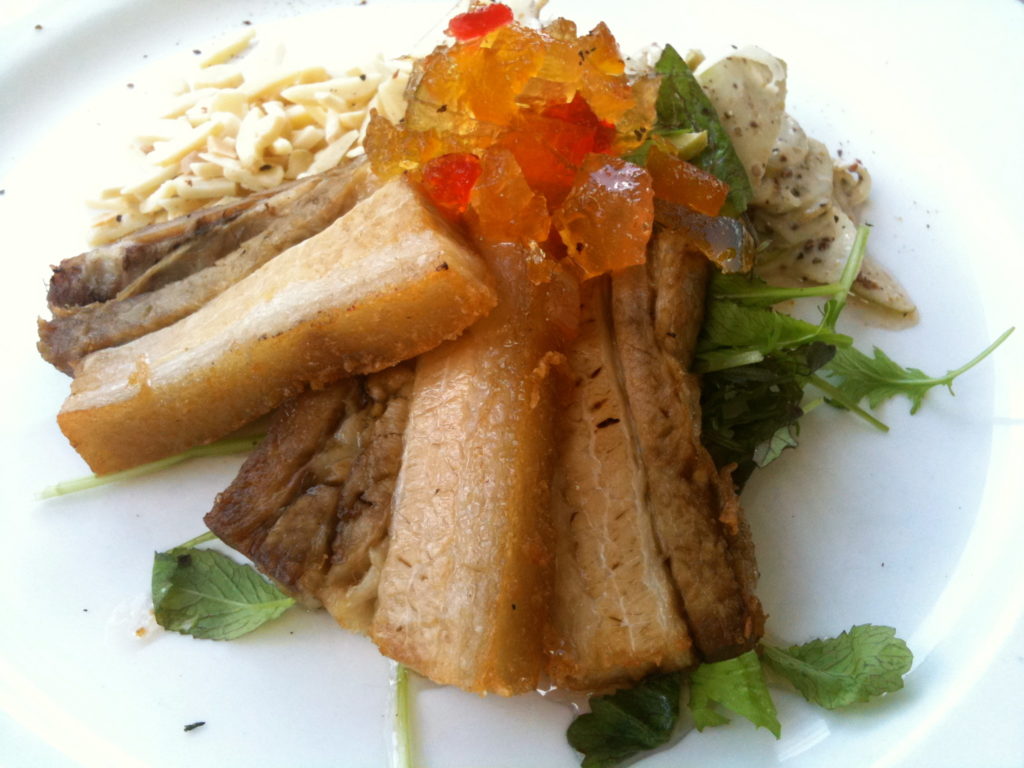 We shared pickled beetroot with fetta and mint; yum yum yum is all I can say about that. The beetroot was pickled in house as well, it had a wonderful flavour! Look how pretty that is….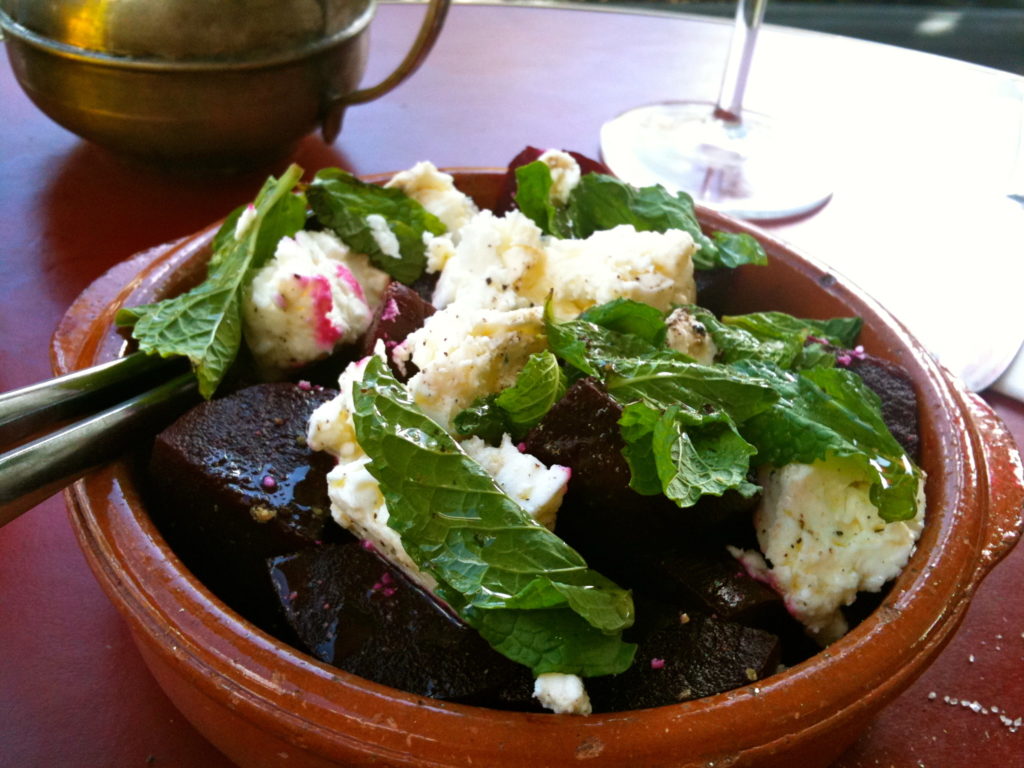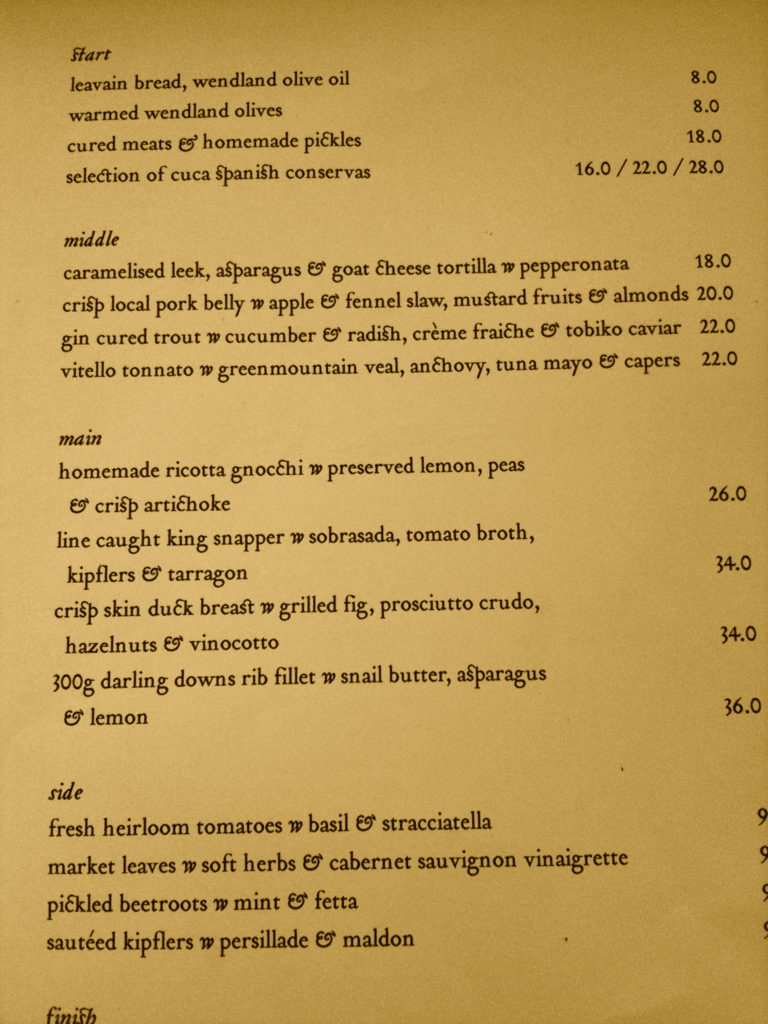 There are a number of other venues in the area which I haven't tried but certainly will be in the very near future.
I popped my head into The Crosstown Eating House. On entry of the 1920's 2 story brick building, I was greeted by some genuinely friendly and helpful staff. I advised the waitress that I wasn't eating but wanted to look around the place (I was thinking potential birthday venue you see). I liked how the tables where tucked away here and there; a nice change to the normal one room outlay. I was escorted to the top floor where the newly completed UPTOWN Drinks Lounge was. Warm timber furnishings, old school table settings and a piano. Instantly I envisioned family and friends walking into this room, piano playing cocktails on bar. I'll be looking into this for sure.
Thursday nights you can enjoy live music by resident pianist Joff Bush. Music starts at 7:30pm. Sundays sessions have just started too; Pub for the Day they like to call it: burgers, beers and maybe even the odd meat raffle thrown in for good measure. Every Sunday 12noon till 6pm.
Moving onto Canvas. I haven't been here when it's been open, but they have some great deals throughout the week that I must check out. Tuesday is Tapas & Tequila – Taste a rustic Spanish / French tapas board teamed with a Margarita for only $30 for two, $55 for four etc… They have a new Margarita each week created by one of their award winning bartenders.
If you're game! They have Absinthe – Canvas Green Hour – They say you can discover your inner bohemian and delve into the magical world of Absinthe every Thursday… They have an Absinthe appreciation society too. I'm not sure I could handle this lol
Sunday is all about my favourite things!! Jazz, wine and cheese. Now tell me you can't go past that! Cool jazz sounds kick off around 3pm with different local artist performing each week and they have a $20 cheese and wine special to go with it.
Next door you will find 1889 Enoteca. Voted 94 in the Gourmet Travellers Top 100 Restaurants. A few people I know have enjoyed their Italian flavours and raved about it; not the price though, pretty expensive. My partner and I popped in for a glass of Pinot Noir a few months ago and we're definitely impressed. The venue itself is gorgeous! Brick walls, timber floors and red furnishings, the menu was to die for too. Like most places in the Woolloongabba precinct its in a heritage listed building, this one is in the Taylor-Heaslop building.
As you can see Woolloongabba has something for everyone. So why not check it out this weekend, I promise you wont be disappointed 🙂