On my final day of Festive holiday bliss, it was time to put the Miss Foodie hat on once again. Having received Matt Preston's Fast, Fresh and Unbelievably Delicious cookbook for Christmas, I knew my first recipe for 2014 would be within these pages.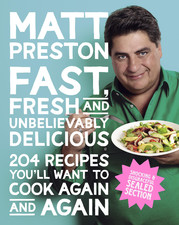 With a scorcher heat wave in Brisbane, the refreshing and flavour packed 'Yim Yam's Yum Yum Crunchy Rice Salad' was a no brainer. Matt Preston notes in this recipe "I'm not sure how posterity will remember me but if it is just that my name is on the menu at Yim Yam Thai Laos restaurants next to this dish 10 years after I raved about it in a review, that is good enough for me".
Chef-owner Lylah Hatfield's Yim Yam's Crunchy Rice Salad recipe certainly is a special one and although there are a few steps involved it is undoubtedly worth all its efforts. The traditional Thai and Laos flavours in each mouthful seem to heighten the more you eat. The concept of the fried rice balls is a super fun addition and with the infusion of kaffir lime leaves, turmeric and shredded coconut, these could quite easily be enjoyed humbly on their own. The salad that accompanies these crunchy rice balls is much the same.  With a killer dressing of crushed roasted peanuts, chilli flakes, lemon juice and fish sauce heightening the white parings of juicy, poached chicken, plus an herbaceous mix of fresh mint, coriander and spring onions and you have one hell of a salad.
Matt Preston's second cookbook Fast, Fresh and Unbelievably Delicious is chockfull of tempting dishes just like this one. What I like most about Matt Preston's recipes (and his friends) is their achievability for novices like me and as a result, you simply want to recreate every single dish.
During the 2013 Noosa International Food and Wine Show I was lucky enough to meet Matt Preston and I was blown away by his friendly, fun and amicable nature. With Food Journalist, Restaurant Critic, Recipe Writer and Celebrity icon up his sleeve, Matt Preston's career is one that I certainly aspire to. And with that, let me seek motivation – here's to 2014 being another stellar year and one that brings me closer to my very own Miss Foodie dreams.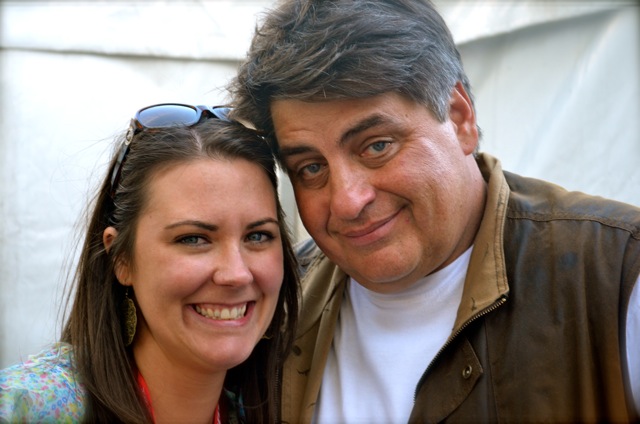 Yim Yam's Crunchy Rice Salad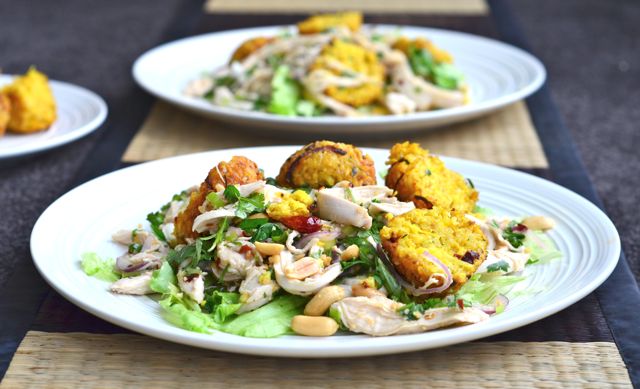 Ingredients
265g (1 1/3 cups) jasmine rice
½ teaspoon salt
2 x 280 g chicken breasts (skin off)
35g (1/2 cup) shredded coconut toasted (place in a small frying pan and heat on medium-high heat until it browns – watch it carefully as the coconut changes colour quickly)
1 tablespoon ground turmeric
½ small onion, thinly sliced
8 Kaffir lime leaves, centre vein removed, finely shredded
3 eggs, lightly beaten
Vegetable oil, to deep fry
4 red bird's eye chillies, split (depending on taste)
50g (1/3 cup) unsalted roasted peanuts
2 tablespoons dried chilli flakes (depending on taste)
4 tablespoons white sugar
5 tablespoons lemon juice
3 tablespoons fish sauce
4 spring onions, chopped
½ small red onion, thinly sliced
¾ cup roughly chopped coriander, plus extra sprig to garnish
½ cup torn mint leaves
4 iceberg lettuce leaves, to serve
Method
Place the rice in a sieve and rinse under running water until the water runs clear. Place in a saucepan with 400ml (1 ¾ cups) water and the salt and bring to the boil over medium heat. Cover with a tight-fitting lid, reduce the heat to low and cook for 10 minutes, or until the liquid is absorbed. Remove from the heat, set aside, covered for 10 minutes (residual heat will finish cooking the rice).
Meanwhile, bring a saucepan of water to boil, turn off the heat, add the chicken breasts. Cover for approximately 20 minutes or until cooked (the water's residual heat will be sufficient to cook the chicken. Drain and set aside. (Don't leave chicken in water).
To make the rice balls, place the warm rice, coconut, turmeric, onion, kaffir lime leaves and eggs in a large bowl. Using damp hands, combine well, then press the mixture into 10 balls.
Fill a wok one-third full with the oil and heat over medium heat to 160°C, or until a cube of bread turns slightly golden in 20 seconds. Gently lower the chillies into the oil and fry for 2 minutes, or until lightly cooked and dark red. Remove with a slotted spoon and drain on a baking tray lined with paper towel.
Lower the rice balls into the oil and fry, in two batches, turning, for approximately 8 minutes until golden brown. Remove with a slotted spoon and drain on baking tray lined with paper towel. Cool for 5 minutes.
Meanwhile, using a mortar and pestle, pound 35g (1/4 cup) peanuts to small pieces, leaving the rest for garnish. Transfer to a large bowl, add the chilli flakes, sugar lemon juice and fish sauce and stir well to combine.
Tear the cooked chicken into small shreds or pieces, then add to the dressing bowl with the spring onions, red onion, coriander and mint. Toss. Using wooden spoon or your hands, break the rice balls into large chunks, add to the chicken mixture and gently toss until just combined.
Scoop onto a plate with roughly sliced lettuce leaves and scatter over the remaining peanuts, fried chillies and coriander sprigs.
Recipe thanks to Matt Preston's 'Fast Fresh and Unbelievably Delicious' cookbook