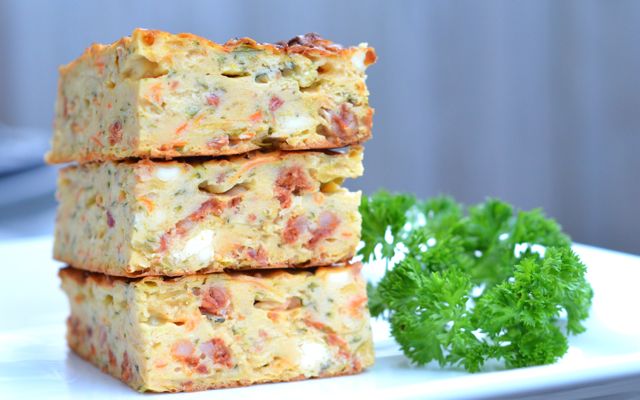 Sharing recipes with your family and friends is great fun!
A colleague and close friend of mine kindly brought in her zucchini slice for us to share at work a few weeks ago. I forgot how much I love this super convenient slice – hot, cold it really doesn't matter, the taste is simple yet comforting.
B and I are proud owners of our first 4×4. Wanting to stretch our new car's legs, we took advantage of the stunningly gorgeous weekend weather and headed north to the picturesque coastline of Double Island Point.
Only accessible by 4WD, Double Island Point doesn't have café's and restaurants as such, but rather long stretches of sandy beaches, sparkling blue ocean, tents and 4WD's. As dining out for lunch wasn't going to be an option, I decided to make a batch of zucchini slice for us-all to enjoy.
Zucchini slice can be as basic as you want it to be; personally I like to make mine a little more interesting.
As Salumi Australia produces some of the tastiest chorizo I've had the pleasure of eating, it seemed only fair to add some to my zucchini slice mix. Sautéing my paprika infused chorizo filled my kitchen with a smoky goodness that merely affirmed just how tasty this zucchini slice was going to be. Together with the chorizo I added feta cheese and I used leek instead of boring old brown onion.
The final product – a smoky, cheesy and somewhat juicy Zucchini, Chorizo and Feta slice that can be eaten fresh out of the oven or like I did – eaten cold, by the beach after a good game of Frisbee and with a cold beer to wash it down.
Who says fun, sunny days on the beach can't be enjoyed in winter….
[yumprint-recipe id='14']