This post is dedicated to my friend Sara. Sara saw my Zucchini Sticks with Sweet Onion Dipping sauce on a recent instagram picture of mine. She really wanted the recipe, so as any good friend would have it I decided to share my Zucchini Sticks recipe with you all.
Not having taken a' professional' photo of my Zucchini Sticks yet,  I was very hesitant in writing a blog post for them. I'm trying so hard to improve my food photography and I have to tell you it's not easy! I don't think people realise the time and effort that goes into a food blog post. First you have to of course cook the meal, then there's the plating-up, photography, writing and editing – then you have to be proud enough to want to post the piece to the world.
On this occasion I've thought what the hey! I'm posting my Zucchini Sticks recipe anyway. They are so scrumptious and their Panko-crisp outer layer and soft, juicy, vulnerable centre makes it virtually impossible not to go back for more and more. And my picture – well let's just say I've taken an artistic approach this week.
Zucchini Sticks w/ Sweet Onion Dipping Sauce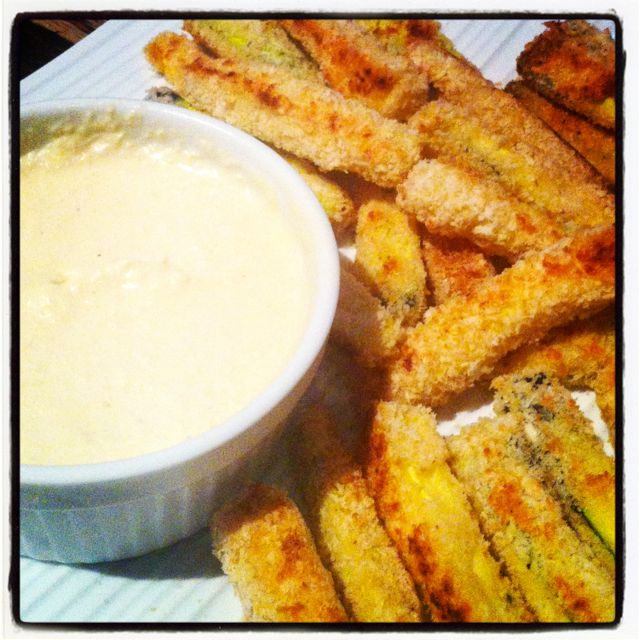 Ingredients
3 zucchinis, medium sized
1 onion, sliced
1 tblsp butter
2 tblsp cider vinegar
2 tblsp honey
1 tblsp Dijon mustard (or whichever prepared mustard you prefer)
1 cup whole egg mayonnaise (try and source mayonnaise that uses free range eggs)
1 cup plain flour
2 eggs
1 tblsp milk
1 cup panko bread crumbs
½ cup freshly grated parmesan
2 tblsp dried oregano
Salt & Pepper
Method
Cut each zucchini down the centre into 3 long planks. Cut each plank into thirds; then half them. You want approximately 7cm length sticks in the end.
Transfer your zucchini sticks to a colander sitting over a bowl. Sprinkle over 1 tblsp salt and allow to drain for 1 hour. (This process draws out the moisture in the zucchini sticks).
Now to the dip!
In a medium saucepan, melt butter over medium-low heat, add onion.
Stir occasionally until onion has softened and caramelised, approximately 25 minutes. Insure you keep the temperature low as you're less likely to burn the onions (the lower and longer it cooks the better).
When the onions are well caramelised, remove from heat.
Place caramelised onions, cider vinegar, honey and mustard into a food processor (alternatively you could use a hand blender). Process until smooth.
Transfer sweet onion mix to a bowl, add 1 cup of mayonnaise and stir until well combined.
Back to the zucchini sticks
Preheat oven to 200ºC. Line a baking tray with baking paper and spray with olive oil.
Rinse zucchini sticks with water then pat dry with a tea towel.
In a shallow bowl, combine plain flour and pepper. In another shallow bowl, beat egg and milk. In the final shallow bowl, combine panko crumbs, grated parmesan, dried oregano, salt and pepper.
Dip zucchini sticks in flour, shake off access. Dip zucchini sticks in the egg mixture then coat finally with bread crumbs mix.
Only do 1-2 zucchini sticks at a time or else you will get a solid clump of mess. I know you'll want to rush through them but I assure you they'll turn out a lot better if you take the time to dip and coat them one by one.
Place zucchini sticks on prepared oven tray. Bake for approximately 25 minutes, turning zucchini sticks halfway through cooking. Time may vary depending on your oven; the end result should be golden crunchy zucchini sticks.
Transfer zucchini sticks to a plate with the sweet onion dipping sauce in a nice bowl on the side.
Dig in!
Notes
Sometimes I peel the zucchini sticks because the crumb sticks better to the zucchini's flesh.

You can lightly spray zucchini sticks with olive oil before you put them in the oven for extra goldy-goodness.