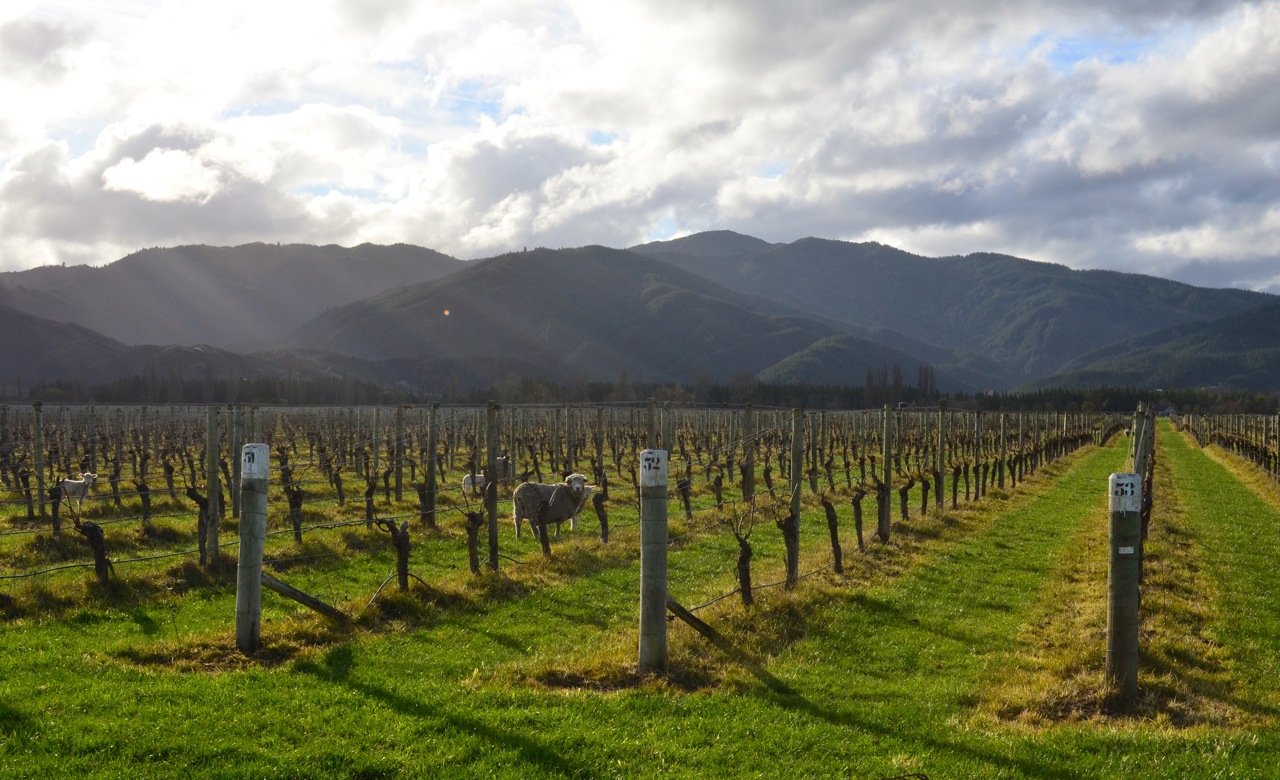 On my recent trip to New Zealand, I went on the Highlight Wine Tour in Marlborough (as you do). After sipping my way from vineyard to vineyard we arrived at our last stop for the day – Makana Confections. Now I'm not much of a chocolate fan so my expectations walking into Makana Confections weren't as heightened as the other chocolate lovers; but oh boy did this change in an instant!
We were each given a petite little tray of the day's 'samplings'. In my happy wine guise, I walked about the sweet shop watching-on at the Makana chocolate makers and fellow wine tour friends. And then, without thought, I had popped the sweet morsel into my mouth. The impeccable moment had happened; I'd just savoured the most desirable, decadent and downright perfect sweet-treat of my life – Macadamia Butter Toffee Crunch. I looked around to find B and by the look on his face he was right there in Macadamia Butter Toffee Crunch heaven with me.
I don't believe I've experienced butter toffee before, and if I had it certainly wasn't like this! Makana's Butter Toffee was so sweet, buttery, creamy, and yet crunchy at the same time. The chocolate was coco-rich and not too artificially sweet; coupled with the nuts, this butter toffee crunch was stunning in every sweet way possible.
Back in Australia my box of Macadamia Butter Toffee was empty and I was having withdrawals. I got to thinking…Could I replicate butter toffee? Am I brave enough to conquer confectionary? I thought why not and started looking into recipes. I noticed much were the same and I understand now (after my 2 attempts) it's all in the tools and technique.
Chocolate Nut Butter Toffee Crunch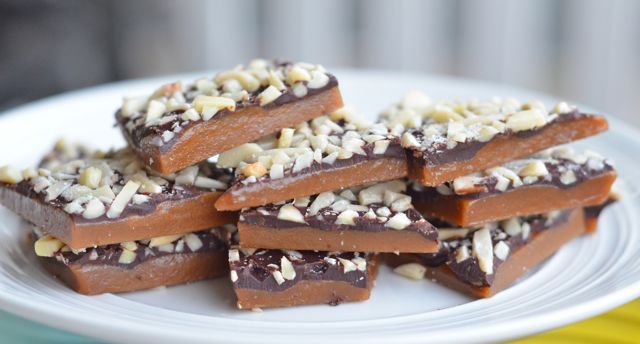 Ingredients
Butter Toffee
2 cups (170g) slivered almonds or slivered macadamia nuts (chopped)
1 1/4 cups (270g) firmly packed dark brown sugar
3 tblsp water
1 tblsp glucose syrup
1/2 cup (113g) unsalted butter, cut in cubes
1 tsp vanilla extract
1/4 tsp baking soda
Topping
170g 70% coco chocolate, coarsely chopped
*Please note* You will need a candy thermometer and heavy duty saucepan for this recipe.
Method
Butter a 20 x 25 cm rectangle baking tray and set aside.
In a medium-sized, heavy bottomed saucepan combine brown sugar, butter, water and glucose syrup.
Have the baking soda and vanilla extract ready on hand.
Bring sugar mixture to a gentle boil, stirring to dissolve the sugar. Then cover the pan with a lid for one minute to allow the sides of the pan to wash themselves down and dissolve any sugar crystals. Remove lid after one minute. If required, use a wet pastry brush to carefully remove any further sugar crystals from the sides.
Fasten a candy thermometer to the side of the pan, making sure it does not touch the bottom of the pan (you will get an incorrect reading otherwise).
Now gently boil, WITHOUT STIRRING, until the mixture reaches 130 degrees C (soft-crack stage) on a candy thermometer. Immediately and CAREFULLY remove the saucepan from the heat as the temperature will continue to rise. Carefully add the baking soda and vanilla extract and stir with a wooden spoon to combine (do not use metal or plastic utensils).
Immediately pour sugar mixture evenly over your baking sheet/tray. Then place the chopped chocolate over the hot toffee. After a few minutes the chocolate will be soft enough to spread an even layer over the toffee. Sprinkle chopped almonds or macadamias over the melted chocolate.
Place the pan in the refrigerator until chocolate is firm.
Cut the toffee into pieces using a sharp knife, you will notice it breaks apart itself.
You can store your butter toffee in an airtight container or bag in the fridge, for about 10 days. This is the PERFECT Christmas gift for your special loved ones.