I scream, you scream, we all scream for ice cream – Condensed Milk Ice Cream that is!
This Condensed Milk Ice Cream recipe is another one from Matt Preston's Fast Fresh and Unbelievably Delicious cookbook I received for Christmas.
I always thought that if homemade ice cream was to taste and look as ice cream should, one needed an ice cream maker, but thankfully I have been proven wrong. This Condensed Milk Ice cream is soft, smooth and mischievously sweet and takes all of five minutes to prepare.
With oodles of cherries left over from Christmas, I decided a cherry compote would enhance my creamy Condensed Milk Ice cream perfectly. The cherry compote merely involved pitting about 500g of cherries, placing them into a pot set at medium heat and adding a good splash of brandy, orange juice and approximately 3 tablespoons of sugar. Allow to cool.
Serving your Condensed Milk Ice Cream and cherry compote inside a waffle cone cup topped with a single ruby-red cherry has an old-fashioned charm that is as quaint as can be.
Condensed Milk Ice Cream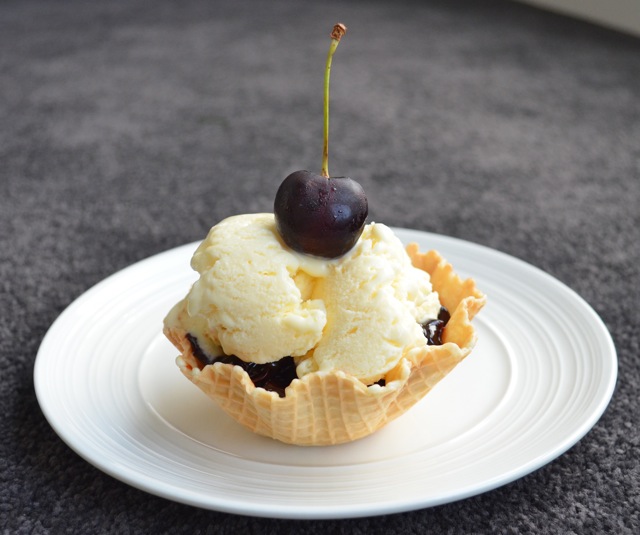 Ingredients
3 eggs
1 teaspoon vanilla extract
400g can sweet condensed milk
300ml cream
Method
Chill your proposed ice cream container in the freezer.
Now separate 3 eggs. Keep both the whites and the yolks.
First use and electric whisk and beat the 3 egg yolks and vanilla extract with a steady drizzle of the contents of a 400g can sweetened condensed milk. Beat for 3 minutes. Whip 300 ml cream until thick; and whisk 3 egg whites until very stiff. Carefully fold the cream then the egg whites into the condensed milk. Pour into the now-chilled container and freeze.
Recipe thanks to Matt Preston's Fast, Fresh and Unbelievably Delicious cookbook