My Mum recently celebrated her birthday. As a gift to her, I decided to put together a yummy picnic lunch for us to enjoy in the park, she was most delighted, I think she actually enjoyed it more than her birthday present. This got me thinking… do we really need to spend so much money on elaborate gifts for our nearest and dearest?
Everyone gets so caught up in buying presents for people, when really, the person we're usually buying it for would more often than not appreciate a handmade gift. Why? Because you've created something extra special, you've gone out of your way to make something you think they would enjoy, you've cared for them exclusively. We're all so busy with life nowadays that sadly our personal time is most often sacrificed; therefore it's the most cherished. The fact we can give up that special commodity (time) for someone else certainly shows we care.
Sadly the day was too windy for our liking, so for our new backdrop we chose Mum's beautiful large Queenslander deck; it overlooks a Balinese pool setting so our special day wasn't compromised in any way. I had prepared all the meals for a picnic so it wasn't difficult to pack up everything and venture over to Mums.
The menu…
Winter has arrived, and though the weather is somewhat fresh, please don't feel that you have to succumb to eating stews and soups every day, salads can still be enjoyed. I made a lovely Apple, Celery and Walnut salad to go with my warm Bacon and Leek Quiche. The sharpness of the cheese was complimented deliciously with the tart apple and crunchy walnuts. My quiche was somewhat of an experimental affair; instead of using pastry for the crust I used cooked brown rice. I thought it was a success! Others preferred the traditional pastry crust but I like them both, pastry is however easier and less messy, but hey it's good to try these things!
I'm a massive fan of Goats cheese so I wanted to make a yummy hourderve to go with our picnic spread. I've often enjoyed caramalised onion and Goats cheese when I've dined out, so I thought how easy it would be to buy some cute little tartlets, fill them with creamy Goats cheese and top them with my own sweet, sticky caramalised onion. They were easy, quaintly cute and heavenly tasting.
For dessert I made a Baked Orange, Ricotta & White Chocolate Cake. I've seen a few ricotta cake recipes but none tantilised me as much as this tasty number. Every mouthful is a surprise, sometimes you get chocolate, sometimes you don't. The orange flavour went delightfully well with the fresh ricotta. The gorgeous sprinkle of blueberries and almonds was not only a therapeutic affair but a delicious one at that. This dessert is a new favourite. It's not too sweet but looks as sweet and sultry as any other cake.
All in all our picnic lunch was really special. We all got to sit together in the comfort of home, in the comfort of each other, in the comfort of food. Next time you book a restaurant for a family member or friends special day, consider getting in the kitchen and whipping up a tasty feast yourself, you can all chip in and help which makes it even more fun. Remember, giving up your time for someone special shows how much we really care.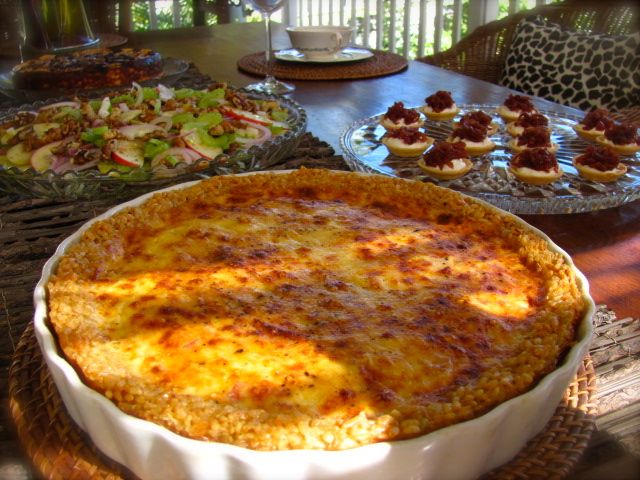 Bacon & Leek Quiche with Brown Rice Crust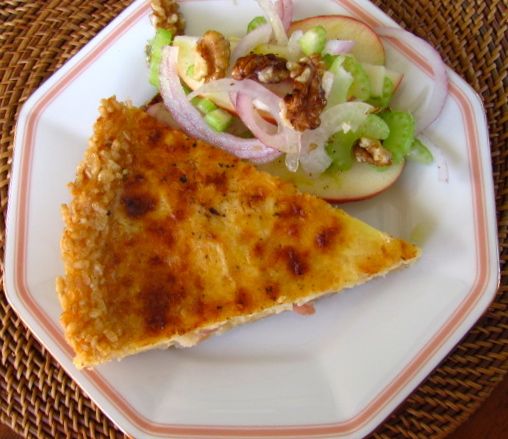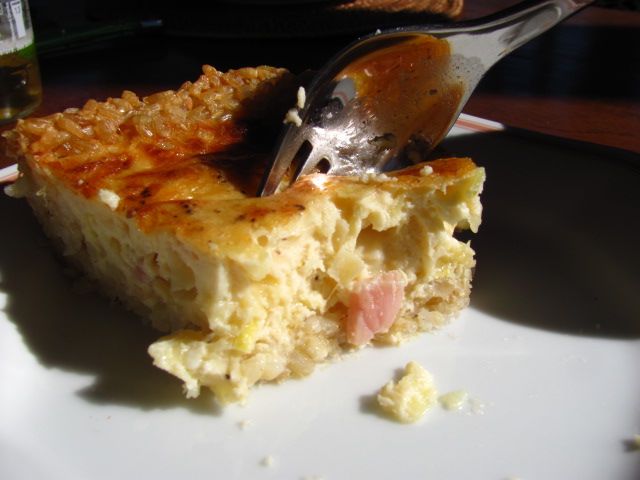 Ingredients
2 cups cooked brown rice
1 ½ cup cheddar cheese, finely grated
6 eggs
½ cup milk
1/2 cup cream
1 cup sharp cheddar cheese, grated
1 leek cleaned thoroughly and finely sliced
4 rashers of bacon diced
Salt and pepper, to taste
Method
Mix the rice, ¾ cup finely grated cheese and one egg in a bowl. Press the rice mixture into a pie plate, about 1/4 inch thick. (*Tip – keep your hands wet so the rice doesn't stick to your hands).
Bake in a preheated 220 degree oven until the edges and bottom just start turning golden brown, about 5 to 7 minutes.
Meanwhile, over a medium heat, sauté leek and bacon for approximately 5-7 minutes transfer to a bowl to cool.
In a separate bowl, mix the remaining eggs, milk and sharp cheddar cheese, season with salt and pepper. Add sautéed leek and bacon. Pour the egg mixture into the pie crust.
Bake in a preheated 190 degree oven until golden brown and set in the center, about 30 to 35 minutes.
Caramalised Onion & Goats Cheese Tartlets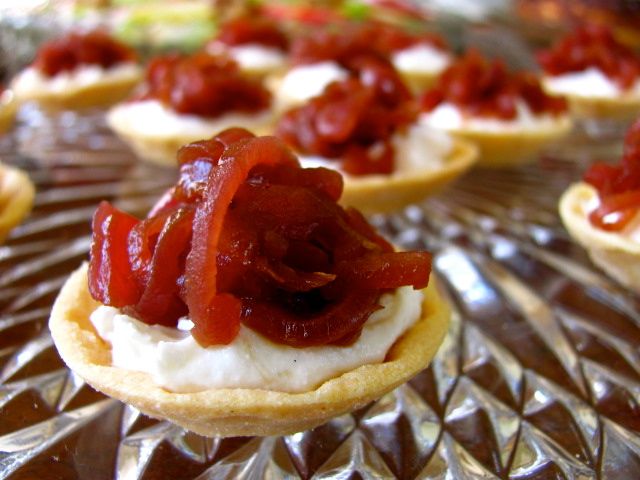 Ingredients
2 tblsp unsalted butter
Olive oil
2-3 brown or red onions
2-3 tblsp dark brown sugar
1 tblsp balsamic vinegar
Salt and pepper to taste
Goats Cheese
2 tblsp thickened cream
Tartlets
Method
Over a low heat, add unsalted butter and a drizzle of olive oil into a pot. Add 2 or more finely sliced brown or red onions and cook for approximately 20 minutes, stirring occasionally until nice and soft. Add brown sugar and balsamic vinegar, pinch of salt & some pepper and cook for 5 minutes more or until onions are nicely caramelized. Remove from the heat & leave to cool.
Combine Goats cheese and cream in a bowl and stir to combine.
Lay your tartlets on a serving plate. Spoon Goats cheese mixture into each one and top with cooled caramalised onion.
Apple, Celery & Walnut salad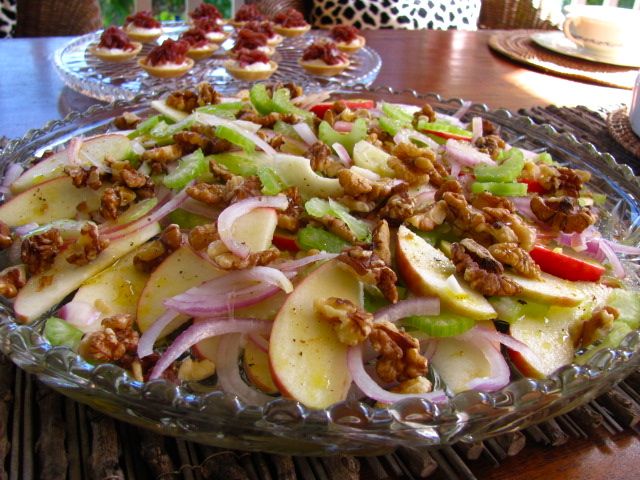 Ingredients
1/3 cup apple cider vinegar
2 tablespoons olive oil
1/2 teaspoon ground fennel seeds
4 Pink Lady apples, quartered, cores removed, thinly sliced
2 sticks celery, thinly sliced
1/2 cup walnut halves, chopped
1 large red onion, thinly sliced
Method
Combine vinegar, oil, fennel seeds, and salt and pepper in a small bowl or jug. Whisk until well combined.
Combine apples, celery, walnuts and onion in a large bowl. Drizzle with dressing. Toss gently to combine. Serve.
Recipe inspired by Dixie Elliott – Super Food Ideas
Baked Orange, Ricotta & White Chocolate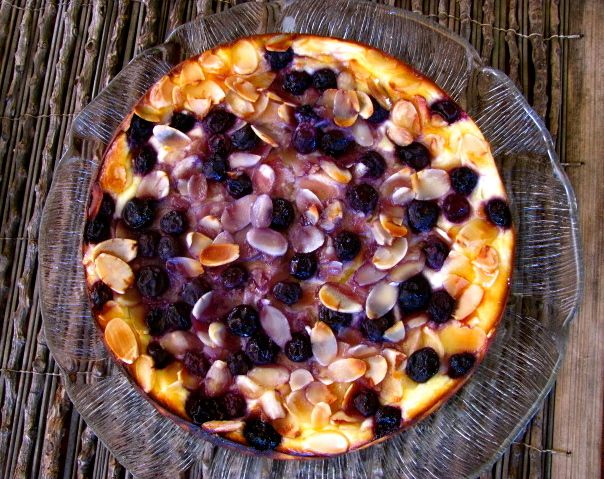 Ingredients
1 sheet frozen ready-rolled shortcrust quiche pastry, partially thawed
750g fresh ricotta cheese
1 tblsp finely grated orange rind
2 tblsp orange juice
3/4 cup caster sugar
3 eggs
100g white chocolate, chopped
2/3 cup frozen raspberries
1/4 cup flaked almonds
Method
Preheat oven to 180°C/160°C fan-forced. Using the base of a 22cm round spring-form pan as a guide, cut out a circle from pastry. Line base with pastry. Prick pastry all over with a fork. Bake for 20 minutes. Reduce oven temperature to 170°C/150°C fan-forced.
Meanwhile, process ricotta, orange rind, orange juice, sugar and eggs until almost smooth. Stir in chocolate. Pour mixture into prepared pan. Top with blueberries and almonds. Bake for 40 minutes or until just set. Cool. Cover and refrigerate overnight.
Recipe inspired by Liz Macri – Super Food Ideas